Spotlights
Similar Titles
Account Executive, Advertising Manager (Ad Manager), Advertising Sales Manager (Ad Sales Manager), Classified Advertising Manager (Classified Ad Manager), Communications Director, Communications Manager, Creative Services Director, Marketing and Promotions Manager, Promotions Director, Promotions Manager, Advertising Account Representative, Marketing Manager
Job Description
Advertising account executives (AE) are the liaison between the client and the creative team to ensure the client's needs and goals are being met on every project. The AEs are the ones responsible for managing the relationship between the client and the advertising agency.
What is an advertising agency?
An advertising agency is client service-based business that creates and plans advertising and other forms of promotion for its clients. They may be hired to product television commercials, online/print/billboard ads, and radio commercials. Their clients include businesses, non-profits, and government agencies.
Rewarding Aspects of Career
"As an account person, you get to work with everyone internally and externally. It's interesting to see how different teams work and approach problems. You also get to see the work through from the beginning to the end, most teams touch the work at specific stages, but we get to see an idea or conversation get turned into a TV spot or an entire campaign!" Lisa Wang, Brand Director, TBWA\Media Arts Lab
The Inside Scoop
Day in the Life
"Typically, my day encompasses of client meetings, internal team meetings, and project management. It can be a blessing and a curse, but each day is different. Because we are a client service based industry, there are also inevitable last minute fire drills and urgent requests that need to be addressed." Lisa Wang, Brand Director, TBWA\Media Arts Lab

Typical Tasks
Manages the client's ad budget and make sure the team is on schedule and on budget.
Checks the status of each client's job(s) in the creative department and keeps the clients informed of the developments.
Initiates new jobs for the client and manages the pitches.
Reviews and presents concepts/layouts/copy to the client for approval.
Communicates the client's feedback to the creative department and discusses the next steps in the campaign.
Skills Needed on the Job
Ability to communicate clearly both verbally and in writing.
Must be well organized: you will be juggling many different accounts and many different people.
Excellent people skills and the ability to work with a wide range of people.
Professionalism: verbal, written and presentation.
Good under pressure and time constraints.
Where do they work?
In-house: If you move in-house, you shift into a marketing role. The primary difference being that once you are in-house, you are accountable for that company's profitability and to its shareholders. Being at an agency means you focus more on the creative solution to your client's business challenges.
Expectations/Sacrifices Necessary
"This is definitely not a job that gives you a predictable 9-to-5 day. You need to be willing to stay later and work weekends from time to time, but it's usually cyclical and good management will make sure you're being balanced in the long run."
 
"It's also an environment filled with characters, some good and some... challenging! Any creative setting is going to have some egos and very strong opinions, but that's part of what makes a good account person: being able to work with the personalities and get the best out of them." 
Education Needed
Advertising Account Executives usually need at least a bachelor's degree in advertising, business, marketing, communications, finance, or economics
Many people in this field work their way up from lower-level positions at ad agencies, after learning the ropes from the inside. Sometimes this process can take years
Related internships help gain valuable practical experience regarding payroll, payables management, liabilities, trial balance, financial statements, revenue and assets, cash and accrual advertising, expenses and reimbursements, employee classifications, and more
Software and programs to be familiar with include:

Adobe Creative Suite
Budgeting software
Business analysis and business intelligence software
Cloud-based data access and sharing 
Customer relationship management 
Database management systems and reporting tools
Enterprise application integration 
Enterprise resource planning
Inventory management software
Presentation software
Project management 
Sales and marketing software such as Google AdWords, HubSpot, Marketo Marketing Automation, and Webtrends
Scheduling software
Spreadsheets

Some roles may require knowledge of popular social media sites, video creation and editing, web platform development software, and website creation tools
Additional certifications can bolster your credentials if you have sufficient work experience and academic credentials. These include:

Adobe - 

Adobe Advertising Cloud Demand-Side Platform
Adobe Audience Manager Architect Master Certification    
Adobe Campaign Standard Business Practitioner Expert Certification    

American Bankers Association - Certified Financial Marketing Professional    
American Marketing Association - Professional Certified Marketer    
American Purchasing Society - Certified Green Purchasing Professional    
Association of Energy Engineers - Certified Green Building Engineer    
Association of International Product Marketing and Management - 

Certified Innovation Leader    
Agile Certified Product Manager    

Association of Strategic Alliance Professionals - 

Certification of Achievement-Alliance Management    
Certified Strategic Alliance Professional    

Credit Union National Association - Credit Union Certified Marketing Executive    
Destination Marketing Association International - Certified Destination Marketing Executive    
ESCO Group - Green Awareness Certification    
Global Association of Risk Professionals - Energy Risk Professional    
Green Advantage - 

GA - Certified Associate    
GA Certified Practitioner    

Interactive Advertising Bureau - IAB Digital Ad Operations Certification    
International Festivals & Events Association - Certified Festival and Event Executive    
Joint Commission Resources - Certified Joint Commission Professional    
National Apartment Association - 

Independent Rental Owner Professional    
Credential for Green Property Management    

National Association of Home Builders - 

Master in Residential Marketing    
Certified Green Professional    
Certified New Home Marketing Professional    

National Institute for Social Media - Certified Social Media Strategist    
Strategic Account Management Association - Certified Strategic Account Manager
Things to do in High School and College
​​​​​​​Stock up on courses in math, accounting, business, marketing, English, public speaking, and writing
Volunteer to be a treasurer at school organizations 
Pack your schedule! Stay busy so you can get used to putting in long hours with looming deadlines
Get a part-time job in sales and marketing
Gain practical work experience as an Advertising Accounting intern or related internships
Read articles and watch tutorials about Advertising Accounting
Interview a working Advertising Accountant or watch video interviews
Join professional organizations to learn about trends and grow your network 
Get specialized with an in-demand certification
Intern: "An internship is invaluable! As much as you can study advertising, nothing beats seeing it with your own eyes. It'll help you get a sense of how an agency runs and how the teams work together (along with the usual copies and meeting prep)." 
Stay on top of industry news: "Whether it's through AdAge, Creativity or other sources, know agency news and trends. Much of what goes on in the ad world bleeds into pop culture, current events and new tech. It's important to understand how advertising is relevant outside agency walls." 
Education Stats
13.5% with HS Diploma
8.1% with Associate's
47.1% with Bachelor's
6.2% with Master's
0.7% with Professional
Typical Roadmap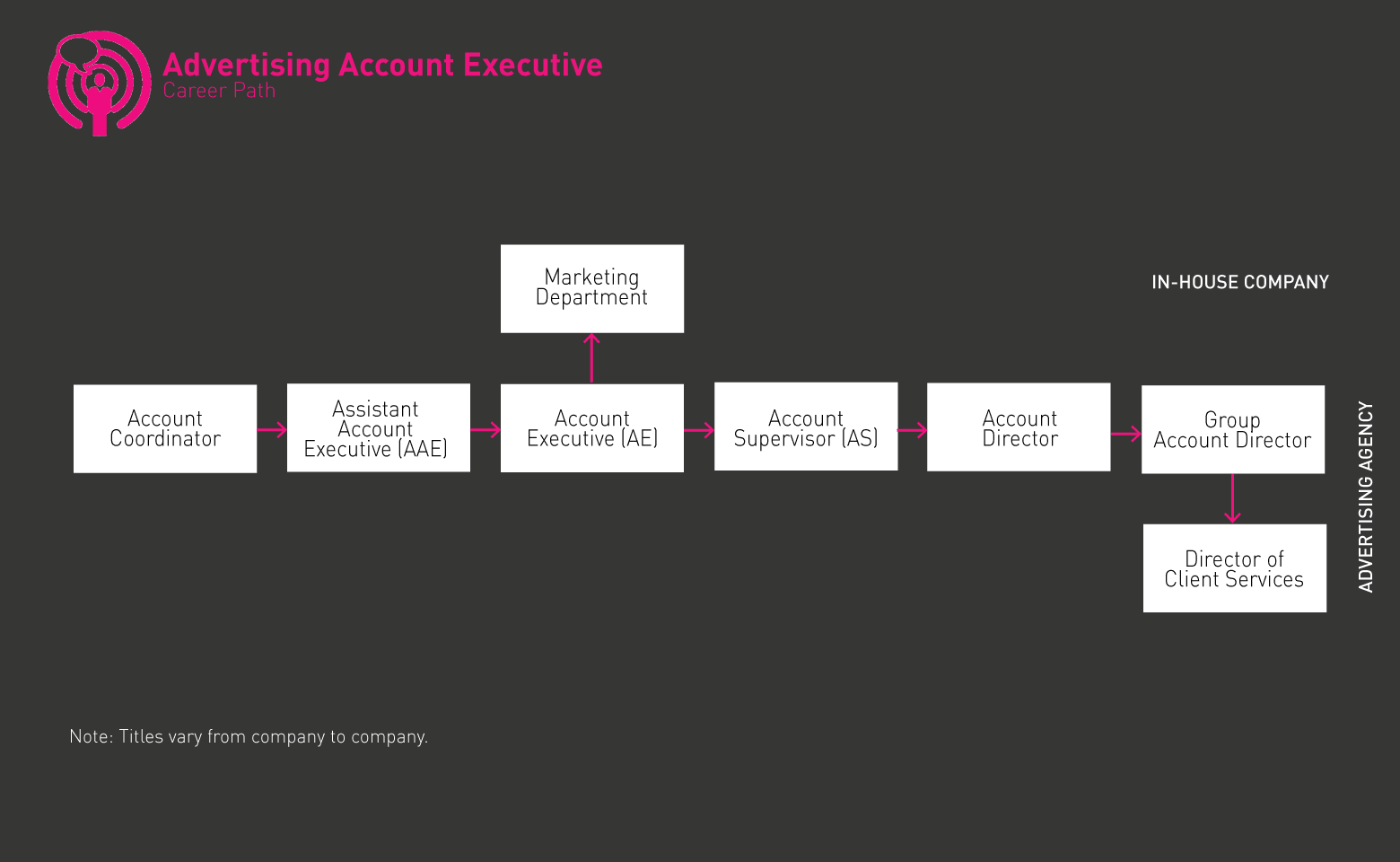 How to Land your 1st job
Work experience in sales, marketing, advertising, accounting, purchasing, or public relations are all useful for standing out against the competition
Apply for an internship.  

Internship King: Internship reviews for advertising, marketing and promotion.

Relocate to where the most work is! Per BLS, the states with the highest employment for these jobs are New York, California, Texas, Florida, and Massachusetts, with New York easily leading the pack
If currently employed in such areas, ask your supervisor if there are opportunities to work up into an account executive position
Set up informational interviews across the city and meet with as many people as possible. 

Use LinkedIn and your alumni database to e-mail people for an informational interview. Per CNBC, "Research shows that 70% of all jobs are not published publicly on jobs sites and as much as 80% of jobs are filled through personal and professional connections"

Sign up for alerts on job portals such as Indeed, Simply Hired, Glassdoor, Google for Jobs, and Zippia
Ask your professors, supervisors, and co-workers in advance if they'll act as personal references 
Talk with your school's career center for help with resumes, mock interviews, and locating recruiters
Review Advertising Account Executive resume templates to get fresh ideas 
Study Advertising Account Executive interview questions to prep for interviews 
Dress for interview success! 
As soon as you walk out of an interview, take notes of what was asked and how they responded to your replies
Before the interview, research the potential employers' clients and any awards they have received in past 5 years. 
The first full-time job title you will be applying to will be either an Assistant Account Executive or Account Coordinator.
How to stay competitive and climb the ladder
Moving up in an advertising agency means responsibility for more client accounts, increased interaction with senior members of the client marketing team and increased focus on contracting new clients and account so in order to climb the ladder you must be able to do those things. Here are some things to help you do that:  
Network!
Ask clients and superiors for feedback: things they liked about your work, things that they believe you could have done better.
"One of the most important things as an account person is your ability to work with people, above and below you. Honing your people skills is tougher to do in a classroom setting, but crucial to school organizations, team sports or any other setting that requires collaboration and leadership. These same skills and attitudes will help you work across different teams and clients in the agency world."
Stay current with the trends: advertising and marketing means you have to know what's going on in not just your city or country but also the world.
Specialize in a niche: be the go-to person for something (a certain minority group advertising, online advertising).
Recommended Tools/Resources
Plan B
Alternate careers: Marketing Executive, Public Relations Executive.
Words of Advice
"Always remember you can't do it alone! Make sure you're setting yourself up for success by having solid mentors that embody characteristics that are important to you. And when looking for or starting a new job, have a clear set of goals in mind. It's easier to find the right opportunities if you know what's important for you to achieve in your next steps." Lisa Wang, Brand Director, TBWA\Media Arts Lab
Newsfeed Featured Jobs Online Courses and Tools