Spotlights
Similar Titles
Automotive Drivability Technician, Automotive Mechanic, Automotive Service Technician, Automotive Technician, Diagnostic Technician, Heavy Line Technician, Lube Tech, Mechanic, Quick Service Technician, Service Technician, Service Technician, Maintenance Worker, Shop Foreman
Job Description
There are over 273 million motor vehicles registered in the United States. As with anything mechanical, these cars and trucks require a significant amount of upkeep to operate properly and safely. Automotive Service Technicians and Mechanics perform a wide range of valuable specialized services to keep our motor vehicles running on the roads. Many work for vehicle dealers or shops, while others are employed to maintain private company fleets. 
 
Duties can vary greatly depending on the employer and on the worker's training and experience levels. Most jobs involve inspecting parts for functionality and wear, performing maintenance actions, troubleshooting problems, and conducting repairs in accordance with factory specifications. Service techs and mechanics work with computerized diagnostic equipment, rely on standardized processes and manuals, and should have general skills to communicate issues with customers who may have little knowledge of how their vehicle works. 
Rewarding Aspects of Career
Ensuring the safety of vehicle passengers and other drivers on the road
Staying active and working with your hands
Exposure to a wide variety of different vehicle makes and models
Using problem-solving skills to troubleshoot complex issues
2018 Employment
770,100
2028 Projected Employment
763,660
The Inside Scoop
Job Responsibilities
Working Schedule
Automotive Service Technicians and Mechanics typically hold full-time jobs
Schedules may involve working weekends and nights
Many workers are employed to maintain private vehicle fleets for large organizations whose requirements dictate work schedules
Typical Duties
Use computerized diagnostic equipment to troubleshoot certain issues
Refer to standardized procedures, checklists, and technical manuals
Conduct repairs and routine maintenance in accordance with specifications
Test, repair, order, and replace parts for numerous makes and models of vehicles
Safely use hand tools such as wrenches, sockets, ratchets, pliers, as well as larger equipment such as jacks, hoists, welding devices, and lathes
Work with mechanical systems, such as engines and transmissions
Work with electronic systems tied to vehicle functions such as braking, transmission, steering
Potentially work with modern automotive sensor equipment
Potentially work with vehicles running on electric power or alternative fuels
Additional Responsibilities
Communicate recommendations and explain all work performed to customers
Depending on the employer, some sales experience may be helpful
Many workers specialize in areas such as air-conditioning, brakes and front-ends, diagnostics, and transmissions
Others are trained to work on ATVs, motorcycles, diesel trucks and buses, or heavy equipment used on farms or in construction
Skills Needed on the Job
Soft Skills
Ability to work independently
Patience and vigilance 
Strong commitment to quality and safety on the job
Ability to closely follow instructions 
Analytical; able to troubleshoot problems
Precision work
Good organizational skills for keeping tools secure and in the right place
Resilience and composure 
Sound judgment, sometimes under pressure
Customer service skills
Very detail-oriented
Technical Skills
General familiarity with using computerized equipment to look up vehicle histories and run diagnostics
Operating payment systems 
Physical skills, such as strength, stamina, dexterity, and hand-eye coordination 
Good near vision and color vision
Deep knowledge of mechanics
Different Types of Organizations
Garages or auto care shops for general needs
Repair centers
Specialty shops focusing on specific areas
Foreign-made automobile shops
Car dealerships
Large companies with vehicle fleets
Governmental agencies
Military units
Expectations and Sacrifices
Automotive Service Technicians and Mechanics have jobs that demand compliance with factory standards as well as state and federal standards. They're expected to work efficiently, often while customers are waiting for their vehicle. Many work independently and should be able to troubleshoot problems and reference written guidance, as needed. Often there can be minimal interaction with co-workers as they focus on tasks at hand. 
 
Vehicle repairs and maintenance are typically done indoors, or at least in open bays. Work centers are noisy and there is exposure to vehicle exhaust throughout the day. There is not much in terms of privacy, and there can be pressure to work quickly in order to get through as many jobs as possible in some cases. For those working with private fleets, hours can be impacted by requirements. For example, during holiday periods, extra delivery vans may be needed for package delivery services. This can extend work hours, therefore flexibility may be needed. Working overtime or on weekends and holidays can be challenging for employees taking college classes or who have family commitments. 
Current Trends
The job outlook is fairly stable. There isn't a projected increase or decrease in job opportunities over the coming decade. Vehicle usage is predicted to climb, however, it may also change as consumers alter their shopping patterns. Online sales are booming while retail stores are facing difficulty, suggesting fewer people driving to physical stores but more deliveries being made by truck or van.  
 
Entry-level service techs may face limited opportunities unless they stay up-to-speed on the latest technologies. This includes electric vehicles, which may have less maintenance requirements. According to CleanTechnica, 97% of mechanics cannot work on electric cars. This is a major factor to consider if you're looking into additional training and education to stay competitive. 
What kinds of things did people in this career enjoy doing when they were young...
As you might expect, enthusiasm for cars and vehicles can be an early sign of a budding mechanic. Many workers enjoyed playing with Hot Wheels, assembling LEGO cars, or gluing and painting traditional model kits. For some, a passion for vehicles is a trait passed on from their families. Unlike many other professions, working on cars is something a lot of people do in their own garages. This can provide early exposure to vehicle repair for kids, who might even be asked to lend a hand. 
 
For a lot of workers in this field, cars aren't simply a job, but a hobby. They may have enjoyed watching NASCAR races or spending weekends fixing up an old classic they bought from an ad. Several car enthusiasts love to attend events where owners show off their custom work. From vintage hotrods to modified imports, there are dozens of magazines and YouTube video channels devoted to every automobile niche you can think of. 
Education and Training Needed
A high school diploma (or GED) is the minimum threshold for entry into this field
Automotive Service Technicians and Mechanics often will have at least a year or two of informal training, such as practical hands-on experience
During high school, take automotive repair classes, as well as courses on electronics, computers, or math 
Following high school, intense vocational training of up to a year is often done
Employers may provide On-the-Job Training if sufficient post-secondary education isn't done
A specialty certificate is helpful to get started
An associate's degree isn't usually required but helpful to advance; many employers (manufacturers and dealers) pay for these programs for their employees
Two-year degree options include brake systems, electronic fuel management systems, automatic transmission, engines, and HVAC
Electricians need to finish their apprenticeship or vocational training and licensing exam
Techs who handle refrigerants need to pass an Environmental Protection Agency exam
Some employers require service techs to hold National Institute for Automotive Service Excellence certification in a specialty area, such as brakes or engine performance
This requires passing an exam and 2+ years of experience or school combined with experience
Things to look for in a program
Per O-Net Online, 52% of workers held a post-secondary certification
Look for vocational programs related to Automotive Service Technicians and Mechanics
Take courses to build skills related to mechanics, electricity, math, and customer service
Consider accredited online programs if you don't live near a campus
Consider the cost of tuition, discounts, and local scholarship opportunities (in addition to federal aid such as FAFSA or Workforce Innovation and Opportunity Act benefits)
Think about your schedule and flexibility, when deciding whether to enroll in an on-campus, online, or hybrid program
Study in specialization areas such as electric or alternative fuel vehicles, brake repair, front-end work, or transmission
Work on certifications such as: 
Advanced Engine Performance Specialist 

Auto Maintenance and Light Repair 
Damage Analysis and Estimating 
Emissions
Suspension
Things to do in High School and College
Visit local dealerships and ask for a tour of their service operations. If things are busy, ask if you can schedule a slower time to visit and ask for guidance 
If you have friends or relatives who work on cars, volunteer to help and be ready to put in some hours! Any hands-on experience and informal training will be beneficial
Take any automotive elective classes you can, such as Auto Collision Technology, Auto Repair Technology, or Introduction to Mechanics
Check out community college programs that accept high school students
Read automotive magazines and subscribe to "how to" channels on YouTube, with a goal towards learning new things
If you have a vehicle, comb through your owner's manual and get familiar with the terminology
Get familiar with Chilton Repair Manuals made for "do-it-yourselfers"
Seek apprentice jobs to perform duties such as changing brake pads, cleaning the shop, counting inventory, ordering parts, changing fluids, and testing batteries.
Typical Roadmap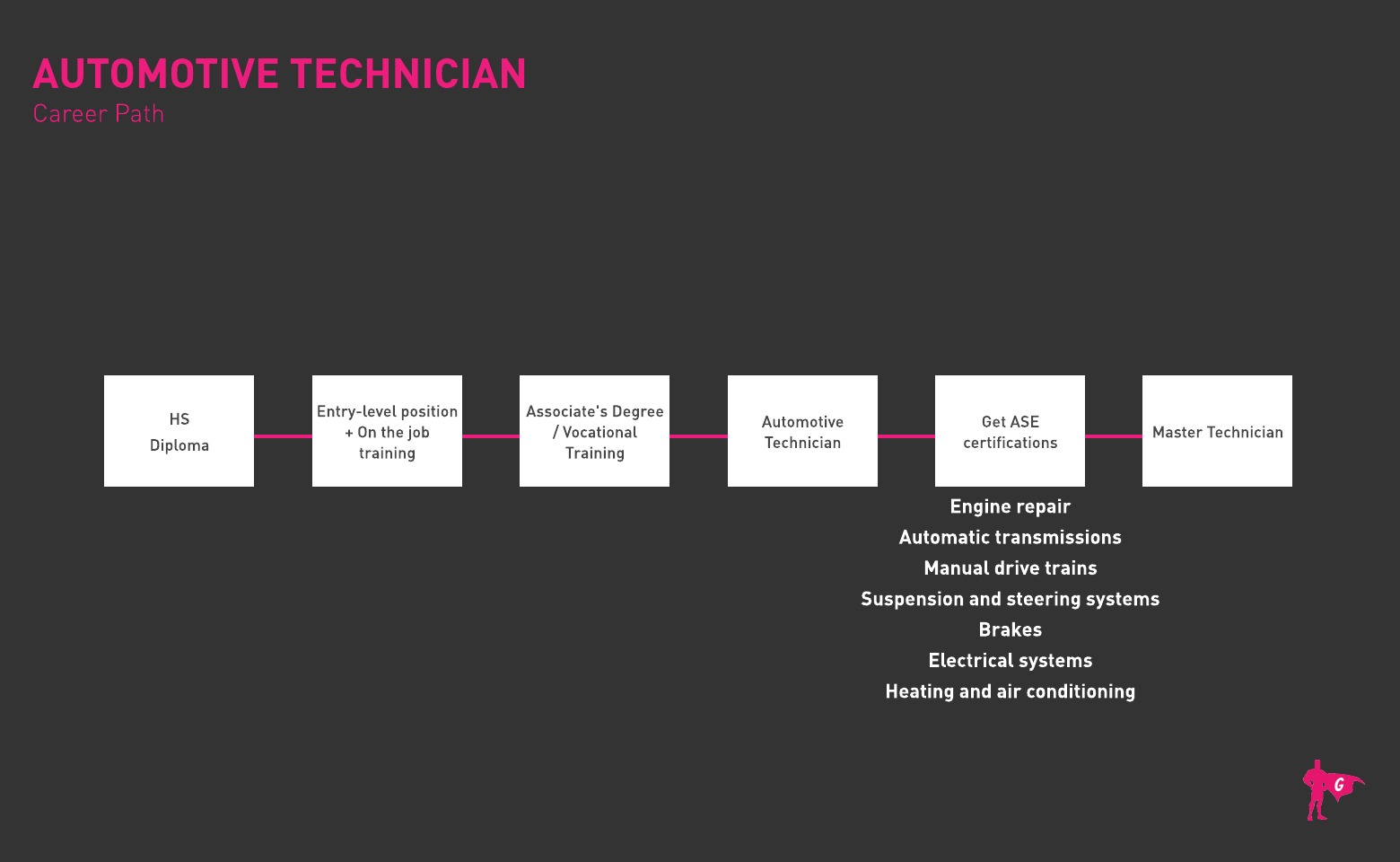 How to land your 1st job
Keep records of all your informal training and experience, to include the makes and models of any vehicles you work on and the actions performed
List all formal training, including any classes taken in high school, vocational/trade schools, community colleges, or universities
Use hard data on your resume or application, such as statistics and numbers 
Keep a master copy of your resume; tailor copies to the exact jobs you apply to
Have someone with experience look over your resume, if using one to apply
Ask people in your network if they know of any upcoming or current job openings
Let previous supervisors, instructors, and others in your network know you are job seeking; ask to list them as references, or if they can do recommendation letters 
Be ready for an interview! Use mock interviews to practice, prepare your answers to common questions, study how to dress, and master automotive technical jargon 
Look for jobs posted on employment portals such as Indeed, Monster, or even Craigslist. 
If there are specific companies you want to work for, call and ask their HR person or recruiter for details on applying (if the information isn't on their website) 
How to Climb the Ladder
Think long-term. Ask the company you're applying to (or working for) and be clear you want to understand the promotion potential and the steps you need to take
Master your job and do excellent work. Your supervisor will notice!
Always be on time and stay positive
Find solutions, not reasons to complain
Be courteous and professional at all times, with peers and especially customers (customers' impressions of the company may be based on their interactions with you)
Boost your odds by completing advanced education and training
Stay ahead of the competition by keeping up with changes in technologies
Earn a specialized certificate in a hard-to-fill area
Take new employees under your wing and demonstrate your leadership skills
Network
Read publications that expand your knowledge, then practice what you learn
Recommended Resources
Websites
AllData
Automotive Parts Rebuilders Association
Automotive Engine Rebuilders Association 
Auto Channel
How Cars Work
The C.A.R. Show
Popular Mechanics
Identifix
Books
Plan B
The Bureau of Labor Statics lists the following similar occupations to consider:
Aircraft and Avionics Equipment Mechanics and Technicians
Automotive Body and Glass Repairers
Diesel Service Technicians and Mechanics
Heavy Vehicle and Mobile Equipment Service Technicians
Small Engine Mechanics
Not everyone who loves cars wants to work on them. A few alternative paths include Drivers, Auto sales managers, Car rental agents, Tire technicians, Tow truck drivers, Journalists, Air Force vehicle operations, and many other options. 
Newsfeed Featured Jobs Online Courses and Tools