Spotlights
Similar Titles
Artistic Director, Casting Agent, Casting Coordinator, Casting Director, Extras Casting Director, Model Booker, Talent Producer, Talent Scout
Job Description
Ever wonder how the event and concert venues in your area decide which acts are going to perform there? Probably not…but these bookings don't happen by accident! In fact, there are two related career types involved—Talent Buyers and Booking Agents.   
Talent Buyers work directly for venues (especially larger ones). Their full-time jobs are to find, book, and "buy" talent (i.e., acts such as live music bands). Booking Agents work for a band (or a group of bands) and collaborate with the Talent Buyers to make deals and book the shows.
 On the Talent Buyer's end, the work requires a solid understanding of the local community's tastes in entertainment. That way, venues have a better chance of hosting shows that audiences will pay to come and watch. This includes short events such as an outdoor summer concert series in the park, or a roster of bands playing shows in celebration of holidays (like the Fourth of July!). Booking Agents also need to keep their finger on the pulse of the entertainment scene, to ensure their clients will be successful and sell lots of tickets at whatever venues they're traveling to. 
There's a lot of networking involved in both of these related professions. Talent Buyers and Booking Agents need connections both inside and outside the areas they represent. Gigs are usually scheduled weeks or months in advance, which allows everyone to lock down the billing details prior to advertising and promotion efforts.
Rewarding Aspects of Career
Having a direct influence on the shows that come to a town or city

Helping to boost artists' and performers' profiles by booking them for gigs 

Contributing to the commercial success of local businesses, including cafes, bars, nightclubs, arenas, theaters, amphitheaters, stadiums, convention centers, and even cruise ships

Getting to meet and engage with a wide variety of performers 
The Inside Scoop
Job Responsibilities
Working Schedule
Talent Buyers and Booking Agents may work full-time jobs, or their duties may simply be part of another job. They work normal business hours, usually on the phone, writing emails, researching acts or venues, and firming up contract details. Travel may be required and they may work nights to visit venues and ensure the acts that have been hired are taken care of and have what they need. Talent Buyers might go out to local area venues to scout new talent. 
Typical Duties
Talent Buyers
Research bands and other acts to find suitable talent for local venues and upcoming events

Talk with venue stakeholders to learn about the types of shows that sell the most tickets or that they want to focus on

Develop a strong sense of what local community audiences are willing to pay to watch

Keep track of venue seating/occupancy, estimated ticket prices, and how many tickets must be sold for a show to make a profit for all interested parties

Factor in additional revenue-generating sales, such as drinks, food items, service fees, parking, VIP packages, etc. 

Reach out to artists and booking agents to discuss interest, review schedules, and negotiate contracts

Some contracts are known as

tour riders

and are broken into two parts—a 

technical rider

and a

hospitality rider

Highly sought-after acts may have extensive tour riders featuring some high maintenance demands! But, if the Talent Buyer really wants that act, they may have to deal with it 

Check out Tone Deaf's

"17 backstage riders where the artists just took it way too far"

for examples of some crazy band requests!

Alert venues of bookings so they can update calendars. Work with concert promoters and venue reps as needed, so they can create advertisements and other promotional materials

Contact "opening acts" in the local area that can play brief sets prior to the headliner act

Collaborate with applicable venue staff, bands, agents, tour managers, road crew, audio engineers, DJs, etc. 
Booking Agents
Form ongoing relationships with Talent Buyers for venues where your band(s) wants to travel

Objectively review the acts you represent to ensure they are suitable for particular venues being looked at

Research audiences and genres to gain a better understanding of what "sells"—and who is buying it!

Discuss details regarding fees, projected revenue, and other contract details

Go over potential acoustics issues and equipment setup

Review other events scheduled in the areas being booked, to ensure there's no stiff competition in a similar genre that could draw away crowds

Share publicity information with venues for use in marketing materials, such as photos and biographical details 

Take into consideration if the band will be a headliner or opening act. Relatively popular bands may not like opening for other acts…but, especially at major venues, the headliner must be whichever act will bring in the most ticket sales at the highest prices!
Additional Responsibilities
Follow social media groups that discuss music acts. Pay attention to what people are saying about what they want (or don't want) to see

Review potential competing events in the area that might draw away crowds

Discuss arrangements for bands to sell their own merchandise or other items at the event

Keep up to date on current music, artists, and trends

Build strong relationships with venues, artists, agents, managers, and promoters 

Help new acts gain exposure through bookings  

Ensure contract terms are pre-arranged and all payments are made in a timely manner. Follow-up with applicable personnel, as needed
Skills Needed on the Job
Soft Skills
Attention to detail

Creativity

Goal-oriented

Entrepreneurial 

Initiative

Leadership and management skills 

Multitasking

Negotiation skills

Organization

Passion for music

Patience 

Persuasive

Problem-solving

Strong communication skills 

Teamwork

Time management 
Technical Skills
Broad knowledge of many music genres, artists, and trends

Calendaring

Cultural awareness

Familiarity with concert marketing strategies

Good "ear" for music

Knowledge of entertainment contracts and tour riders

Logistics (such as travel arrangements, including lodging, meals, and transportation)

Venue management
Different Types of Organizations
Venues that host music events (such as cafes, bars, nightclubs, arenas, theaters, amphitheaters, stadiums, convention centers, and cruise ships)

Self-employed
Expectations and Sacrifices
Both Talent Buyers and Bookers must look out for the best interests of their customers, but also try to ensure mutually beneficial agreements. For Talent Buyers, they must find acts their venue can afford and which will attract as many ticket buyers as possible. Bookers, too, must pin down suitable venues where the acts they represent will be promoted and set up for success! In some cases, however, a deal may not necessarily make money for everyone but can still be a good investment because of the relationships it builds, which can pay off in the future. 
Some bands let their popularity go to their heads, and can become difficult to deal with. Their tour riders can also get complicated, with frivolous demands such as having a small tree "no less than four feet but no higher than six feet" in the dressing room. 
Trivia: Former Van Halen singer David Lee Roth once explained that his band's infamous rider to have M&M's available but with all the brown ones removed was actually done as a test to see if the venue was paying attention to more technical aspects of the contract. 
Current Trends
Concert ticket prices have gone up considerably in recent years, while simultaneously the economy hasn't been doing so hot. Thus, it is important for Talent Buyers to find acts that people can afford to see but that will also generate enough revenue for the venue to make the effort worthwhile. 
Meanwhile, ticket reselling (when third parties buy up seats and then resell the tickets at a markup) is becoming increasingly scrutinized as the practice has gotten out of control. Many resellers do it as a side hustle to earn extra cash. Others have organized systems that scoop up popular show tickets as soon as they hit the market, with the intent to resell them at the highest possible markup to people who can afford them. 
That said, artists and venues are also in hot water due to the practice of dynamic pricing, which adjusts ticket prices based on supply and demand. This allows said artists and venues to maximize profits at the expense of the majority of fans who get priced out of the market when they can't pay hundreds or even thousands of dollars to see their favorite band live. 
What kinds of things did people in this career enjoy doing when they were younger…
Talent Buyers and Bookers were typically music fans growing up, and many likely went to frequently see live music events. Some are musicians themselves and learned the ropes while working inside the music business. In addition to knowing about music and how live events function (including the financial aspects of such shows), they're also people persons who enjoy growing their networks while wheeling and dealing with artists, managers, and venue representatives. Most are extroverts who may have held early jobs in sales or conducting business via phone and email. 
Education and Training Needed
Talent Buyers and Music Bookers don't have specific educational routes. A college degree or at least some ad hoc courses in music, business, and/or sales can be helpful—but experience is often the most valued commodity

Per

Zippia

, 79% of Talent Buyers have a bachelor's, though this estimated figure may be high

Most begin their careers with an internship or as an assistant working at a particular venue, concert promotion company, or with a particular band or talent agency

As noted by

Berklee Online

, common subjects to be familiar with include:

Booking

Entertainment contracts

Marketing

Media relations

Musical knowledge

Ticket sales

Venue management
Things to look for in an University
Always compare the costs of tuition and other fees, and review your options for scholarships and financial aid. Check out the program's alumni to see how many made it into the music business! 
Things to do in High School and College
Decide which field you want to focus on—booking or buying! 

Read about both career fields, because they interact with one another closely

Sign up for classes or programs where you can learn about music, venue management, sales, marketing, legal contracts, and general accounting

You also want to hone your soft skills, such as team building, persuasion speaking, and negotiation techniques 

Get engaged with the local music scene! If you're a musician, try to get booked yourself and start making connections. Or, join a band and get a few gigs in the surrounding area

Attend concerts and take every opportunity to speak with band members, road and sound crews, managers, etc. If you see them grabbing a beverage or working a merchandise table, go up and start chatting!

Get a feel for the types of events that are popular in your area. Go to shows where you are old enough to get in. Alas, many shows are in clubs where the age limit is 21, so obviously high school students and many college students won't be able to get in!

Volunteer at venues where they ask for help from the local community

Listen to a wide range of music. Sign up for accounts on streaming music services and tune in to different stations so you can gain exposure to new artists and songs

Study the business side of the music industry. Learn how deals work and how

profit and loss statements

function. Check out sites like

Careers in Music

for insights and advice from insiders 

Take music classes in high school to learn about theory, composition, and arrangement.

Train your aural skills

so you can develop an "ear" for music 

Apply to internships with venues, concert promotion companies, talent agencies, and other employers in the industry. If you have friends in a band, volunteer to serve as their booker to get some practice

Participate in online discussion forums and groups. Ask questions and takes notes about helpful tips

Learn about software programs that help book artists, such as

Gigwell

Watch YouTube videos (such as

How to Become a Talent Buyer for Live Nation

)
Typical Roadmap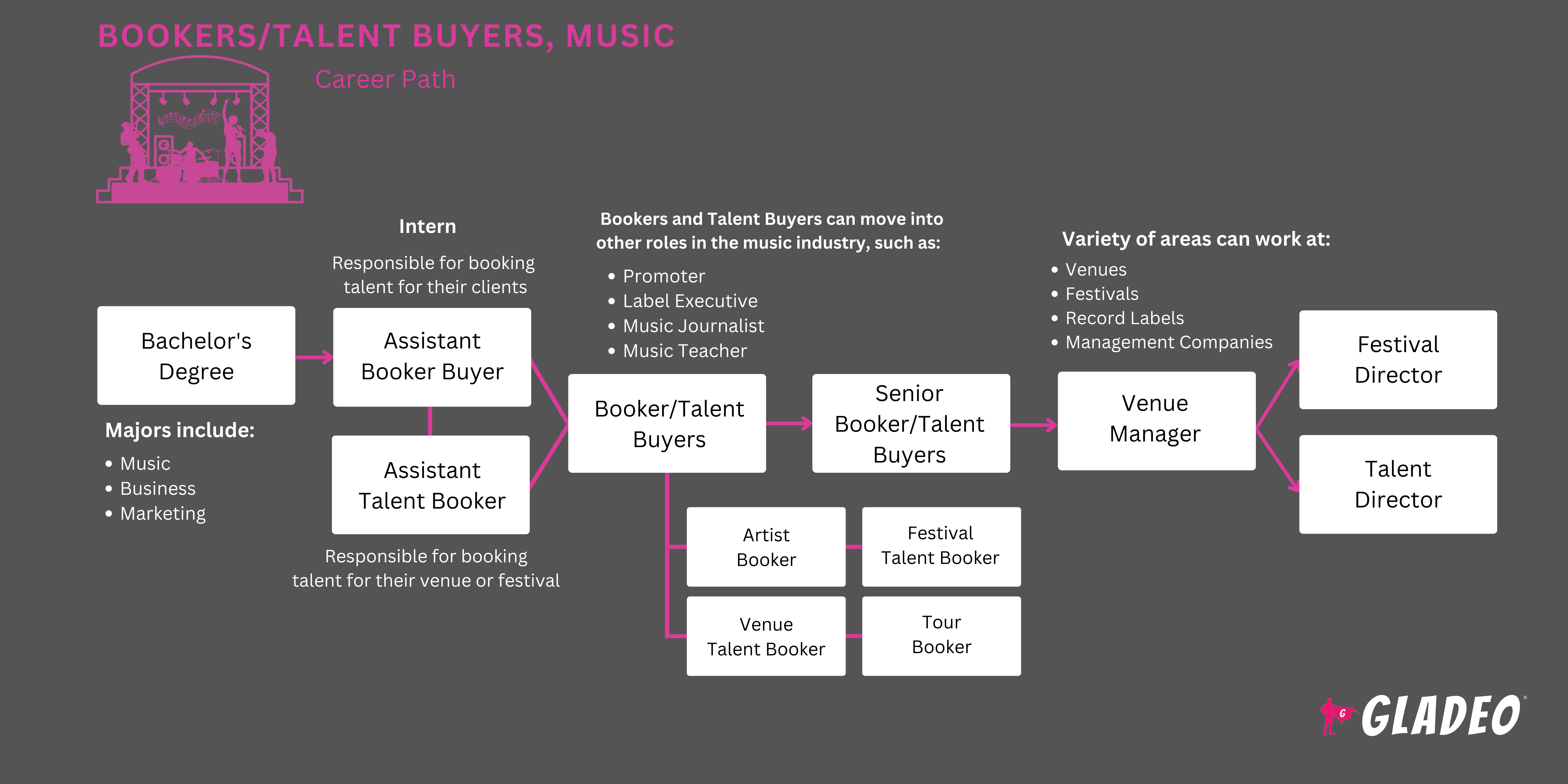 How to Land your 1st job
It's a Catch-22 but Bookers and Talent Buyers need to demonstrate that they have enough experience to get hired…but it is hard to gain such experience without getting hired! 

People in these professions must often work as interns, assistants, or volunteers to rack up experience until they have enough connections and work history to find full-time positions

To get your foot in the door, start by applying to relevant jobs at local venues (cafes, clubs, bars, theaters, etc.), concert promotion companies, talent agencies, and other employers in the industry. Check out city government listings for jobs at local community centers or seasonal gigs working festivals

Build a website, stay active on social media, get some business cards printed up, and start networking by going to shows and meeting live-music industry players. It's critical to have strong industry connections to find work. Many jobs in this field aren't advertised; they are gotten through word-of-mouth!

Having a relevant music, sales, or business degree or certificate can boost your odds of getting interviewed

Move to cities where there are plenty of live music venues. It can be tough to find work in rural areas 

Review job postings on

Indeed

,

ZipRecruiter

, and industry job boards like

Music Business Worldwide

,

Music Industry Careers

,

Synchtank

, and

MusicCareers

Create an outstanding profile on

LinkedIn

and advertise yourself as Open for Business

If taking college classes, ask your program faculty if they have tips or connections that could help you

Contact clients or teachers who would be willing to serve as personal references or write reviews about your work
How to Climb the Ladder
Book as many gigs as you can! As some insiders say, "it's a volume game!" 

Remember that while profits keep everyone in business, relationships are the key to success in these career fields

Maintain close ties with artists, venue owners and managers, concert promoters, festival directors, and other industry players. Grow these relationships because they can pay off over time, especially when acts become more famous and can charge more for tickets

Pay close attention to the details of contracts. Make sure bands are properly taken care of and get what they need to put on a fantastic show that earns great reviews for the venues

Don't get demotivated if one show loses money. Focus on the long game and don't burn bridges. Invest in long-term strategic relationships

Develop a reputation as a person that's motivated, passionate, knowledgeable, creative, and easy to work with. Match suitable artists with suitable venues, so the odds of turning a profit for everyone go up! 

Remember that booking talent with special event buyers can be a very lucrative trade! From corporate events to weddings and private parties, these types of gigs can spell big bucks (at the extreme end of this ecosystem, the artist Beyoncé reportedly earned

~$24 million

for a private gig) 

Always keep learning new things, through classes, workshops, and discussions with other industry professionals

Apply to work for larger venues or with bigger acts as your reputation grows 

Join professional organizations and participate in music-industry events like

Aspen Live

and

SXSW

. Get to know the movers and shakers in the business…and work on becoming one yourself!
Recommended Tools/Resources
Plan B
The music industry can be tough to break into, especially as a Music Booker or Talent Buyer. It's hard to get hired without experience, and hard to get that experience without relevant jobs. Many music-related careers have similar obstacles, but if you're interested in exploring some alternative jobs in this industry, consider the following related occupations! 
A&R Representative

Audio-Visual Specialist

Choreographer

Composer

Musician

Music Producer

Music Teacher

Music Video Director

Sound Engineer

Studio Manager
Newsfeed Featured Jobs Online Courses and Tools