Spotlights
Similar Titles
Bridge Carpenter, Cabinet Maker, Carpenter, Concrete Carpenter, Construction Carpenter, Form Carpenter, Framer, Maintenance Carpenter, Rough Carpenter, Scaffold Builder
Job Description
Carpenters build and repair building frameworks and structures made from wood and other materials.
Rewarding Aspects of Career
You get to build things and work with your hands!
Mobility: If you are in the union, there are various local clubs across the nation. So if you move to another city, you can get on the Out of Work list and get called on for work.
Flexibility: You decide how much you want to work. You create your own vacation. No such thing as a 2-week vacation.
"You are able to look at the world differently. You know how to do things, design things, make things…When I bought my house, I redesigned my own bathroom. You feel empowered. You can create and build on a regular basis." Silvia Y. Ledezma, Journeyman Carpenter, Scaffold (Staging) Builder, Contra Costa County
The Inside Scoop
Job Responsibilities
Follows blueprints and building plans to meet the needs of clients.
Installs structures and fixtures, such as windows and molding.
Measures, cuts, or shapes wood, plastic, fiberglass, drywall, and other materials.
Constructs building frameworks, including wall studs, floor joists, and doorframes.
Helps put up, levels, and installs building framework with the aid of large pulleys and cranes.
Inspects and replaces damaged framework or other structures and fixtures.
Instructs and directs laborers and other construction trade helpers.
Different Types of Carpenters
Residential
Works on new-home, townhome, and condominium construction and remodeling.
Sample tasks: Builds and sets forms for footings, walls, roofs and decks; Frames interior walls, build stairs, and installs drywall, crown molding, doors and kitchen cabinets.
Commercial
Works on commercial office building, hospitals, hotels, schools and shopping malls construction and remodeling.
Sample tasks: Works with light gauge and load-bearing steel framing for interior partitions, exterior framing, and curtain wall construction.
Commercial carpenters can usually perform the tasks of residential carpenters as well.
Industrial
Works in civil and industrial settings where they put up scaffolding and build and set forms for pouring concrete. Example) tunnels, bridges, power plants, or sewer construction projects.
Sample tasks: Builds tunnel bracing or partitions in underground passageways and mines to control the circulation of air to worksites.
Skills Needed on the Job
Manual dexterity: good with hands
Hand eye coordination
Critical thinking and problem solving: will encounter unexpected problems and you will have to figure them out in a timely fashion.
Basic math: arithmetic, algebra, geometry, calculus and statistics.
Computer skills: project planning, estimating software.
Attention to detail
Physical strength and stamina
Expectations/Sacrifices Necessary
Can be dangerous because you are working with sharp objects and at great heights.
No structure: you have to manage your money and time because the work is project-based. You finish a project and it might be some time when you get on another project. Need to manage your time and finances wisely.
If you like structure and like the 2-week paycheck, then this is not the job for you. But if you want flexibility, to set your own hours, then this is a great career path.
What kinds of things did people in this career enjoy doing when they were young...
Building, creating and fixing things!
Being outside in nature.
"I have been artist since I was 17 years old and I have always liked working with my hands – cutting, matting." Silvia Y. Ledezma, Journeyman Carpenter, Scaffold (Staging) Builder, Contra Costa County
Why become a union carpenter?
Protection: wages, discrimination, on the job injury.
Out of work list
Benefits
Higher pay: over-time, double time.
Retirement (depending on union): After 5 years, in some trades/unions, you are vested and are eligible for company matching. After 30 years, you are fully vested at 100 percent of your pay.
2016 Employment
1,025,600
2026 Projected Employment
1,109,400
Education and Training Needed
Carpenters learn their trade through apprenticeships and practice. A high school diploma/GED is needed, but a college degree isn't
Some students complete an associate's in carpentry from a community college or vocational school
Union and contractor associations manage relevant apprenticeship programs (see our Recommended Resources > Websites for details)
Practical education gained from work experience is vital. Entry-level carpenters start with basic tasks, learning under the supervision of a seasoned pro
Common areas of learning include reading blueprints, basic math, building codes, safety principles, and first aid
Occupational Safety and Health Administration (OSHA) basic safety training is needed, as well
Additional specialized training can cover working with concrete, welding, rigging and scaffolding, and confined space protocols
There are dozens of specialized certification options from organizations such as:

Door and Hardware Institute
Fenestration and Glazing Industry Alliance
Green Business Certification Inc.
National Association of Home Builders
National Association of the Remodeling Industry
National Center for Construction Education and Research
National Wood Flooring Association
Scaffold & Access Industry Association
Vinyl Siding Institute
Basic requirements for apprenticeship program
Minimum age of 18
High school education or equivalent
Physically able to do the work
U.S. citizen or proof of legal residency  
Pass substance abuse screening
How to find a local apprenticeship program
Click here to find your local apprentice training center.
Things to do in high school
Take courses in high school such as shop, math, algebra, geometry, physics, and mechanical drawing
Get in the habit of practicing good safety and wearing proper personal protective equipment
If needed, start an exercise program or take P.E. to ensure you have the necessary strength and stamina to perform carpentry work full-time
Obtain your driver's license so you can make it to job sites when needed
Apply to entry-level construction laborer jobs to gain real-world experience
Volunteer with local Habitat for Humanity construction projects to learn about materials, methods, and tools. Consider overseas opportunities for extra excitement!
Review criteria for landing a Carpenter apprenticeship in your area
Study books, articles, and video tutorials related to the trade
Ask a seasoned Carpenter if they can mentor you
Keep a working draft of your resume, noting any skills you've picked up, projects completed, and other details
Get certified in a specialized area to bolster your credentials
Education Stats
43.4% with HS Diploma
5.1% with Associate's
6.1% with Bachelor's
0.9% with Master's
0.3% with Professional
Typical Roadmap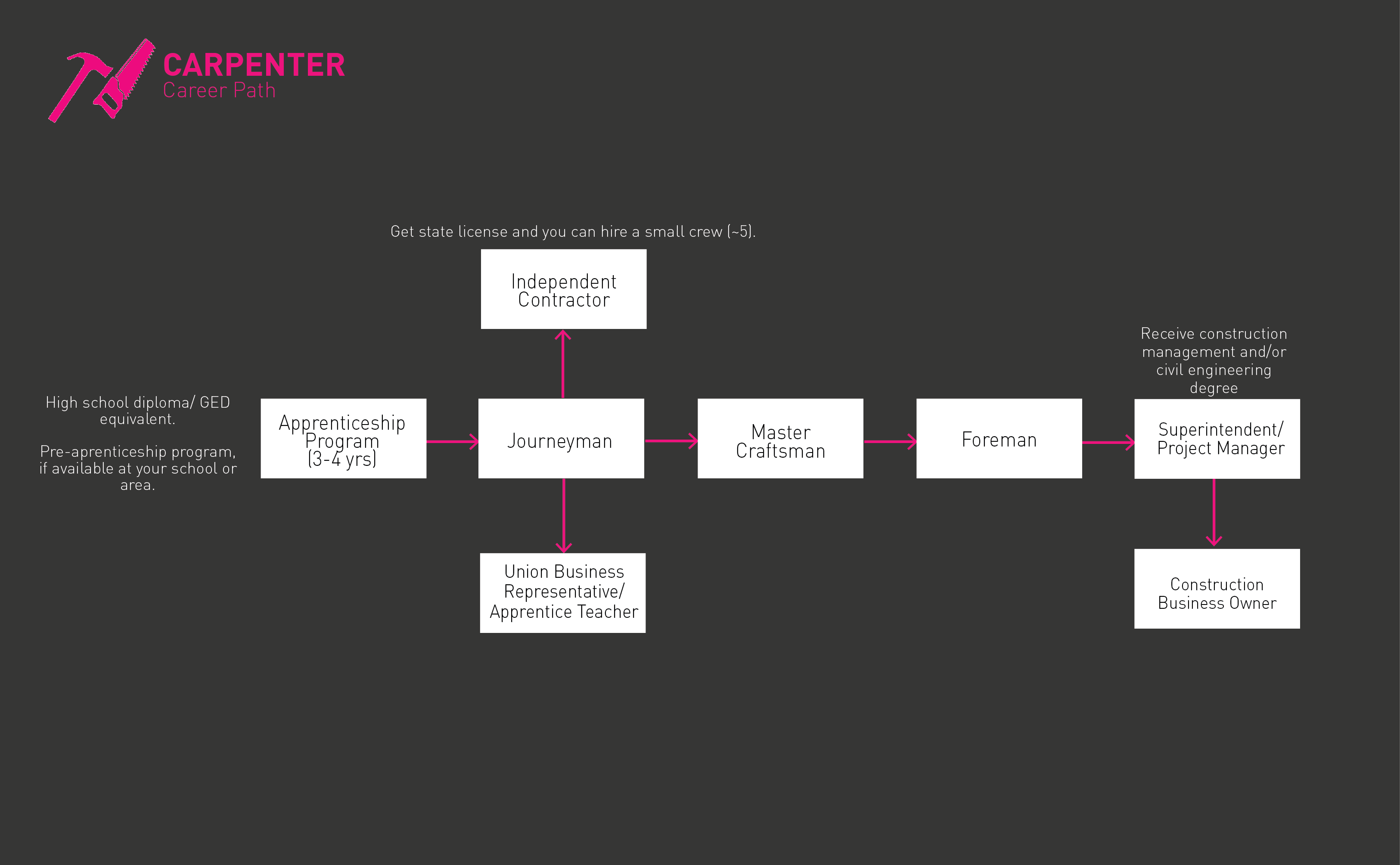 How to land your 1st job
Carpenter apprenticeships are the way to go to get into this line of work
Screen job ads on job portals such as Indeed, Simply Hired, Glassdoor, and Zippia, as well as Craigslist for smaller, local opportunities
Read requirements carefully and ensure you meet all necessary criteria
Reach out to your network to let everyone know you are looking for work
Visit the websites of local companies that hire Carpenters. Look for job openings that may not be listed elsewhere
Be proactive! Consider calling a few companies to ask questions about apprenticeships
If attending a college or trade school, ask their career center for assistance putting together a resume and practicing for interviews
Many trade/vocational programs serve as pipelines to local recruiters, so let them know when you're ready for work!
Review Carpenter resume templates to get ideas for wording and formats
Attend local job fairs to talk with recruiters and share your resume
Talk to your teachers and past supervisors about their willingness to serve as personal references
Study Carpenter interview questions to prep for interviews!
How to stay competitive
Hustle!: Don't only depend on the out of work list. Attend the local union events. Make relationships with the foreman. Be proactive.
Be able to communicate with your team.
Be curious and constantly learn the new developments (software, techniques, news) of the career.
Language skills: Knowing Spanish is a big plus.
Recommended Tools/Resources
Websites
Apprenticeship.gov
Associated Builders and Contractors
Associated General Contractors of America
CareerOneStop
Department of Labor Employment and Training Administration
Door and Hardware Institute
Fenestration and Glazing Industry Alliance
Green Business Certification Inc.
Helmets to Hardhats
Home Builders Institute
National Association of Home Builders
National Association of the Remodeling Industry
National Building Trades Union
National Center for Construction Education and Research
National Wood Flooring Association
NCCER
Occupational Safety and Health Administration
Scaffold & Access Industry Association
United Brotherhood of Carpenters
Vinyl Siding Institute
Books
Newsfeed Featured Jobs Online Courses and Tools Annual Salary Expectations