Spotlights
Similar Titles
Executive Chef, Sous Chef, Chef de Cuisine, Pastry Chef, Line Cook, Culinary Specialist, Head Chef, Banquet Chef, Personal Chef, Corporate Chef, Research Chef
Job Description
Chefs oversee the daily food preparation at restaurants or other places where food is served. They direct kitchen staff and handle any food-related concerns.
Rewarding Aspects of Career
You can become your own boss and open up your own restaurant one day!
Getting to design creative dishes!
Respect
Getting to make yummy dishes!
2016 Employment
146,500
2026 Projected Employment
160,600
The Inside Scoop
Different places of employment
Restaurants/Hotel restaurants 
Work Life: Hard work, work nights and weekends, extremely cutthroat, "glamorous", have opportunity to move up and one day have the opportunity to create dishes on the menu and your own menu.
Corporate/Franchises
Work at the headquarters at companies such as Olive Garden, Red Lobster, Dominoes, etc.
Product Development: Here you are able to help develop recipes, help record what ingredients were used.
Work Life: regular hours, no weekends, stable income from the get go, not as glamorous and safe.
Requirements: (Depending on which company you apply) Some companies require ~10 years of experience of being a chef because you need to have experience on how much food cost, how to reduce ingredients to pull more profits, etc.
Airlines
Work in food development for their customers. You would need to help cook larger orders of food and meet the required time for it to get on the plane.
Catering company
Work for a company that prepares food for events (such as wedding).
Private households
Work for one client, such as a corporate executive, university president, or diplomat, who regularly entertains as part of his or her official duties. 
Personal chefs
Plan and prepare meals in private homes. They also may order groceries and supplies, serve meals, and wash dishes and utensils. Personal chefs are often self-employed or employed by a private cooking company, preparing food for a variety of customers.  
Different check level in a restaurant kitchen
Executive chefs are primarily responsible for overseeing the operation of the whole kitchen. They coordinate the work of sous chefs and other cooks, who prepare most of the meals. Executive chefs also have many duties beyond the kitchen. They design the menu, review food and beverage purchases, and often train employees. Some executive chefs are primarily occupied by administrative tasks and spend little time in the kitchen.
Chefs de cuisines are a kitchen's second-in-command. They supervise the restaurant's cooks, do some meal preparation tasks, and report results to the head chefs. In the absence of the head chef, the chefs de cuisines run the kitchen.
Sous chefs (pronounced "soo-shef" -- French for "under chef") are the direct assistant of the chefs de cuisine.  Larger kitchens often have more than one sous chef, with each covering a certain shift or having his or her own area of responsibility, such as the banquet sous chef, in charge of all banquets, or the executive sous chef, in charge of all other sous chefs.
Chef de parties (also known as a "station chef" or "line cook") are in charge of a particular area of production. In large kitchens, each station chef might have several cooks and/or assistants. In most kitchens however, the station chef is the only worker in that department. Line cooks are often divided into a hierarchy of their own, starting with "First Cook", then "Second Cook", and so on as needed. 
Chef de parties stations include:
Sauce chef or saucier - prepares sauces, stews, and hot hors d'oeuvres, and sautes foods to order. This is usually the highest position of all the stations.
Fish cook or poissonier - Prepares fish dishes (this station may be handled by the saucier in some kitchens).
Vegetable cook or entremetier - Prepares vegetables, soups, starches, and eggs. Large kitchens may divide these duties among the vegetable cook, the fry cook, and the soup cook.
Roast cook or rotisseur - Prepares roasted and braised meats and their gravies, and broils meats and other items to order. A large kitchen may have a separate broiler cook or grillardin (gree-ar-dan) to handle the broiled items. The broiler cook may also prepare deep-fried meats and fish.
Pantry chef or garde manger - is responsible for cold foods, including salads and dressings, pâtés, cold hors d'oeuvres, and buffet items.
Pastry chef or pâtissier - Prepares pastries and desserts.
The relief cook, swing cook, or tournant - Replaces other station heads.
Skills Needed on the Job
Ability to work under pressure.
Culinary skills (knife skills, boiling, sautéing, poaching, braising, and grilling)
Effective communication
Time management
Safety and sanitation
Ability to lift heavy objects.
Leadership and management (in order to move up the ladder)
Artistry (presentation of the food)
Expectations/Sacrifices Necessary
Highly competitive industry
For restaurants: Not a 9-5 job. This is a lifestyle! Work long hours, nights and weekends.
Tiring and stressful environment: you will be always on your feet and be ON while you are working.
What kinds of things did people in this career enjoy doing when they were young...
Loved to cook!
Loved going to restaurants and interested in food and drinks.
Education Needed
Technically, Chefs do not need a degree; however, employers generally like to see evidence of formal training

O*Net notes that 52% of workers in this field have an associate's, 10% a bachelor's, and 17% a certificate 

Many Chefs learn via a community college or vocational school culinary programs, where they earn a certificate or associate's degree. Some pick up the trade through apprenticeships or are simply promoted from line cook positions after a few years of work experience 
Culinary students should expect to learn not only cooking skills but also general kitchen protocols including sanitation. Other topics include planning menus and sourcing ingredients and inventory 
Many states require Chefs to obtain a Conference for Food Protection's Food Protection Manager's certificate or a Food Handlers card from an American National Standards Institute-accredited program
Other certification options include:

American Correctional Food Service Association - Certified Correctional Food Service Professional    
American Culinary Federation - 
Certified Chef de Cuisine    
Certified Culinary Administrator    
Certified Master Chef    
Certified Master Pastry Chef
Certified Secondary Culinary Educator    
Certified Sous Chef    
Certified Working Pastry Chef    
Personal Certified Executive Chef    
International Food Service Executives Association - Master Certified Food Executive    
North American Association of Food Equipment Manufacturers - Certified Foodservice Professional    
Retail Bakers of America - Certified Decorator    
United States Personal Chef Association - Certified Personal Chef    
Wedding Planning Institute - Certified Wedding and Event Planner    
What you will learn in culinary school
Health and safety courses
History of cooking
After about 3 months in the classroom, that's when the fun begins!

Basic cutting and chopping techniques, basic sauces,
Learn about presentation, taste, and temperature.  
Will practice on various dishes to help the student learn about cost effective product usage, presentation ideas and time management. This is how you will be graded.
Things to do in high school
Cook at home and take cooking classes in high school. Don't be afraid to experiment with your own unique style
Consider whether you prefer cooking or baking. If cooking, decide if there is any particular cuisine you want to specialize in, such as Italian, Mediterranean, Middle Eastern, etc. 
Ask friends and family to sample your creations! Accept feedback gracefully
Learn how to follow cookbooks and recipe websites. Subscribe to culinary magazines and watch food-related shows on TV or YouTube
Discover the wide world of spices! Try to build up a solid cabinet of essential, good-quality spices and seasonings 
Try out different types of cooking oils, condiments, garnishes, and side dishes to pair with entrées
Study food presentation photos and tips. Capture pics of your best dishes to use in your online portfolio
In addition to photos, your Chef's portfolio should contain recipes, sample menus, reviews, awards, academic achievements, and a short biographical "About Me" page with contact info
Get familiar with various types of cookware, utensils, heating elements, and other equipment 
Study ingredients and where they come from. Many Chefs focus on using ingredients that are locally sourced, fairtrade, and/or sustainably produced. These practices are often appealing to restaurant patrons 
If you don't want to earn a bachelor's, try enrolling in a Chef program at a local community college or vocational school
If you're serious and want to become a top Chef, consider applying to one of the finest culinary training institutes in the world, such as the Auguste Escoffier School of Culinary Arts (in Colorado and Texas), the Culinary Arts Academy (Switzerland), or Le Cordon Bleu (France)
If international training isn't up your alley, check out the 19 Best Culinary Schools in America 
Schedule an informational interview with a working Chef to ask about their career path
Take a part-time job as a line cook to gain experience while getting paid (and building the stamina needed to work on your feet for long hours under hectic conditions)
Apply for culinary internships. Come in early enough to start prep work, maintain a positive attitude no matter the tasks assigned, and try to work quickly while maintaining quality and safety at all times
If you do not get a job from your externship, ask to stage (unpaid internship) at a restaurant that you want to work for
Be ready to accept a culinary externship, which is shorter and more intense than an internship
Things to do in culinary school
Try to take as much pictures of the food you cook. That is your portfolio! When you start applying for jobs after culinary school, you want to send the chefs what you are capable of doing. Use Tumblr or some kind of internet resource to keep all of your food-folio organized. Most likely the chefs have seen thousands of pictures of food, so they are going to want to see organization and presentation.
While attending culinary school, find a part time job where you are able to use the skills that you are learning at school.
Towards the end of culinary school some schools will set you up with an "externship" which means you will have an opportunity to intern at a food-related company. Work hard, don't complain!
Typical Roadmap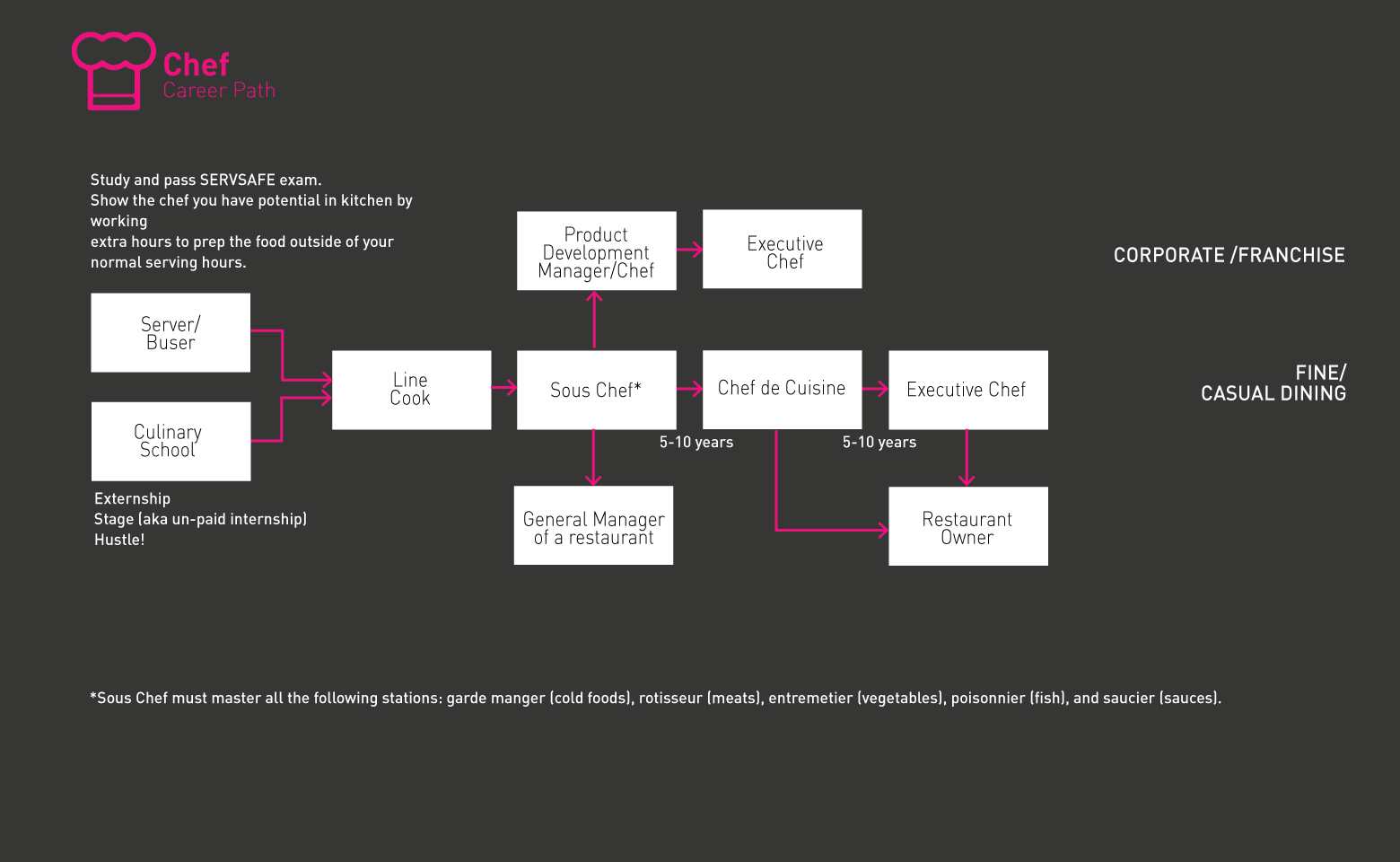 How to Land your 1st job
If you do not get a job from your externship, ask to stage (unpaid internship) at a restaurant that you want to work for.
During your interview, listen carefully to what the Executive Chef asks. Explain to him why you respect the restaurant. Make sure you take the time to go the restaurant you are about to apply to and know what's on their menu. Why? Because you must taste everything you cook.
When you are staging, you need to follow these rules:     

Come in early and start prepping.
No whining.
Nothing is "beneath" you: If your chef asks you to chop 50 lbs of garlic, just do it fast with a good attitude.
Hurry up and get your tasks done and let the chef know so that he can give you something new to do. You need to show the chef that you can finish many things at once in a quick amount of time because higher positioned chefs need to manage several things at once.
Plan B
Alternate careers: Nutritionist, General manager of a restaurant, Product Development (Food company), Food critic.
Recommended Resources
Websites
American Correctional Food Service Association     
American Culinary Federation 
American Culinary Federation     
American National Standards Institute 
American Personal and Private Chef Association 
Chaine des Rotisseurs 
Conference for Food Protection
International Food Service Executives Association    
James Beard Foundation
National Association for Catering and Events 
National Restaurant Association 
North American Association of Food Equipment Manufacturers 
Retail Bakers of America
Retail Bakers of America 
United States Personal Chef Association
Wedding Planning Institute 
World Association of Chefs Societies
Books
Newsfeed Featured Jobs Online Courses and Tools