Spotlights
Similar Titles
Construction Engineer, Geotechnical Engineer, Structural Engineer, Transportation Engineer, City Engineer, Civil Engineer, County Engineer, Design Engineer, Engineer, Licensed Engineer, Project Engineer, Railroad Design Consultant
Job Description
Civil engineers conceive, design, build, supervise, operate, construct, and maintain infrastructure projects and systems in the public and private sector, including roads, buildings, airports, tunnels, dams, bridges, and systems for water supply and sewage treatment.
Rewarding Aspects of Career
"As a civil engineer I am in a global network of experts working with clients, communities and colleagues to develop and implement innovative solutions to the world's most complex challenges. We deliver clean water and energy. Building iconic skyscrapers. Plan new cities. Restore damaged environments. Connect people and economies with roads, bridges, tunnels and transit systems. Design parks where children play. Help governments maintain stability and security" – Moises Young 
2016 Employment
303,500
2026 Projected Employment
335,700
The Inside Scoop
Day in the Life
"I first catch up on emails for the 3 projects I am managing.  Then I check in with project task engineers to make sure the project teams are set for the day.  I review the engineering assignments and sign off on them.  I also run project meetings to update team on project budget and schedule.  Lastly I coordinate with the clients regarding the project progression." – Moises Young
Skills Needed on the Job
Critical thinking
Reading comprehension
Active listening
Complex problem solving
Mathematics
Design
Building/construction
Employment Types
Design firms
General contractors
Government entities
Civil engineers can work on a wide range of project such as: bridge projects, highway design, commercial/residential buildings, transportation design, environmental projects, or geotechnical designs.
Expectations and Sacrifices
Civil engineers typically work full time, and about 3 in 10 worked more than 40 hours per week in 2016. Engineers who direct projects may need to work extra hours to monitor progress on the projects, to ensure that designs meet requirements, and to guarantee that deadlines are met.
What kind of things did people in this career enjoy doing when they were younger…
Science & Math
Taking things apart
Learning about how things work
Current Trends
"Developing/improving smart materials, sustainable designs, energy efficient buildings, new computer software's for virtual/augmented reality design." – Moises Young
Education Needed
Civil Engineers usually need a bachelor's in civil engineering or civil engineering technology from an ABET-accredited engineering program
A master's isn't needed but can help qualify you for advanced positions and higher wages
Per O*Net, 86% of all Civil Engineers have a bachelor's, 10% a master's, and 5% have a post-baccalaureate certificate
Cooperative educational programs or internships are helpful for rounding out one's experiences
Entry-level workers don't need a license, but many opt to complete a Professional Engineering (PE) licensure program so they can become licensed Professional Engineers able to "oversee the work of other engineers, sign off on projects, and provide services directly to the public"
Each state has different licensing requirements. Candidates may need to first take a Fundamentals of Engineering (FE) exam, become an Engineer in Training or Engineer Intern, then later take their Principles and Practice of Engineering (PE) exam
Additional certifications can bolster your credentials. These include:

Academy of Coastal, Ocean, Port & Navigation Engineers

Diplomate, Ocean Engineering    
Diplomate, Navigation Engineering    
Diplomate, Port Engineering    

Academy of Geo-Professionals - Diplomate, Geotechnical Engineering    
American Academy of Project Management - Certified Planning Engineer    
American Hospital Association - Certified Healthcare Constructor    
American Public Works Association - Certified Public Infrastructure Inspector    
American Society of Heating, Refrigerating and Air-Conditioning Engineers - Certified HVAC Designer    
Association of Energy Engineers -

Certified Measurement and Verification Professional    
Distributed Generation Certified Professional    
Certified Building Commissioning Professional    
Certified Building Energy Simulation Analyst    
Certified Energy Procurement Professional        

Construction Specifications Institute - Certified Construction Contract Administrator    
Golf Course Builders Association of America - Certified Golf Course Builder
Green Business Certification Inc. - LEED AP Neighborhood Development    
International Fluid Power Society - Fluid Power Connector and Conductor    
National Council of Building Design Certification - Certified Professional Building Designer    
National Ground Water Association - Certified Ground Water Professional    
Society of American Value Engineers -

Certified Value Specialist    
Value Methodology Associate Certification   
Things to do in High School and College
Stock up on courses in math, statistics, engineering mechanics, fluid dynamics, English, and writing
Gain practical work experience through Civil Engineer internships
Volunteer for school activities where you can practice teamwork and collaboration skills
Decide what type of Civil Engineer you want to be. Options include Construction Engineers, Geotechnical Engineers, Structural Engineers, and Transportation Engineers
Technology and software to become familiar with include:

Adobe Fireworks
Computer-aided design software
Development environment software
Document management software
Enterprise resource planning software
File versioning software
Geographic information system
Map creation programs
Microsoft ActiveX
Oracle Business Intelligence Enterprise Edition
Project management software
Supervisory control and data acquisition
XML

Read articles and watch tutorials about Civil Engineering to learn from insiders
Try to schedule an Civil Engineer informational interview to ask questions
Get specialized with an in-demand certification
Join professional organizations to learn, grow, and network (see our Recommended Resources > Websites for a list of options)
Typical Roadmap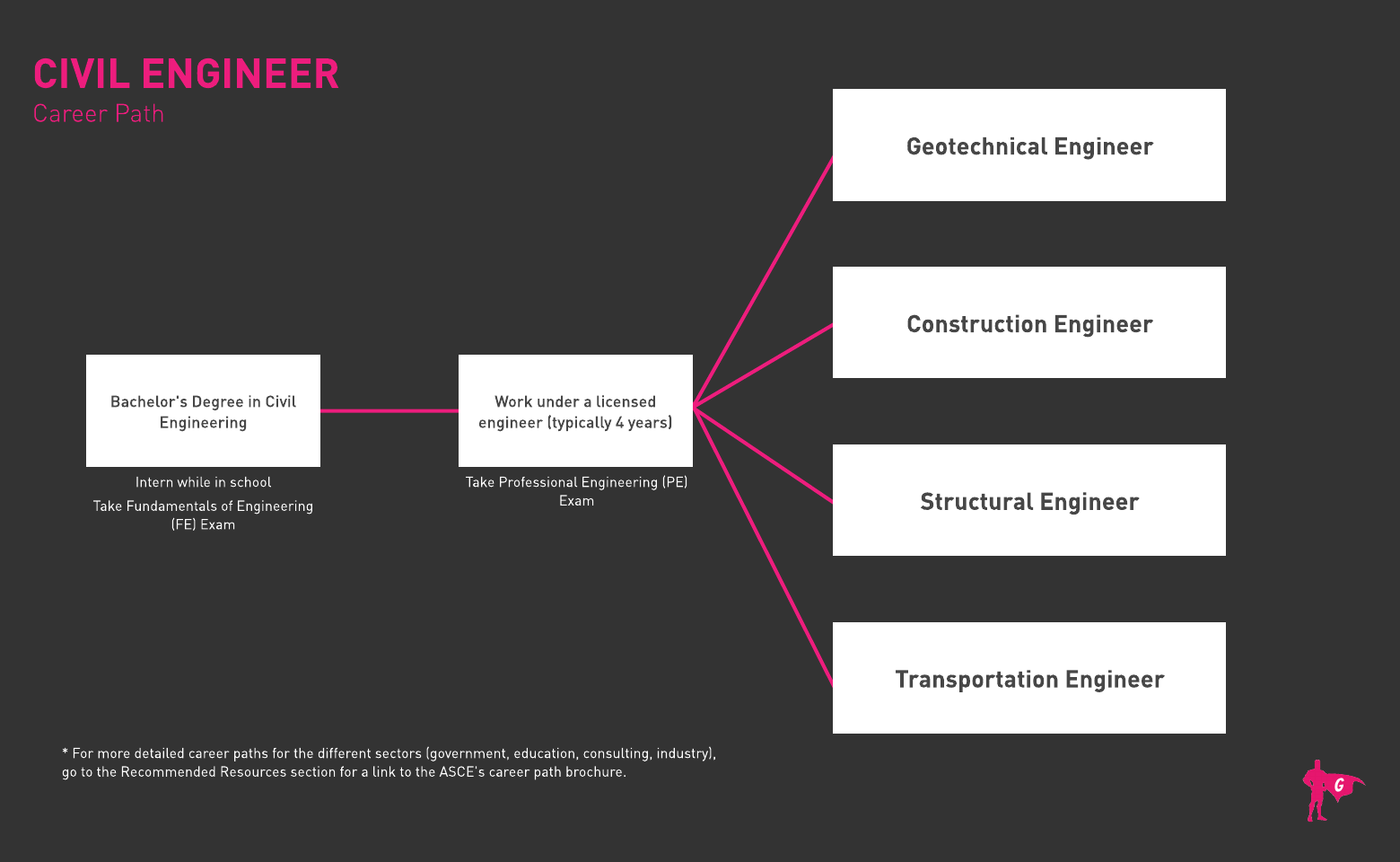 How to land your 1st job
"Work on a solid resume, interview with as many companies as you can, be prepared for your interview, dress appropriately, have a firm handshake, do your research on the company." - Moises Young
Civil Engineer internships are a great way to get started. Look for an internship focused on the area you are most interested in, such as construction, geotechnical engineering, structural engineering, or transportation
List any certifications you have on your resume (if you're working on a professional license, list that, too)
Sign up for alerts on job portals such as Indeed, Simply Hired, Glassdoor, Google for Jobs, and Zippia
There are also several engineering-specific job boards, such as National Society of Professional Engineers, EngineeringJobs.net, IEEE Job Site, Society of Women Engineers, ASCE Career Connections, Society of Hispanic Professional Engineers, American Council of Engineering Companies, C&ENjobs, ASHRAE Jobs, and Tau Beta Pi The Engineering Honor Society
Talk with your school career center for help with resumes, mock interviews, and job fair dates and locations
Per BLS, the states with the highest employment of Civil Engineers are California, Texas, Florida, New York, and Illinois
Let your LinkedIn network know you are looking for a job!
Ask former professors, supervisors, and co-workers to vouch for you as personal references
Review Civil Engineer resume templates to get fresh ideas
Study Civil Engineer interview questions to prep for interviews
Take time to learn how to dress for interview success
After interviews, jot down notes so you can learn and improve
Recommended Resources
Websites
Accreditation Board for Engineering and Technology
American Concrete Institute
American Congress of Surveying and Mapping
American Council of Engineering Companies
American Public Works Association
American Society for Engineering Education
American Society of Civil Engineers
American Water Works Association
ASTM International
Earthquake Engineering Research Institute
Books
Plan B
Architect
Civil Engineer Technician
Construction Manager
Environmental Engineer
Landscape Architect
Mechanical Engineer
Surveyor
Urban and Regional Planner
Words of Advice
"Stay focused and greatness will come. Think about who you are, what you want to do with your life, and how you can give back to the community." – Moises Young
Newsfeed Featured Jobs Online Courses and Tools