Spotlights
Similar Titles
Civil Designer, Civil Engineering Assistant, Civil Engineering Designer, Design Technician, Engineer Technician, Engineering Assistant, Engineering Specialist, and Engineering Technician
Job Description
Civil engineering technicians assist civil engineers to plan, design, and build major construction projects like bridges, highways, utilities, and skyscrapers. Their responsibilities include a wide range of tasks such as estimating construction costs, developing design specifications, preparing drawings, and surveying land.
Rewarding Aspects of Career
Many civil engineering technicians say they like that their job helps make the world a better place or make someone's life better.
2018 Employment
73,800
2028 Projected Employment
77,400
The Inside Scoop
Job Responsibilities
On a typical day:
Visit a jobsite to test or collect materials and inspect the progress of a project.
Assist in surveys and perform field operations.
Review technical documents and estimate operational costs.
Drive to multiple construction sites to ensure that work is being done correctly and staying on schedule.
Communicate with a team of professionals including civil engineers, surveyors, surveying technicians, and construction workers.
Ensure that construction adheres to design specifications and applicable codes.
Review project drawings, prepare reports, and document data and activities.
Work both in an office setting and on various job sites.
Additional responsibilities:
Work in laboratories to test soil samples and construction materials. 
Set up and monitor instruments for traffic studies.
Be familiar with various computer design programs to analyze site data and write reports.
Since work on construction sites is outside, bad weather can upend a typical day and affect the work schedule of professionals in this field.
Skills Needed on the Job
Soft skills
Critical thinking
Active listening
Reading comprehension, writing, and speaking
Mathematics and complex problem solving
Monitoring, judgement, and decision making
Technical skills
Analytical or scientific software – Coordinate geometry COGO software
Computer aided design CAD software – Auto desk AutoCAD, Autodesk AutoCAD Civil 3D, Bently Microstation
Development environment software – Microsoft Visual Basic, National Instruments LabVIEW
Microsoft Outlook, Office, Excel, Word
Enterprise resource planning ERP software – SAP
Graphics or photo imaging software – Graphics software
Map creation software - Bentley Systems InRoads Suite, Digital terrain modeling software, ESRI ArcGIS software, Geographic information system GIS software
Different Types of Organizations
Construction companies 
Utility companies 
Transportation companies
Engineering and architecture firms
The U.S. Military 
State and local governments 
Civil engineering technicians may choose to specialize in specific industries and have titles like:
Concrete engineering technician
Geotechnical engineering technician
Highway engineering technician
Structural engineering technician
Transportation engineering technician
Expectations and Sacrifices
Advancing as a civil engineering technician may require additional training or certification to become knowledgeable in specialized fields. This time commitment may interfere with competing personal or family obligations, but gaining this expertise, especially in a high demand niche, could pay off.
Current Trends
Sustainable design and renewable energy projects
Modular construction and 3D printed dwellings
Augmented reality and virtual reality in the design process
Building Information Modelling (BIM)
Advanced building materials
Smart buildings
Connected Homes
Robotics
What kinds of things did people in this career enjoy doing when they were young...
People who find this career path satisfying often enjoyed hands on activities when they were younger and "learned by doing." They enjoy being outside and working with tools, machinery, wood, etc. They also like working with data and details and appreciate routine and procedure. 
Education and Training Needed
Civil Engineering Technicians need an associate's degree in civil engineering technology or something very similar. In some cases, a vocational school certificate is enough to get started
Degree programs should be accredited by ABET
Practical education gained from work experiences is vital. Many technicians work as drafters or computer-aided design operators
Per O*Net, 30% of workers in this field have a post-secondary certificate, 28% have some college but no degree, and 21% have an associate's
There are many software programs to be familiar with, including:

Analytical software - Coordinate geometry COGO software
CAD software - Autodesk AutoCAD, Autodesk AutoCAD Civil 3D, or Autodesk Revit
Development environment software - Microsoft Visual Basic and National Instruments LabVIEW

Certification options include:

American Concrete Institute International - Adhesive Anchor Installer  
National Institute for Certification in Engineering Technologies -

Highway Construction Inspection or Engineering Technologies
Certification in Electrical Power Testing - Level III

Autodesk, Inc. - Autodesk Certified Professional in Civil 3D for Infrastructure Design
Association of Technology, Management, and Applied Engineering - Certified Senior Technology
The Association for Materials Protection and Performance - Corrosion Technician    
American Concrete Institute International - Concrete Strength Testing Technician    

Workers generally receive ample On-the-Job training, as well
Things to do during high school/college
Decide if you want to pursue an associate's or an initial certification to get started
Stock up on courses in engineering, design, chemistry, physics, geometry, and trigonometry
Learn how to use computer-aided drafting and related software
Take on entry-level jobs as a drafter or CAD operator to get real world experience
Volunteer with local Habitat for Humanity construction projects to learn about materials, methods, and tools. Check out overseas opportunities, if you want added adventure!
Gain extra practical work experience through Civil Engineering Technician internships
Read articles and watch tutorials about Civil Engineering Technician duties
Ask working Civil Engineering Technicians if they'll let you shadow them or if they can mentor you
Join professional Civil Engineering organizations to learn, grow, and network
When ready, get certified by the National Institute for Certification in Engineering Technologies or other applicable entities. Certifications aren't required for all jobs, but they can bolster your credentials
Typical Roadmap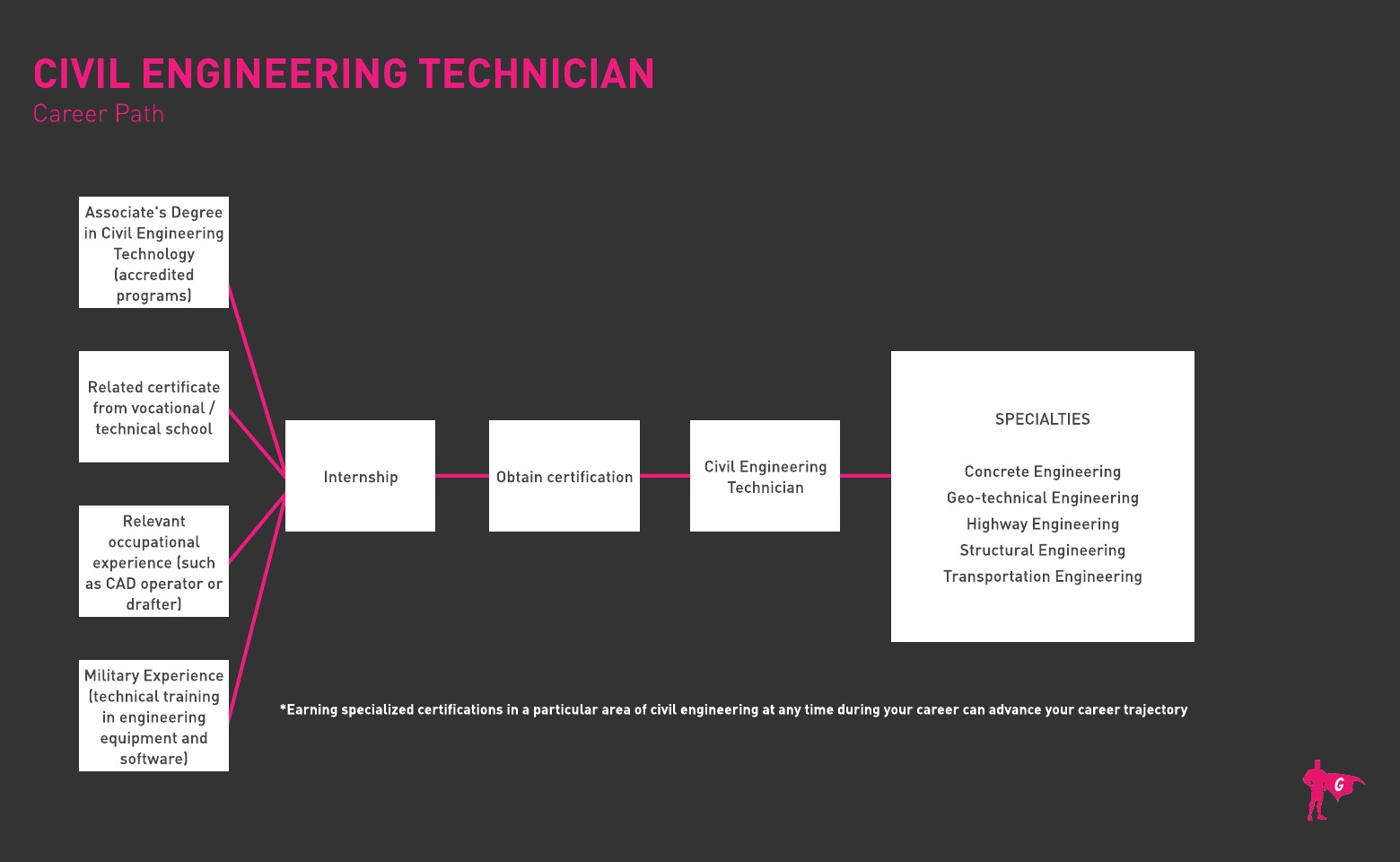 How to land your 1st job
BLS projects job opportunities for Civil Engineering Technicians will be fairly consistent. Competition will be steady so to stand out you may need special certifications or experience
With an estimated 6,500 openings per year, candidates may have to move to where the work is. The states with the highest employment levels for Civil Engineering Techs are Texas, California, Florida, Illinois, and North Carolina
Civil Engineering Technician internships are a great way to get much-needed practical experience
Sign up for alerts on job portals such as Indeed, Simply Hired, Glassdoor, and Zippia, but also consider Craigslist for smaller, local jobs
Visit your school's career center for assistance putting together a resume and practicing mock interviews
Review Civil Engineering Technicians resume templates to get ideas for wording and formats
Attend local job fairs to talk with recruiters and share your resume
Talk to your teachers and past supervisors about their willingness to serve as personal references
Study Civil Engineering Technicians interview questions to prepare for interviews!
Recommended Resources
Websites
Accreditation Board for Engineering and Technology (ABET)
American Institute of Steel Construction
American Society of Certified Engineering Technicians
American Society of Civil Engineers
National Institute for Certification in Engineering Technologies
Books
Plan B
There are several occupations that use many of the same skills as a civil engineering technician.
Drafters (Architectural, Civil, Mechanical, Electric, and Electronic)
Surveyors
Surveying and mapping technicians
Construction and building inspectors
Civil engineers
Words of Advice
The work of civil engineering technicians can be seen everywhere – in highways, bridges, skyscrapers, airfields, dams, tunnels, and nearly every other structure essential to modern living. Those who succeed in this profession have a natural inclination to solve problems, enjoy hands on work, and communicate successfully with a wide variety of people. This growing field offers a multitude of different work settings, making it an interesting and rewarding field for those who like new challenges.
Newsfeed Featured Jobs Online Courses and Tools Annual Salary Expectations