Spotlights
Similar Titles
Building Inspection Engineer, Building Inspector, Building Official, Code Enforcement Officer, Combination Building Inspector, Construction Inspector, Elevator Inspector, Home Inspector, Plumbing Inspector, Public Works Inspector
Job Description
Construction and Building Inspectors are subject matter experts who make absolutely certain that construction work is done in compliance with countless local, state, and federal policies. These can range from building codes to zoning regulations, as well as details listed within the building or structure contract itself. Inspectors closely examine quality and safety issues as well as any requirements unique to the structure. 
There are many subtypes of inspectors, such as coating, electrical, elevator, home, mechanical, plans plumbing, and public works. If that wasn't enough, there are also special inspectors (covered by Chapter 17 of the International Building Code) who work with critical construction areas, on behalf of companies, insurance agencies, or banks. Inspectors are responsible for dams, bridges, roads, sewers, and all systems including heating and air, electrical, ventilation, plumbing, and refrigeration. Different types of Construction and Building Inspectors share similar general education and training requirements, with specialized certification or licensure needed for specific roles. 
Rewarding Aspects of Career
Ensuring structures that house residents or businesses are safe to live and work in
Enhancing the overall quality of local building projects
Working in a field that may save lives by enforcing written construction standards
Collaborating with multiple companies, agencies, and officials to improve communities
2019 Employment
120,800
2029 Projected Employment
124,600
The Inside Scoop
Job Responsibilities
Working Schedule
Construction and Building Inspectors work full-time, with overtime required in some cases. They must also be able to respond to serious construction incidents and mishaps. Self-employed inspectors can set their own schedules and may opt to work nights or weekends.
Typical Duties
Review construction and building blueprints, plans, layouts, and methods
Sign off on plans meeting all applicable requirements
Conduct routine inspections of under-construction job sites 
Test for leaks, damage, or quality problems; ensure all work is done to required specifications and complies with codes, standards, ordinances, etc. 
Inspect all systems under their purview, such as plumbing and electrical systems
Watch for environmental hazards, such as pollution, asbestos, water contamination, etc.
Provide oral or written feedback to construction managers, contractors, stakeholders, and governmental agencies, as needed
Keep detailed records, including photos and videos
Track compliance findings and their resolutions
Cite violations; issue stop-work orders when necessary, especially if there's a safety concern
Survey sites to ensure proper layout alignments and correct building elevations
Additional Responsibilities
Ensure permits and licenses have been obtained by builders
Participate in mishap investigations as needed
Mentor new inspectors
Continuously review codes, standards, ordinances, and policies for updates and revisions
Complete refresher training for applicable certifications
Skills Needed on the Job
Soft Skills
Analytical 
Calm under pressure
Decisive
Evaluation skills
Independent
Integrity
Patience and persistence 
Complex problem solving
Negotiation and collaboration
Psychology and motivational skills 
Keen writing and communication skills
Realistic
Risk management
Safety-oriented 
Stamina
Team player
Time management 
Technical Skills
Compliance software 
Computer aided design 
Database reporting 
Enterprise resource planning 
General accounting 
Inspection forms
Map creation — ESRI ArcView; Trimble Digital Fieldbook
Mechanical know-how
Procurement programs
Different Types of Organizations
Construction and engineering services    
Local and state governments
Self-employed workers    
Expectations and Sacrifices
Construction and Building Inspectors have some of the most critical jobs in the sector because they're the ones ensuring everyone else is doing their jobs correctly. As a result, inspectors must be highly competent and knowledgeable about the guidelines they're enforcing. 
As you might expect, nobody likes being told that they aren't doing a good enough job or that they have to stop working because of a compliance problem. Inspectors therefore must be sure of what they're saying, having the courage to stand behind their words, and the determination to enforce their authority. That said, they should possess diplomatic skills, too, i.e. the ability to explain problems in a way that others can understand. They should offer potential solutions that will meet requirements so everyone can move forward. 
Inspectors aren't there to hold things up; they work to make sure construction is done safely and in accordance with several different requirements from multiple parties. Sometimes managers, foremen, or stakeholders can get frustrated, but a skilled inspector can often facilitate collaboration in such circumstances. It's up to Construction and Building Inspectors to hold the line and not cave in to pressure. 
Current Trends
Construction and Building Inspector jobs are not expected to grow substantially in the next decade, however work should be consistent. As older workers retire, new ones will need to fill the gap, and should have training on the most up-to-date methods and technologies. 
Construction projects never stop. From new structures to renovating and expanding existing ones, these jobs require knowledgeable inspectors familiar with all applicable codes, environmental standards, and other regulations. Workers with the most credentials, who can perform multiple types of inspections, will surely be the most competitive in the job markets of tomorrow. Knowledge of current and trending construction technology, engineering, and architecture will also have a leg up. 
Trends include insurance companies taking advantage of inspectors' ability to obtain analytical and quantitative data that they can use for risk assessment. There's also the increasing reliance of drones to get a bird's eye view of elevated work, and the increase in weather incidents that pose serious risks to buildings and other structures. Meanwhile, many businesses are seeking faster infrastructure growth to keep up with competition from overseas economies, so inspectors are vital to verify that growth speed doesn't come with a sacrifice in quality. 
What kinds of things did people in this career enjoy doing when they were young...
Construction and Building Inspectors are by-the-book types and probably always were. That's a good thing, because without their ability to keep companies in compliance with rules, our lives would be less safe and the buildings we live in would have all types of problems. Inspectors are diligent guardians against poor quality, substandard materials, shoddy workmanship, and unsafe practices. 
Odds are they were very responsible as kids, perhaps being older siblings in charge of taking care of younger ones. They may have enjoyed activities in school where they got to learn and enforce policies or perform administrative tasks. Ideally they're able to help motivate others to understand the reasons why compliance is so important. These soft skills may have been developed at home, in school, or through other work experiences. Inspectors may have enjoyed juggling lots of things at once. Chances are they also loved to get outdoors and work with their hands, yet were equally content reading complex materials that might bore others. 
Education and Training Needed
A high school diploma or GED plus sufficient construction or trade work experience
A degree isn't needed but is sometimes preferred; for some employers, experience is more critical than academic qualification
Associate's degree or certifications are enough for many employers

Relevant associate-level courses include: building inspection technology, home inspection, construction technology, blueprint reading, drafting, algebra, geometry, writing, and business management for self-employed workers

Bachelor's degrees may be in Architecture or Engineering
Construction and Building Inspectors can expect plenty of On-The-Job training on building codes, inspection techniques, ordinances, regulations, recordkeeping, and reporting procedures
Every state has different certifications requirements. These depend on the exact job one wants to perform. Certifying organizations include:

International Association of Certified Home Inspectors - Certified Professional Inspector
International Association of Electrical Inspectors - Certified Electrical Inspector 
International Association of Plumbing and Mechanical Officials
International Code Council - Commercial Building Inspector B2 Certification

Certain states require licensure for home inspectors, via the National Home Inspector Examination which covers building sciences, business ops, reporting, and more
Things to look for in a program
According to O*Net, 22% of Construction and Building Inspectors are working with only their high school diploma, while 35% have completed a certification and 17% have an associate's degree. The site doesn't list numbers of bachelor's degree-holders
Most workers won't need a bachelor's, but find a school accredited by ABET if you plan to do a degree in engineering or tech
Whether taking classes at a community college, vocational school, or university, ensure the program features as much hands-on experience as possible
Look for any professional and student organizations offering learning opportunities 
Ask programs if they help place graduates into good-paying jobs, and check out their career services for assistance with resumes, mock interviews, and job fairs
Seek out programs that offer scholarships or that qualify for federal aid Pell Grant funds, if you are filing a FAFSA
Online classes are fine, but live experience can be beneficial for certain subjects
Things to do in High School and College
Take as many relevant classes as you can in high school, such as drafting, math, writing, and any soft skills-building subjects
In college or during vocational programs, complete your classes in building inspection technology, home inspection, construction technology, blueprint reading, or business
Get practical experience under your belt by volunteering with Habitat for Humanity and taking part-time jobs or internships in construction/trade work
Craft your draft resume early on and add information about new skills as you gain them
Do your homework and learn about local, state, and federal safety and building guidelines, to include codes, standards, ordinances, and regulations
Talk with working inspectors, including self-employed ones; ask questions, take notes, and learn as much as you can. Try to decide early on which subtype of work you're going to pursue, so you can tailor your education accordingly 
Watch educational videos or take short online courses to gain a better understanding about the work involved 
Find out about state licensure requirements and get on the road to gaining your license
Become familiar with building owner rights as they pertain to inspections
Typical Roadmap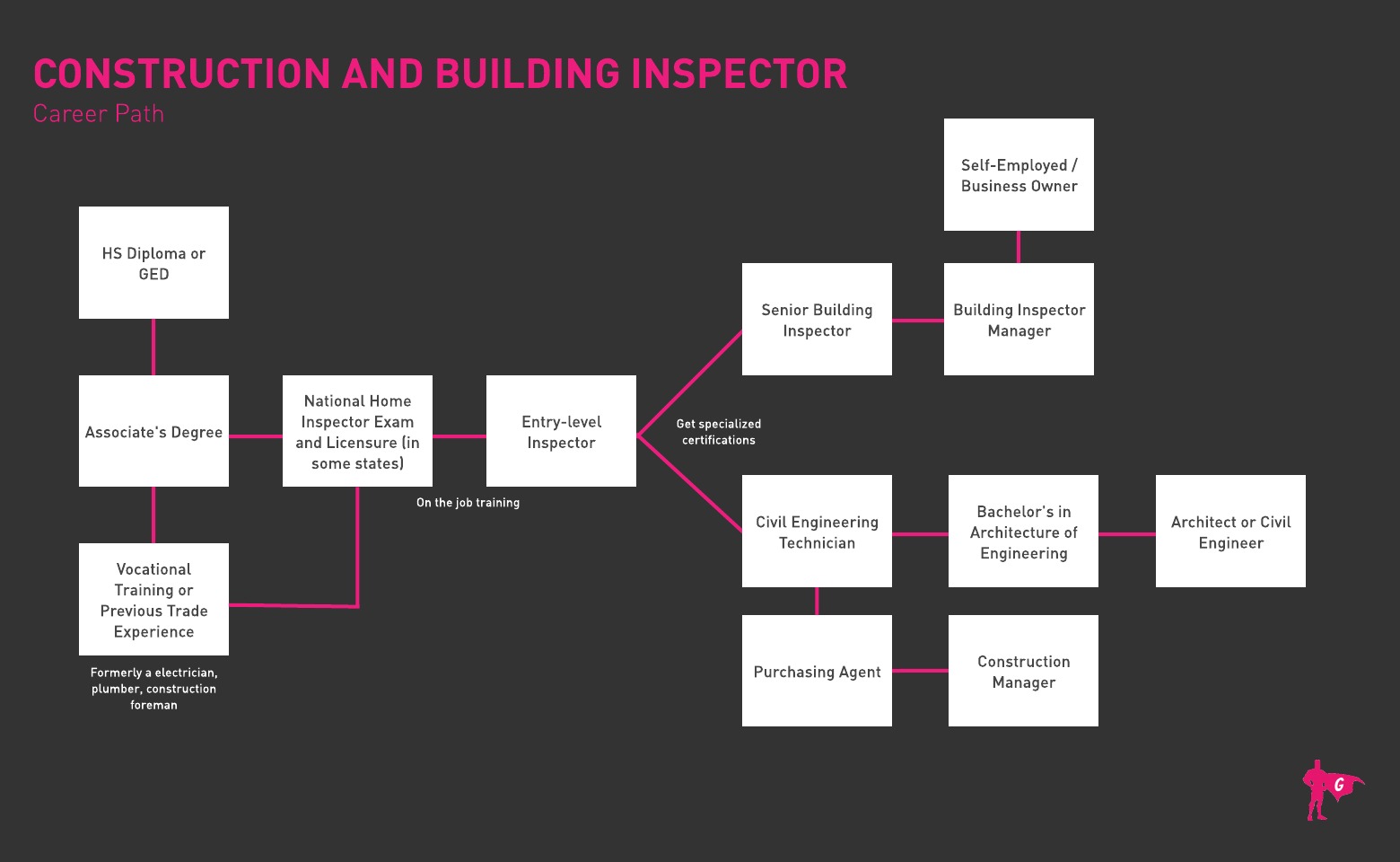 How to land your 1st job
Nothing beats practical work experience, so get as much as you can before applying
Completing an internship, a few college classes, or vocational training will all be helpful! 
Finish any certifications you can upfront, such as the International Association of Certified Home Inspectors' Certified Professional Inspector

After you earn your CPI cert, you can do free online courses like Safe Practices for the Home Inspector, 25 Standards Every Inspector Should Know, or Residential Plumbing Overview for Inspectors. Such courses will boost your credentials  

Be completely transparent about your background and goals, and offer proof of work experience, academic credentials, certifications completed, and other relevant data
Look for sample resumes online, read job postings carefully, and tailor your resume accordingly
Don't reuse the same old resume; customize it for each job you apply for
Learn the terminology of the field, and be ready to speak about topics like a professional
Be ready for interviews. Read real-life inspector job interview questions and optimal responses, practice mock interviews with a friend or colleague, and dress for success
Find job openings through your network, and by scouring employment portals like Indeed, Monster, and Glassdoor. Don't forget to update your LinkedIn profile, too
How to Climb the Ladder
Complete advanced and specialized certifications 
O*Net Online features current links to dozens of advanced certs like:

Certified Ventilation Inspector
Certified Wood Flooring Inspector
Coating Inspector Program Level 1 - Nuclear Specialty
Backflow Prevention Cross-Connection Control Surveyor Certification

Master the skills needed to do your current job before moving on to advanced training
Hone your diplomacy skills. Cultivate strong relations with everyone you interact with and develop your reputation as an inspector with integrity and high standards
Follow the book consistently. Do your job by making sure others are doing theirs up to specifications
Treat workers with respect but hold them accountable for compliance. Report failure to comply, mishaps, substandard work, when mandated  
Be proactive! Work with a sense of timeliness and efficiency
Participate in professional organizations, give speeches, write articles, and get your name out there as a leader in the field
Recommended Resources
Websites
AACE International 
American Concrete Institute 
American Council for Construction Education
American Institute of Architects 
American Institute of Constructors 
American Society of Civil Engineers 
American Society of Home Inspectors
Association of Construction Inspectors
Building Inspection Engineers Certification Institute 
Housing Inspection Foundation 
International Association of Certified Home Inspectors (InterNACHI)
International Association of Electrical Inspectors
International Association of Plumbing and Mechanical Officials 
International Code Council
NACE International
National Association of Elevator Safety Authorities International
National Center for Construction Education and Research
National Fire Protection Association
Books
Plan B
Construction and Building Inspectors bear a huge burden, and can often expect pushback or even anger from managers, stakeholders, and contractors. It's not fun when people get mad at you for doing your job, so if you want to try something with potentially less stress, check out similar occupations listed in BLS's online Occupational Outlook Handbook or at O*Net Online: 
Agricultural Inspectors
Appraisers and Assessors of Real Estate
Architects
Carpenters    
Construction Managers
Electrical and Electronics Engineering Technicians
Electrical and Electronics Engineers
Electricians    
Energy Auditors
Environmental Engineering Technologists
Fire Inspectors and Investigators    
Occupational Health and Safety Specialists and Technicians
Plumbers, Pipefitters, and Steamfitters
Surveyors
Newsfeed Featured Jobs Online Courses and Tools Annual Salary Expectations