Spotlights
Similar Titles
Digital Marketing Specialist, Digital Marketing Manager, Online Marketing Specialist, Digital Advertising Manager, Digital Campaign Manager, Social Media Marketer, SEO Specialist, Content Marketer, Email Marketing Specialist, PPC Specialist
Job Description
Since the days of the Ancient Egyptians, humans have been marketing and advertising. But while our historical predecessors may have relied on papyrus posters, today, the Internet and the rise of mobile technology have created the concept of "digital marketing." Putting a revolutionary new spin on a time-honored profession, Digital Marketers leverage all the capabilities that modern technology offers to change the game and reach customers virtually anywhere they go. 
 
Television, radio, print, and billboard ads aren't disappearing, but they have been put on the back burner to some extent as savvy companies turn increasingly to digital strategies. After all, why limit reach with an ad in a newspaper when you can target customers on their phones, following them around with ads sprinkled across every media platform they use? Digital Marketers know how to maximize such innovative opportunities while competing with each other for the attention, clicks, and hopeful conversation of viewers into paying shoppers. 
Rewarding Aspects of Career
Spreading information about new products, services, and discount offers
Boosting companies' bottom lines through brand awareness campaigns 
Augmenting non-digital strategies with native mobile ads, geofencing/location-based marketing, and in-store touchpoints that work with social media apps
Providing a more streamlined, omnichannel user experience 
Working with evolving mobile technologies and devising new tactics to leverage them
The Inside Scoop
Job Responsibilities
Working Schedule
 
Digital Marketers may work full-time jobs at an agency or company, or on a part-time ad hoc basis for agencies or as a freelancer. Many part-time and freelance workers perform duties remotely from home or someplace other than their employers' job site. Depending on employment conditions, hours may be highly flexible as long as targets and deadlines are met. In other words, some Digital Marketers choose their own hours and may be based anywhere in the world!
Typical Duties
 
Work with clients, managers, sales teams, and developers as needed to decide on marketing strategies, directions, goals, and budgets
Create customer avatars to better understand the psychology of potential eCommerce shoppers or audiences
Decide upon different strategies for engaging Business-to-Business (B2C) versus Business-to-Customer (B2C) or other relationships
Conduct market research into customer behavior and competitor products, services, and advertising
Manage creative Social Media Marketing (SMM) campaigns for Instagram, Twitter, Facebook, LinkedIn, Snapchat, Pinterest, TikTok, Reddit, and other platforms
Use analytic tools to target audiences; create paid ads and sponsored content aimed those audiences
Offer free content while building up audiences (as subscribers or follows) to cultivate a pool to which you can market paid items (merchandise, courses, services, etc.)
Partner with online influencers who can incorporate reviews of your goods or services into their own content
Perform content marketing actions such as creating downloadable lead magnet material for website visitors in exchange for their email address
Create blogs, articles, and other content that can be found online via Search Engine Optimization (SEO)
Craft email marketing flowcharts for automated, timed campaigns
Draft emails that address customers, or potential customers, at their specific point along the customer journey (from first encounter awareness phase until they decide to place an item in their shopping cart for purchase)
Send follow-up emails for abandoned carts, as well as post-purchase messages that build the relationship and offer promotional discounts
Buy Pay-per-click (PPC) ads that appear in search results and boost brand visibility 
Enhance passive website revenue by including affiliate marketing links or banner ads that redirect traffic to sites like Amazon (which provide commissions on items sold)
Devise creative online ad campaigns or fundraising ventures that utilize an effective combination of visual elements, engaging copywriting, and video clips as applicable 
Additional Responsibilities
Optimize websites using Google Search Console tools
Use plugin tools such as Yoast to assist with optimizing content for better discoverability
Manage public relations by making it easy to post reviews, share content, and address concerns quickly and authentically 
Skills Needed on the Job
Soft Skills
Ability to work independently
Able to generate 'outside the box' ideas
Analytical 
Creative and artistic 
Effective communication skills, including active listening 
Informed social and cultural awareness 
Inquisitive 
Keen organizational skills
Persuasive 
Resourceful
Skills for coordinating activities
Solid research skills
Sound judgment and decision-making
Teamwork
Understanding of human motivational factors 
Technical Skills
General familiarity with computers (PC or Apple)
Microsoft Office, Google apps, Macintosh software
Google Search Console 
Website-building tools (Wordpress.com, Wordpress.org, Squarespace, Weebly, Shopify, GoDaddy, Wix)
Web hosting sites (Dreamhost, Bluehost, HostGator)
Email marketing software (Constant Contact, Drip, SendinBlue)
Collaboration tools (Slack, Trello, Flowdock, Monday)
Analytical tools for social media and other sharing platforms such as Instagram, Twitter, Facebook, LinkedIn, Snapchat, Pinterest, TikTok, and Reddit
Affiliate marketing programs such as Amazon Associates, Clickbank, and many more
Different Types of Digital Marketers
Digital Marketer; Overall knowledge of all digital marketing that needs to be implemented. Includes monitoring and analyzing the outcomes of the different campaigns. 
SEO marketer: Helps optimize your content so that search engines (like Google) likes to show the website as a top result for searches of a certain keyword. 
SEM marketer: Devises an advertising strategy that will bring a website to the top of both organic and paid search engines. Manages and tests their different marketing campaigns, using pay-per-click (PPC) advertising and doing keyword research. (i.e. Instagram, Facebook, Google advertising)
Copywriting & Content Marketer: Responsible for the planning, creating and sharing of valuable content to attract and convert prospects into customers, and customer into repeat buyers. 
Email Marketer: Designs and writes email content. Creates and segments email lists. Nurtures leads and drives sales using compelling email. 
Social Media Marketer: Works on the overall social media strategies for a business or organization. Top platforms include: Facebook, Twitter, youTube, Pinterest, LinkedIn, Periscope, Tik Tok, Instagram. For more information, go to https://gladeo.org/career/social-media-specialist. 
Different Types of Organizations
Companies, both big and small
Higher education institutions
Governmental agencies
Nonprofits 
Military recruitment 
Agencies
Freelance
Expectations and Sacrifices
Digital Marketers are responsible for helping customers reach their goals, which are usually related to increasing sales of a product or service or boosting awareness of a cause. To do this most efficiently and cost-effectively, workers need to understand potential customers' or users' psychology and behavior. This requires in-depth research and keen insights. They must also know about competitor products and services, marketing strategies, and gaps or deficiencies that can be exploited. 
 
After Digital Marketers know details about all of these variables, they must then work with customers to explore the best digital avenues for advertising. This demands an understanding of all the options, all the latest tech breakthroughs, and insights into current trend efficacy and investment returns. A lot can ride on one gamble, meaning the job can be stressful and one's reputation put on the line! 
Current Trends
When Digital Marketers don't do their homework, campaigns can go wrong quickly if a brand's marketing concept simply confuses people. Take International House of Pancake's acronym IHOP, which they changed to IHOb on Twitter to generate buzz. To keep the mystery going, IHOP intentionally replaced the letter 'p' with 'b' in their replies to other Tweets. Alas, the campaign—meant to let customers know that they were serving burgers—fell flat as a pancake.   
 
Other campaigns can come across as 'tone deaf' or insensitive to a particular group. Such missteps can go viral overnight, causing a backlash that impacts sales. Many edgy brands will openly clap-back or troll another brand for their mistakes, turning their competitor's problem into an effective ad campaign for themselves. In the aftermath, customers are left taking sides and creating memes to mock the brand they least root for. Social media user behavior is not always predictable, but if brand campaigns don't take occasional risks and are too bland, they lose out to edgier ideas floated by competitors.
 
Other trends include the rise in Artificial Intelligence, which predicts behavior by scanning Big Data for patterns. Companies are turning increasingly to smarter chatbots that can answer questions and prompt users to take certain actions. Modern customers have grown used to personalized experiences and do not appreciate generic advertising. They want tailored suggestions across multiple channels, whether it's a Netflix movie recommendation or a Facebook ad for a shirt with a slogan that magically seems to know their birth month. 
 
Influencer marketing is a hot new tactic for personalization, as audiences can view a product or service demonstrated by someone they feel they have an established connection with. Essentially, the idea is that of a 'trusted friend' vouching for a 'new friend.' For instance, a user may have come to trust a YouTuber whose videos they subscribe to. So, they might be more apt to buy based on that influencer's recommendation than a generic paid celebrity endorsement. 
What kinds of things did people in this career enjoy doing when they were young...
Many Digital Marketers grew up with the Internet and mobile technology and were comfortable using it as kids. They may have seen the 'bigger picture' early on, how social media platforms capture users then convert them into assets—massive pools of potential customers that third-party businesses access and sell to. 
 
While the average social media user is peripherally aware of their status as a commodity, many are fascinated by the concept and dive into the 'behind-the-scenes' of how technology can enable organizations to influence user thinking and actions. But Digital Marketers are not only interested in the nexus of technology and psychology. They were also likely to have been highly creative kids, interested in graphic design and visual arts, persuasive writing, screenwriting, or even public speaking! They may have enjoyed serving in critical roles that help others get publicity or attention while they remain quietly in the background. 
Education and Training Needed
Digital Marketers don't always require a bachelor's degree; it largely depends on who they want to work for
Sizable employers may prefer to hire workers with a digital marketing degree, but some companies are just as interested in practical work experience
A traditional business or marketing degree is helpful, but digital marketing requires distinct educational requirements
A few examples of digital marketing classes (taken from various programs) include:

Affiliate Marketing
Applied Probability and Statistics
Branding and Visual Marketing
Content Marketing
Cultural Studies and the Web
Digital Marketing and Analytics
Digital Media and Design
Fundamentals of Public Relations
Marketing Law and Contracts
Search Engine Optimization
Video and Mobile Marketing

3-18-month digital marketing bootcamps augment existing degrees or, in some cases, qualify applicants for roles that don't require a degree
A few of the many bootcamp options available:

Boot Camp Digital
BrainStation
General Assembly
Noble Desktop
Wyncode

Short stand-alone courses can enhance skills, such as: 

Coursera's Strategy of Content Marketing
Udemy's Complete Digital Marketing Course 
edX's Intro to Marketing Tools to Set Enterprises Apart
Things to look for in a program
Sign up for programs that focus on the digital aspects of marketing and not just traditional marketing practices
Look for schools that offer flexible access, such as online or hybrid learning options
Keep in mind that many workers may not require a bachelor's degree, so you could be able to take sufficient college courses at a community college or vocational school (versus a full university, which has higher tuition rates and fees)
Participate in extracurricular clubs or student groups that can help you network and practice relevant skills
Review the school's career assistance offerings to see if they can help you land a job after graduation
Things to do in High School and College
Sign up for high school electives related to hard skills such as technology, business, coding, and accounting
Polish soft skills by learning psychology, design, art, writing, and speaking 
Volunteer to assist your school with websites, social media management, email writing, video production, or other projects aimed at mass audiences  
Read blogs and watch videos related to digital marketing best practices
Take short standalone courses or knock out some online digital marketing bootcamps (see our Education and Training Needed section for details)
Decide which path you want to take on your career, so you can focus on either becoming an expert in a specific niche or applying yourself to learning broad concepts first
Gain practical experience by experimenting with your own homemade website, social media channels, YouTube channel, etc. 

Learn by doing! Figure out how to build your brand, find which niches are underserved, explore ways to monetize content (if applicable) or promote your product or service, grow your audience, and establish trust and long-term B2B and B2C relationships

Start freelancing to build your skills and garner client feedback
Take advantage of resume writing or mock interview practice services provided by your school
Typical Roadmap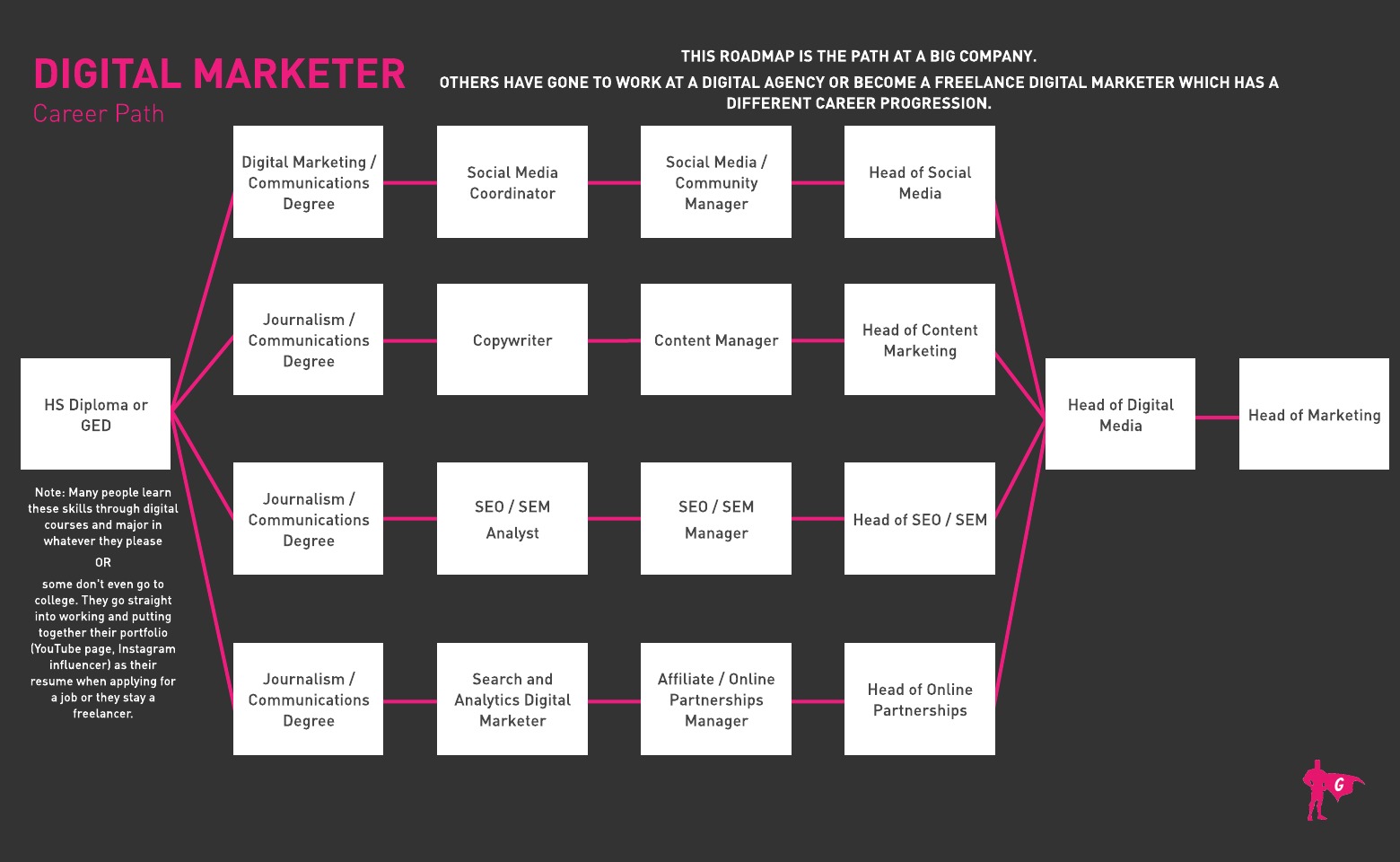 How to land your 1st job
Know specifically what area of this broad field you want to work in, unless applying for a general position at a smaller company
Complete as many relevant educational requirements as you can before applying
Ensure you have the requisite skills and background listed on the job posting
Ensure your resume and portfolio are clear, concise, and 100% free of typos and errors 
When writing about past experiences, make sure your resume lists hard statistics and data that offer analytic proof of results for school projects or personal brand campaigns

For example, if you run a website and created ad campaigns, list the results of how they boosted traffic and increased clicks 

If you've done any freelance work, establish your portfolio and share a link to it
Offer case studies of work you've done, listing the customers' problem or goal and your creative measures to address it (and the results of those actions)
Always ask for feedback from satisfied clients; reference or link to your testimonials in your portfolio 
Learn from past mistakes and critical feedback; be candid about your practical growth when speaking to potential employers
Make an amazing first impression at interviews by polishing your skills in advance, studying potential questions and answers, and knowing the industry lingo
How to Climb the Ladder
Know which ladder you want to climb. Speak with your employer about growth opportunities and promotions, and learn the qualifications to get there
Explore external opportunities, as well; sometimes, to climb, you have to switch ladders!
If you are not working remotely, dress for success and make a positive impression (and if you work remotely, dress sharp for video meetings)
As a marketer, much of your own credibility relies on your ability to market yourself and project an image of confidence and competence
Continually UPSKILLING by learning new tricks, taking more bootcamps, more short courses, or by finishing your bachelor's (if you didn't already) or master's in a relevant major
Train and mentor others. Be a team player who demonstrates leadership potential, has visionary ideas, and knows how to persuade others and build consensus
Take the initiative and become a master of your own brand, whether it is a company, a website, a YouTube channel, or something else. Digital Marketers understand that they have the power to create their own opportunities and grow their reputation (and income)!  
Recommended Resources
Websites
American Association of Advertising Agencies 
HubSpot Academy
Moz SEO Learning Center
Neil Patel
Search Engine Journal
SEMRush
Social Media Today
Zest
Books
Plan B
Digital Marketing is the way of the future, which is why businesses are heavily investing resources into it. However, pre-existing fields haven't faded away. For those who want to work in a more traditional environment, the Bureau of Labor Statistics offers several alternative career paths to consider, such as: 
Advertising Sales Agents
Art Directors
Editors    
Financial Managers
Graphic Designers
Market Research Analysts
Public Relations and Fundraising Managers
Sales Managers
Other ideas to think about, for those who do love the technology aspect of this field, include: 
Back-End, Front-End or Full-Stack Developer
Computer and Information Systems Managers
Computer Programmers
Computer Systems Analysts
Database Administrators
DevOps
Information Security Analysts
Newsfeed Featured Jobs Online Courses and Tools