Spotlights
Similar Titles
E-commerce Analyst, E-commerce Systems Analyst, E-commerce Solutions Analyst, E-commerce Strategy Analyst, E-commerce Operations Analyst, E-commerce Data Analyst, E-commerce Business Intelligence Analyst, E-commerce Performance Analyst, E-commerce Marketing Analyst, E-commerce Customer Experience Analyst
Job Description
E-commerce Business Analysts are like private investigators, analyzing online consumer behavior and piles of sales data to find information about e-commerce stores' performance and areas for improvement. They look at how shoppers find websites, what keywords are used, which products are selling, and any patterns that indicate what turns a casual visitor into a paying customer. They also check out how users engage with reviews, special offers, and upsell techniques. 
 
E-commerce Business Analysts go beyond the numbers to dive into the reasons behind those figures. Their reported findings and recommendations help drive management decisions for their employers' product and service offerings, as well as marketing and other business strategies.
 
Traditional brick-and-mortar stores also generally operate websites, and customers are increasingly shifting to online shopping. Stakeholders see many advantages to the online model (such as savings from fewer retail space leases). E-commerce Business Analysts can help such companies successfully transition more and more to their online platforms. 
Rewarding Aspects of Career
Exploring the behind-the-scenes aspects of consumer behavior
Helping companies stay ahead of the competition 
Making it easier for customers to find and buy products and services they want
the inside
Job Responsibilities
Working Schedule
 
E-commerce Business Analysts work full time. Overtime is possible during busy seasons, when products or services are about to launch, or when items struggle to find buyers.  
Typical Duties
Translate data and KPIs into actionable insights that help companies achieve goals
Review consumer engagement data for website pages and products, such as numbers of clicks and abandoned shopping cart metrics
Compare actions of site guests and site members
Analyze the effectiveness of upsell tactics, discounts, trials, and special offers
Seek out patterns that indicate areas of strength and where improvement is needed
Offer research-based suggestions to leadership and management, to address problems and leverage opportunities
Study customer keyword usage that leads to finding and purchasing products
Collaborate with marketing and advertising teams to boost conversation rates
Make suggestions for website design alterations to enhance user experience and make transaction processes more efficient
Use data mining techniques to uncover trends and report findings
Additional Responsibilities
Stay abreast of legislative updates on sales tax or other issues
Keep up-to-date with emerging technologies
Research the competition; explore alternative market types 
Discuss ideas with stakeholders
Generate retail sales reports
Skills Needed on the Job
Soft Skills
Analytical
Business-minded
Clear communication skills 
Collaboration
Creativity
Critical-thinking 
Curiosity
Deductive reasoning
Empathy
Ingenuity
Marketing skills
Organization and problem-solving skills
Persuasiveness
Public speaking
Skills for coordinating and instructing activities
Sound judgment and decision-making
Technical Skills
A/B testing strategies
Customer Relationship Management software
HTML
Java
Knowledge of User Interface/User Experience (UI/UX) design
Quality Assurance concepts for e-commerce
Return on Investment principles 
Search Engine Optimization
SQL
Test Scripts
User Acceptance Testing
Different Types of Organizations
E-commerce companies     
Traditional companies with online sales
Wholesale trade    
Expectations and Sacrifices
E-commerce Business Analysts are key players who are trusted and relied upon to provide timely actionable insights to improve sales and boost profits. Without their diligence, businesses can quickly lose revenue, potentially jeopardizing their entire operation. As a result, it isn't an exaggeration to say that the livelihood of a company's entire workforce greatly depends on the expertise of E-commerce Business Analysts. 
 
If that weren't enough pressure, it's important to remember that the competition has its own analysts performing the same type of work. In essence, there's an invisible war going on between companies all vying for the attention and dollars of national and even global consumer bases. 
 
E-commerce Business Analysts have to stay on top of their game at all times and keep ahead of the curve by constantly studying the latest developments in an ever-evolving high-tech world. 
Current Trends
Customers have been shopping online for decades, but the Covid-19 pandemic definitely boosted the industry, with many brick-and-mortar businesses shifting to online sales to survive. Now that the world is slowly returning to normal, consumers and traditional businesses have gotten more used to the convenience of the e-commerce model than ever before. The result? Increased demand for E-commerce Business Analysts!
 
Social media and influencer marketing continue to have huge effects on consumer behavior, while expediated (and often free) product delivery is becoming increasingly expected. Meanwhile, companies are turning to freelancers and digital marketing agencies to boost their sites' visibility, driving traffic and sales to record-breaking heights (and contributing to the supply chain crisis). 
 
As pointed out by UNCTAD, global e-commerce sales have surged to $26.7 trillion, "B2C e-commerce companies rose by 20.5% in 2020," and the industry saw "particularly large gains for Shopify (up 95.6%) and Walmart (72.4%)." 
 
E-commerce Business Analysts are going to have their hands full for years to come, piecing together the impacts of all these variables and changes. 
What kinds of things did people in this career enjoy doing when they were young...
Successful E-commerce Business Analysts possess a truly unique blend of attributes and skills. They probably loved a good mystery and enjoyed puzzling out problems as kids. They're practical yet creative and curious, objective but empathetic, and enjoy exploring what makes things tick. 
 
Because of the online nature of their trade, E-commerce Business Analysts must be adept at using technology. In particular, they were likely drawn to the inner workings of websites and software platforms (along with the ways users engage with those things). They could have been data-minded and analytical, yet also persuasive, charismatic, and great at "marketing" just about anything! 
Education and Training Needed
A bachelor's in a related field such as business analytics, e-commerce, computer or data science, marketing, or advertising 

Zippia notes that 71% of E-commerce Business Analysts hold a bachelor's, while 18% have a master's

Course subject matter will include e-commerce business practices, data analysis techniques, and project management
Certifications can bolster your odds of getting hired or promoted. Two commoner certs are:

International Institute of Business Analysis' Certified Business Analysis Professional 
Global Knowledge's Professional Business Analyst Certificate

Many companies around the country offer Business Analyst internships which allow students to apply things they've learned in college

Internships look great on resumes and can pave the way for future employment  

Prior work experience in business, marketing, or data roles offer invaluable training to further prepare you for a job as an E-commerce Business Analyst 
Expect On-the-Job Training and vendor-specific training on programs you may not have learned before
Things to look for in a program
While Business Analysts' roles have been around forever, the e-commerce version of these jobs is still evolving. Students should decide what they want to major in, then enroll in traditional and e-commerce-specific analyst courses 
No matter what you major in, ensure the school and program are accredited
Remember that this job requires a wide range of skills, including people skills — so use electives (or student organization activities) to brush up on leadership, team building, and communications 
Decide if there are specific characteristics that you want your college to possess, such as diversity and inclusiveness, veteran resources, high acceptance rates, strong job placement stats, or renowned alumni. Don't settle for less; it's your college experience, so take the time to think about what you want from your dream school! 
Things to do in High School and College
High school provides a great setting to start practicing your organizational, management, and leadership skills through extracurricular and volunteer activities
Pile on classes that'll serve your goals later, such as public speaking, presentations, business, psychology, finances, and IT-related classes 
Seek out Business Analyst internships that'll immerse you in the world of business and sales

Ideally, you'll want to land roles with e-commerce businesses (i.e. customer service)

Don't wait to sign up for online certification programs that can lay a foundation of core competencies 
In college, get involved with student and professional organizations
Hop on LinkedIn and start growing your network, but remember to keep it practical and focused on relevant e-commerce and business topics
Typical Roadmap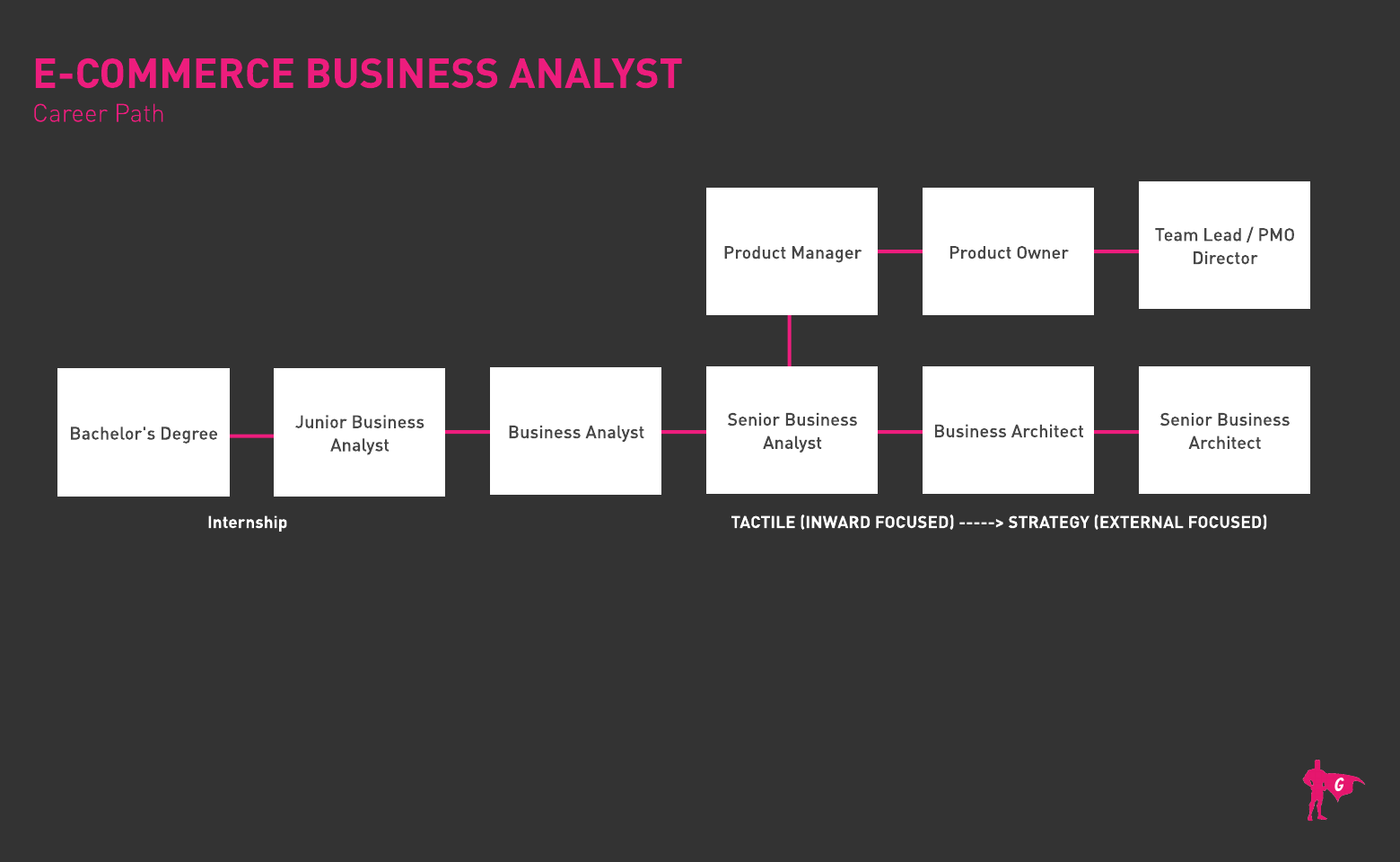 How to land your 1st job
Make sure you've completed all necessary education and training to qualify for the job you want
Let your colleagues know you're searching for employment! Up to ~80% of job-seekers get hired because of tips or help from their professional network
Sign up for alerts with employment portals like Indeed.com, Monster, and Glassdoor
Review job ads and use them to inform the content of your resume. In other words, adjust your draft resume to include applicable terminology and phrasing listed in the job ads 

Monster offers sample Business Analyst resume templates

Stand out from the competition. Don't just highlight your data or e-commerce skills, but also demonstrate your experience with finance, marketing, teamwork, and other areas that employers look at
Offer examples when possible, such as stats, dollar figures, or any quantifiable impacts you've had in previous work 
If you've completed an internship or worked in other business-related jobs, keep in touch with co-workers and supervisors. They can make great references!
Hone your interview skills with Beyond the Quad's "60 Business Analyst Interview Questions and Answers." 
Study E-commerce problems and solutions. Be ready to discuss them in interviews 
How to Climb the Ladder
While many fundamental business principles never change, the world of e-commerce is always evolving. E-commerce Business Analysts need to keep up-to-date with emerging technologies and marketing strategies through continuing education and training
A master's degree — and/or advanced certifications — can further develop your knowledge and skills, qualifying you for promotions and pay raises
Show your leadership and team-building skills, but make sure you are staying in your lane and not encroaching on others' territory
Be loyal to your company and ensure your work is adding value to the bottom line
Be candid with your supervisor and share your goals. Ask for their mentorship to climb the ladder, or express concerns if you think you've gone as far as you can with the company
If you do need to explore opportunities with other companies in order to advance your career, make sure to leave on good terms. Never burn bridges!   
Recommended Resources
Websites
CPG Guys
Firstmovr
Global Knowledge
Indeed's Business Analyst internships 
International Institute of Business Analysis
International Trade Administration
Kantar
Path to Purchase Institute
US Business Association of E-Commerce
Books
Plan B
Business Intelligence Analysts   
Business Operations Specialists
Computer Systems Analysts
Information Technology Project Managers
Marketing Managers Bright Outlook
Market Research Analysts 
Online Merchants
Public Relations Managers 
Sales Managers
 
Newsfeed Featured Jobs Online Courses and Tools