Spotlights
Similar Titles
Elevator Adjuster, Elevator Constructor, Elevator Mechanic, Elevator Repair and Maintenance Technician, Elevator Service Mechanic, Elevator Service Technician, Elevator Serviceman, Elevator Technician, Elevator Troubleshooter, Escalator Service Mechanic
Job Description
As you might have guessed, Elevator and Escalator Installers and Repairers put in new elevators and escalators in buildings, and then perform maintenance, troubleshooting, and repair work as needed. They can also install moving walkways like the ones in airports, as well as other types of lifts. These workers are experts when it comes to hydraulics, motors, the electrical components that power the equipment, and the computerized systems that control them. 
For big jobs where elevator cables or bearings have to be swapped out, a crew might be called in to tackle the work as fast as possible. Many tall buildings rely heavily on their elevators working properly and safely, just as malls, subways, airports, and other heavily-trafficked hubs need their escalators up and running at all times. That's why Elevator and Escalator Installers and Repairers are such critical players in today's modern society, even if we don't always see their hard work behind-the-scenes! 
Rewarding Aspects of Career
Playing a crucial role in making sure all building floors are accessible to visitors, employees, or tenants
Working in a field that helps physically challenged individuals who cannot use stairs 
Enabling the construction of high-rise buildings that could not exist without elevators 
2019 Employment
28,900
2029 Projected Employment
30,800
The Inside Scoop
Job Responsibilities
Working Schedule
Elevator and Escalator Installers and Repairers work full-time with overtime potential during tight deadlines. They may also have to be on call for emergencies.  
Typical Duties
Review blueprints of layouts
Assess work to be done, to include all affected systems 
Build elevator cars; install escalators, moving walkways, chairlifts, and related equipment
Install counterweights 
Bolt or weld rails to shaft interior walls
Wire control panels and motors and test for proper functionality and power consumption
Perform general troubleshooting steps to determine problem causes
Fix or replace improperly working brakes, motors, switches, or other bad parts
Ensure general maintenance is completed in a timely manner 
Disassemble equipment using various tools
Additional Responsibilities
Maintain records/logs of all work accomplished
Comply with all building, local, or state safety codes, as applicable
Wear all personal protective equipment 
Respond to emergencies promptly, such as when a person is trapped inside an elevator
 
Skills Needed on the Job
Soft Skills
Comfortable with heights
Detail-focused
Hand-eye coordination
Patience and persistence 
Problem solving
Safety-oriented 
Stamina and strength
Technical Skills
Elevator Controls
Facilities management programs
Blueprint reading
Mechanical skills such as tool usage, including tools like graphic records, pressure indicators, welding machines, voltage meters, blowtorches, circuit testers, conduit benders, hacksaws, hoists, levels, micrometers, multimeters, Ohmmeters, phasemeters, platform lifts, power drills, pull spring balances, soldering irons, slings, tachometers, tensiometers, two way radios, and many more
General understanding of physics, math, building construction
Different Types of Organizations
Building equipment contractors    
Educational institutions
Governmental agencies
Expectations and Sacrifices
Elevator and Escalator Installers and Repairers work hard to ensure the proper operation of powerful equipment that can be hazardous if not installed right or working correctly. In particular, elevators carry people to great heights, several stories into the air. Thus workers in these fields bear a tremendous responsibility to make sure equipment functions the way it is designed to, and to find and fix any issues before they become serious. They're also expected to respond promptly when emergencies are reported.  
Current Trends
Elevator and Escalator Installers and Repairers are predicted to stay in demand in the coming years, as more buildings are constructed and are being built taller than ever. Meanwhile there's a wide push to increase accessibility for persons with physical limitations, which means areas that used to only have stairs may need additional access means installed, such as lifts. There is also thankfully more attention paid to safety issues within older buildings, to include ensuring that elevators are being fully maintained and repaired. When newer equipment is installed, it's often more technologically advanced, which is why the Bureau of Labor Statistics expects new workers entering the field with some electronics education will be the most competitive in the job market. 
What kind of things did people in this career enjoy doing when they were younger…
Workers in this field likely always enjoyed rolling up their sleeves and getting their hands on some complicated project. They like big mechanical things, and may have a preference for indoor work versus being outside in the elements. Because elevators and escalators have many electrical controls aspects, installers and repairers probably studied electrical topics in school or maybe even on their own as a hobby. They are detail-oriented and precise, and take pride in ensuring their projects work the way they're designed to!
Education and Training Needed
A high school diploma or GED is needed to get started
Any relevant practical work experience will be helpful to qualify
Most Elevator and Escalator Installers and Repairers learn by a 4-year apprenticeship and On-The-Job training to include technical training
Most states require licensure (currently 35 do and 15 don't), and employers will likely expect workers to hold a valid, current driver's license so they can respond quickly, when needed
Optional certifications include: 

National Association of Elevator Contractors - 

Certified Elevator Technicians (CET)
Certified Accessibility and Private Residence Lift Technicians (CAT) 

National Association of Elevator Safety Authorities International 

Qualified Elevator Inspectors (QEI)
Things to look for in a program
According to O*Net, 40% of Elevator and Escalator Installers and Repairers start with only a high school diploma; 36% complete some college
Good classes to take to get ahead include safety, math, blueprint reading, electronics, and, if available, courses that cover elevator and escalator parts
Review the National Association of Elevator Contractors' site to learn more about their apprenticeship prerequisites, and take classes that will help you qualify
Look for programs that qualify for federal aid Pell Grant funds, if doing a FAFSA
Review information about any job placement assistance after program completion
Things to do in High School and College
Decide if you want to specialize in elevators or escalator installation
Work part-time jobs that give you experience with relevant systems and handling the types of tools you'll need to be qualified on
Consider getting some hands-on tool experience through Habitat for Humanity 
Take pertinent classes such as math, blueprint reading, and electronics
Get First Aid certified and learn about applicable safety protocols and building codes
Look for training via the National Association of Elevator Contractors
Talk to working Elevator and Escalator Installers and see what the job is really like from an insider! Ask how they got their apprenticeship, if they completed one
Do some homework by watching tutorial videos and taking short non-college classes
Typical Roadmap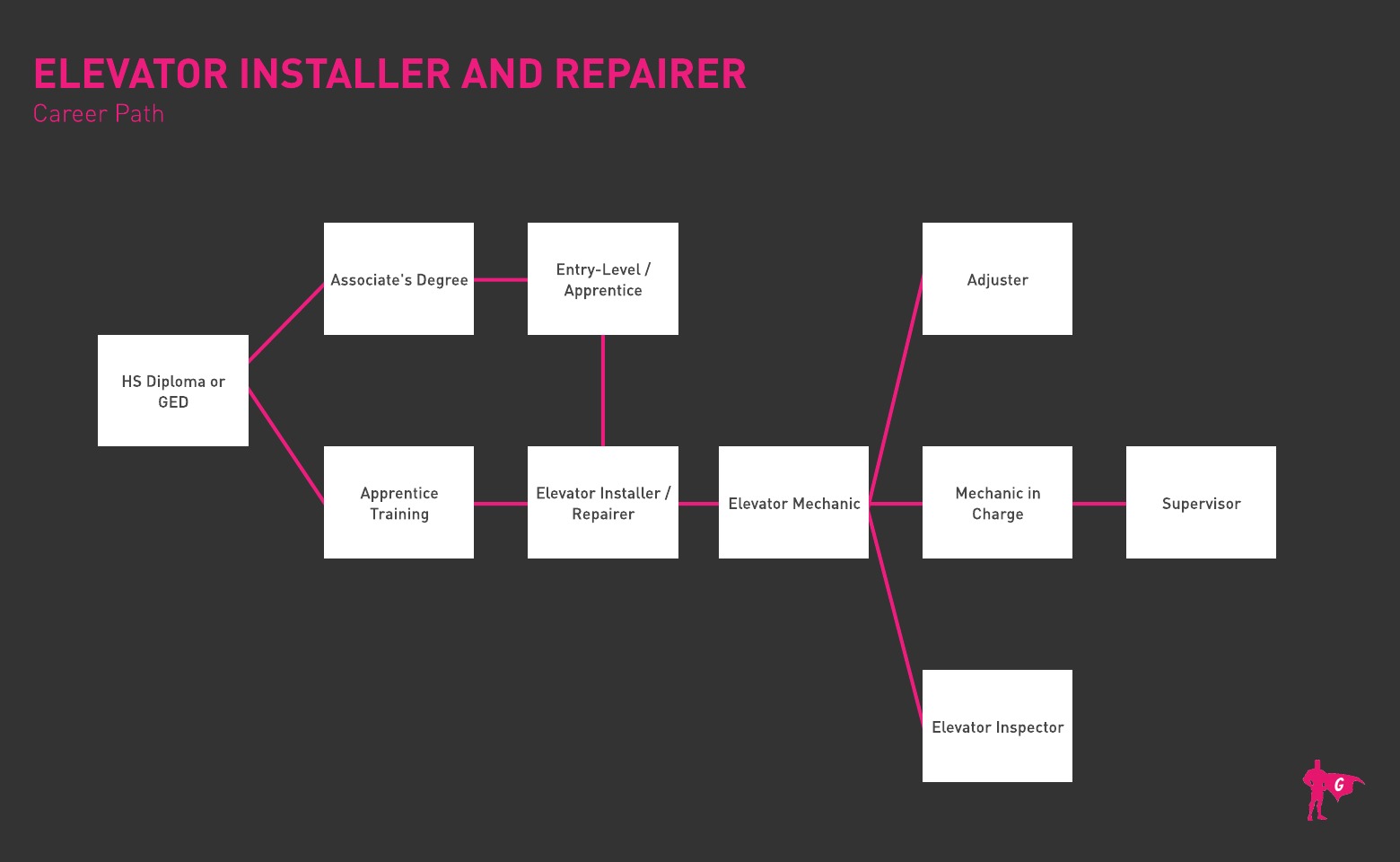 How to land your 1st job
Search for local jobs on Indeed, Monster, Craigslist, and Glassdoor
Complete as much practical work experience or as many academic courses as you can to qualify for apprenticeships
Get certified on First Aid
If applying for an apprenticeship, you may need to pass an aptitude test and submit a resume, so add all your relevant work and educational experiences and list tools you know how to use 
Find sample resumes online and tailor them to the apprenticeship or job postings you're applying to
Have a professional editor or English-skilled friend look over your application materials
Learn the vocabulary of the trade and study real-life interview questions
How to Climb the Ladder
Become proficient in your duties and pay close attention during all OJT
Demonstrate that you have integrity, are dependable, and have an aptitude for the work
Take advanced courses if suitable for the position you have or the one you want
Workers may have the chance to become mechanics or assistant mechanics. Ask your employer about specific career growth opportunities in advance and let them know you want to qualify for those, but first master the skills and tools of your current job 
Show that you can work on your own without supervision
Complete certifications, such as:

National Association of Elevator Contractors -

Certified Elevator Technicians (CET)
Certified Accessibility and Private Residence Lift Technicians (CAT) 

National Association of Elevator Safety Authorities International 

Qualified Elevator Inspectors (QEI)
Finish your apprenticeship and become a journeyman
Recommended Resources
Websites
International Union of Elevator Constructors
National Elevator Industry Educational Program
National Association of Elevator Contractors 
National Association of Elevator Safety Authorities International
Helmets to Hardhats
Books
Plan B
Elevator and Escalator Installers and Repairers have a solid job outlook, but that doesn't mean you can't look into other options. A few alternative careers are cited on BLS's related occupations, including: 
Boilermakers
Electrical and Electronics Installers and Repairers
Electricians
Industrial Machinery Mechanics, Machinery Maintenance Workers, and Millwrights
Ironworkers
Sheet Metal Workers
Wind Turbine Technicians
Newsfeed Featured Jobs Online Courses and Tools