Spotlights
Similar Titles
Certified Financial Planner (CFP), Personal Financial Advisor, Financial Consultant, Financial Counselor, Financial Planner, Investment Advisor, Investment Consultant
Job Description
Personal financial advisors give financial advice to people. They help with investments, taxes, and insurance decisions.
Rewarding Aspects of Career
Autonomy: You can work as hard and as little as you want. You determine how much you want to make.
Help people make money and create a financial plan for their future and family.
The Inside Scoop
Day in the Life
Early Morning
Read the news, stay current on current events, particularly any financial news that affects my client's accounts.
Mid-Morning
Respond to clients.
Place orders and update portfolios.
Attend meetings on market updates.
Lunch/afternoon
Meet with clients or attend due diligence meetings on different fund managers they use.
Evening
If working, attend networking events, CE events, and social functions.
Job Responsibilities
Investing
Personal financial advisors assess the financial needs of individuals and help them with investments (such as stocks and bonds), tax laws, and insurance decisions. Advisors help clients plan for short-term and long-term goals, such as education expenses and retirement. They recommend investments to match the clients' goals. They invest clients' money based on the clients' decisions.
Meet with clients in person to discuss their financial goals.
Explain the types of financial services they provide.
Educate clients and answer questions about investment options and potential risks.
Recommend investments to clients or select investments on their behalf.
Help clients plan for specific circumstances, such as education expenses or retirement.
Monitor clients' accounts and determine if changes are needed to improve account performance or accommodate life changes, such as getting married or having children.
Research investment opportunities.
Marketing
Many personal financial advisors spend a lot of time marketing their services, and they meet potential clients by giving seminars or through business and social networking. Networking is the process of meeting and exchanging information with people, or groups of people, who have similar interests.
Skills Needed on the Job
Sales skills
Analytical skills
Interpersonal communication skills
Math and finance
Different specialties
General Principles
Insurance
Income Tax
Investments
Retirement Planning
Estate Planning
Where do they work?
Major broker dealer
There are few left with the recent consolidation of financial companies.
Smaller payout (30-45%) but they pay your overhead (assistant, phone, materials, supplies, operations, insurance).
National: Morgan Stanley Smith Barney, Bank of America's Merrill Lynch, UBS, and Wellsfargo)
Regional: Raymond James, Ameriprise Financial…etc.
Boutique (for higher net worth investors): Credit Suisse, Deutsche Bank, Barclay's
Independent broker dealer (smaller firm)
Higher payout (70-90%) but the advisor must pay for ALL of the overhead and don't have as much support and then brand recognition behind you.
Expectations/Sacrifices Necessary
It's about a 90% turnover, so people don't stick. You can work long hours, do all the right things, but if you don't get the high net-worth clientele, you're just not going to survive in the business.
What kinds of things did people in this career enjoy doing when they were young...
Played with your mock stock portfolio (Yahoo Finance).
Was interested in investments.
Was interested in the stock market.
2016 Employment
271,900
2026 Projected Employment
312,300
Education Needed
Financial Advisors generally need a bachelor's degree, with popular options including business and math Though no particular degree is required, the main thing is to take plenty of finance-related classes such as taxes, estate planning, investments, etc.
Soft skills such as sales, communication, presentation, and customer service are also key
Financial consulting firms provide OJT to new employees. This training period may last months or even up to a year or more
Those who work with stocks, bonds, and insurance may need additional training and licensure from the North American Securities Administrators Association. Some advisors must register with the U.S. Securities and Exchange Commission
If interested in adding a Certified Financial Planner designation, you'll need to complete classes through a program registered with the Certified Financial Planner Board of Standards
To move up or work as a financial manager, you'll need to complete an MBA or master's in a financial major
Top Educational Institutions
Things to do in High School and College
Check out these resources for teenagers:
Start your own mock portfolio with mock investments: Use Yahoo Finance or Market Watch.
Read the trades and SEC information.

www.investor.gov
www.sec.gov

Stock up on math, finance, and business courses, but don't neglect your writing, speaking, and teamwork skills
Put what you learn into practice by offering to help family and friends with their own financial planning
Volunteer to work as a budget or resources officer with your school or other organizations
Look for opportunities to use digital tools that Financial Advisors utilize at work, such as:

Client Relationship Management software
Financial Planning programs
Risk Assessment software
Account Aggregation tools
File sharing and scheduling programs

Search for intern jobs to gain work experience and make connections. Make sure to do plenty of research to find the right matches for your goals and income needs
Reach out to working Financial Advisors to ask for informational interviews to learn how they got started
Check out Kaplan Financial's free eBook on Career Path Stories from Finance Professionals
Start working on your professional network via LinkedIn. Write and share articles and establish your reputation as someone who knows how to help individuals, families, and companies with their finances
Keep your appearance and your social media professional. Practice making a good first impression with everyone you meet…and everyone who might search for you online before hiring you to be their advisor
Education Stats
4.2% with HS Diploma
4.9% with Associate's
51.7% with Bachelor's
21.5% with Master's
5.2% with Professional
Typical Roadmap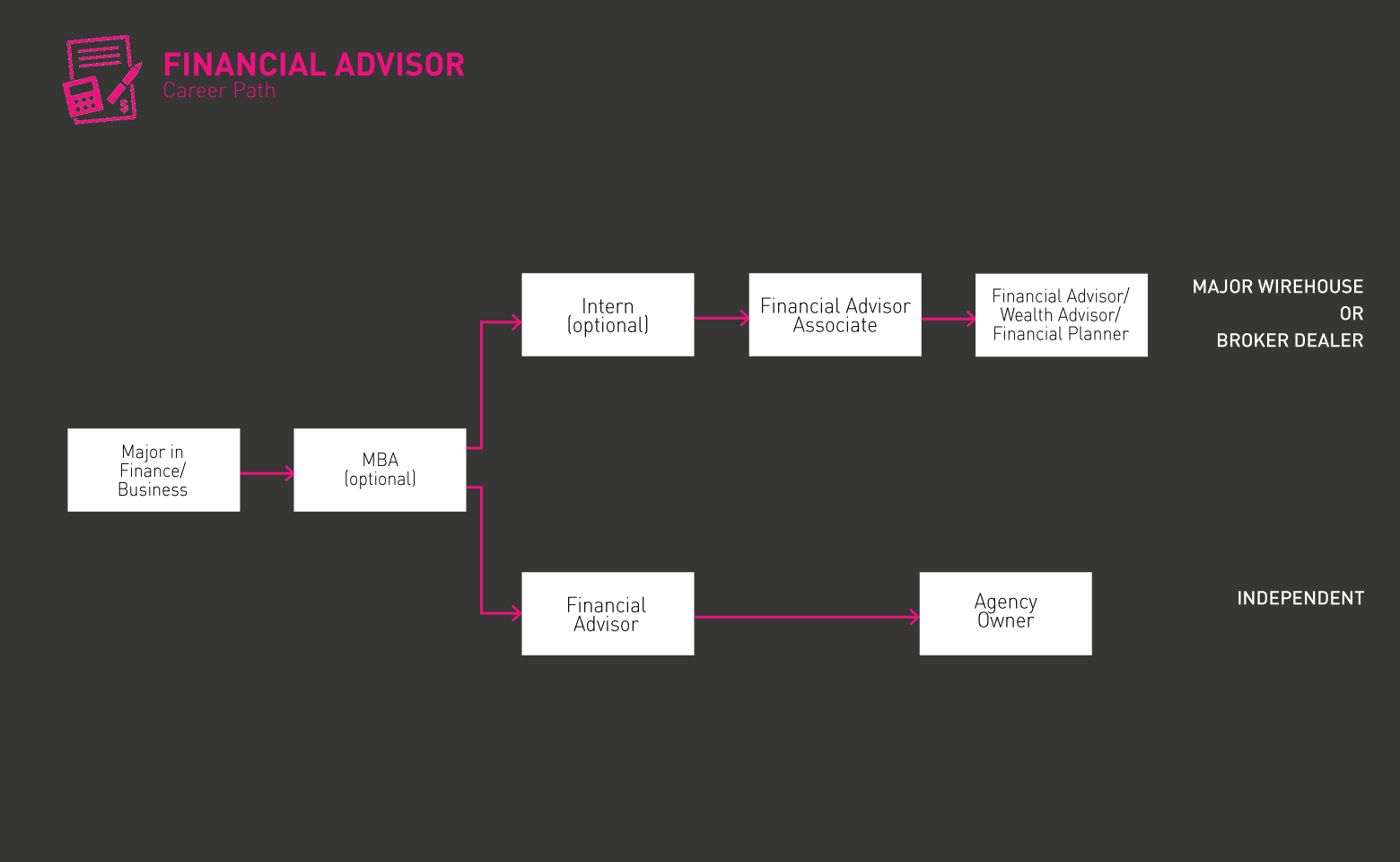 How to land your 1st job
Get an internship at a bank or brokerage to see if this is something you want to do.
Apply to one of these different types of companies:

Training program with a large investment company: Such programs are competitive, but worth the work if you can get into them.
Smaller company: You might not go through the same structured training regimen, but you'll have opportunities for one-on-one mentoring and be able to broaden your knowledge by performing several different tasks for different clients.
Financial analyst position at a bank.

Have a plan of attack: Show the employer how you will find clients. Make it as detailed and realistic as possible.
Getting certified or licensed
Certified Financial Planner (CFP)

Must take preparation courses at an accredited college or university
Pass a two-day, ten-hour exam, have three years of work experience, and have a four-year college degree. (If you already have a pre-approved professional designation, you can register for the exam without taking the prep courses. People who can waive the education requirement include PhDs in business or economics, attorneys, Certified Public Accountants, Chartered Financial Analyst, and others.)

Chartered Financial Analyst (CFA)

Complicated curriculum.
Pass three six-hour exams.
 Have a bachelor's degree and four years of work experience.

Registered Investment Advisor (RIA)

An investment advisor is anyone who receives compensation for providing financial advice. If you manage a portfolio with assets totaling less than $100 million, you'll register with your state securities agency; if your portfolio is over $100 million, you'll register with the U.S. Securities and Exchange Commission.
Pass the Series 66 exam, as well as the Series 6 or 7 exam. Alternatively, they may also just pass the series 65 exam.

Follow up with continuing education and relicensing fees.
How to stay competitive
There's no "traditional" corporate ladder. Basically, the more revenue you bring in and the "bigger producer" of revenue you are, the higher you climb. The more support you get for your business. In this sense, it's fantastic, because there's not a lot of politics or glass ceiling you need to deal with.
Words of Advice
"In your interview - have a go-getting attitude, have a plan in place of how you're going to find your clients. Express with confidence and articulately why you're going to stand out. Accept rejection, create opportunities for yourself. If you want client's trust, prove yourself trustworthy."
Recommended Resources
Websites
American Institute of CPAs
Certified Financial Planner Board of Standards
CFA Institute
Financial Industry Regulatory Authority
Financial Planning Association
Global Academy of Finance and Management
North American Securities Administrators Association
The National Association of Personal Financial Advisors
U.S. Securities and Exchange Commission
Books
Newsfeed Featured Jobs Online Courses and Tools