Spotlights
Similar Titles
Research Technician, Laboratory Assistant, Research Associate, Research Assistant, Scientific Assistant, Research Support Specialist, Industrial Research Coordinator, Research Analyst, Research Scientist Assistant, Technical Research Assistant
Job Description
One thing that every developed product or service on Earth has in common is this — it was researched first. Someone had to do the legwork to determine how an organization can take an abstract concept, such as an iPhone, and transform it into a reality. That's where industrial research and development processes come in. 
Industrial research is partly defined as "the planned research or critical investigation aimed at the acquisition of new knowledge and skills for developing new products, processes or services." It also covers improving existing products by adding new features or enhancing the design elements. 
Conducting such research is complicated, so researchers often require the aid of trained Industrial Research Assistants. These invaluable helpers perform a range of tasks, from taking care of administrative duties to building lab prototypes or simulations. The work is very "behind-the-scenes" but without it, companies couldn't bring their products and services to market.
Rewarding Aspects of Career
Conducting research vital to the development of much-needed products and services

Contributing to the economy by laying foundations for products and services

Working with cutting-edge technology 

Learning in an assistant capacity while working your way up
THE INSISDE SCOOP
Job Responsibilities
Working Schedule
Industrial Research Assistants may or may not be employed full-time. Student research positions are temporary, usually part-time, and filled by undergraduate or graduate students. Assistants may work nights or weekends, with duties sometimes requiring fieldwork. 
Typical Duties
Discuss research project scopes, timeframes, budgets, and other considerations with stakeholders and supervisors 

Design and build programs to perform statistical analysis

Perform research-based and fact-checking tasks using online and library tools 

Use programs to analyze and interpret data and statistics

Code and input data into software programs. Manage databases and ensure the accuracy of entries

Develop quality assurance measures

Draft and proofread presentations, reports, survey questionnaires, and other written materials 

Create graphics to summarize data and findings 

Present or explain findings to stakeholders or other parties

Conduct research interviews and testing with volunteer subjects

Collect, analyze, log, and store or dispose of physical specimens, as needed

Keep track of any follow-ups involving research volunteers 

File, manage, and safeguard documentation and other sensitive materials

Oversee inventory management to include lab supplies

Manage budgets and keep an eye on expenses

Supervise other team members or project participants, as needed
Additional Responsibilities
Complete administrative tasks as requested, such as note-taking

Attend meetings and conferences

Update websites

Be aware of and comply with all applicable rules, guidelines, and laws

Stay up-to-date on changes in relevant technologies  

Train, mentor, and supervise new assistants and other team members

Help with recruitment efforts

Keep work areas clean 

Discuss technical issues with the appropriate personnel
Skills Needed on the Job
Soft Skills
Analytical

Compliance-oriented

Concentration

Creativity

Critical thinking

Curiosity

Deductive and inductive reasoning

Detail-oriented

Discipline

Flexibility

Intuition

Observant

Patience 

Planning and organization

Problem-solving skills

Sound judgment 

Teamwork

Time management 
Technical Skills
Different Types of Organizations
Charities 

Governmental agencies and research labs

Private organizations and business enterprises

Universities
Expectations and Sacrifices
Industrial Research Assistants are relied on to do the background work necessary to produce products and services that conform to specific requirements. Their work must be methodical and meticulous, taking multiple factors into consideration, including what data to assess, how to obtain it in the allotted timeframes, and what to do with it. 
They need to carefully establish and follow procedures to ensure their findings are accurate, relevant, and timely. The day-to-day job requires tons of focus and critical thinking, but such sustained concentration can be exhausting at times. There may also be long periods of working independently, which can be a bit lonely for some. However, researchers do meet up to discuss how projects are going and to prepare findings.  
Current Trends
Just as technology is advancing, so too is the research and development behind it. As discussed by Brightspot Strategy, three overarching recent trends are that "research is becoming a more complex, collaborative activity," there's a "growing focus on the real-world application, societal impact, and commercial return," and "technology has growing importance as a tool to enable more complex and collaborative research across disciplines." 
Because of the increasing complexities of research, Industrial Research Assistants may expect more job opportunities! Researchers not only need help with the actual research, but also with several time-consuming operational and administrative burdens that come with it. Among these are tasks related to obtaining funding, managing data, finding volunteer subjects, and getting published in relevant journals. 
What kinds of things did people in this career enjoy doing when they were younger…
People who get into research fields usually enjoy reading, studying complex subjects, and figuring out solutions to problems. They may have been bookworms or computer programmers who loved being caught up in whatever they were engaged in. 
Industrial Research Assistants must collaborate with others but don't mind working on their own for long periods. They might have been independent and self-sufficient growing up, preferring to be left to their intellectual pursuits. They were probably interested in how things work and the behind-the-scenes of how products are made! 
Education Needed
Industrial Research Assistants usually need a bachelor's in the field they are working in

Courses depend on the exact field of research, but general subjects include math, English composition, computer programming, and statistics

Candidates should be familiar with data analysis, databases and spreadsheets, statistics and analytical software, information retrieval systems, presentation software, and research methodology

Student research assistant positions may be available for undergraduates but are often for graduate students

Software-specific certifications may be available to boost your credentials

Six Sigma process improvement techniques

are also useful in the R&D environment
Things to look for in an University
There are numerous possible majors that could tie into industrial research. Figure out your major before thinking about "things to look for in a university" 

General considerations include: tuition costs (including in-state or out-of-state rates), discounts offered, scholarship opportunities, and course delivery options (on-campus, online, or hybrid program)

If you're considering a student research role, you may need to be on-campus. Check with the applicable program you're interested in to learn more
Things to do in High School and College
Volunteer as a research project subject and ask lots of questions 

Take plenty of math, statistics, computer science, and English in high school

Get some real-world job experience via part-time jobs related to your major

Previous scientific research work or experience in labs using analytical software may be useful in preparing workers for this field

Review job postings in advance to see the common requirements employers are seeking

Request to do an informational interview

with a working Industrial Research Assistant to learn about their jobs

Keep track of contacts who might serve as future job references 

Study books, articles, and video tutorials related to developments in your areas. Study current research programs and processes

Understand how R&D works and who the key players are, such as the

principal investigator

Learn about the

patent application process

Look at the various existing products related to the area you intend to specialize in, and consider how they were developed

Participate in online forums to ask questions and learn from seasoned pros 

Engage with professional organizations to learn, share, make friends, and grow your network (see our list of Resources > Websites)

Start crafting a resume early. Keep adding to it as you go, so you don't lose track of anything
Typical Roadmap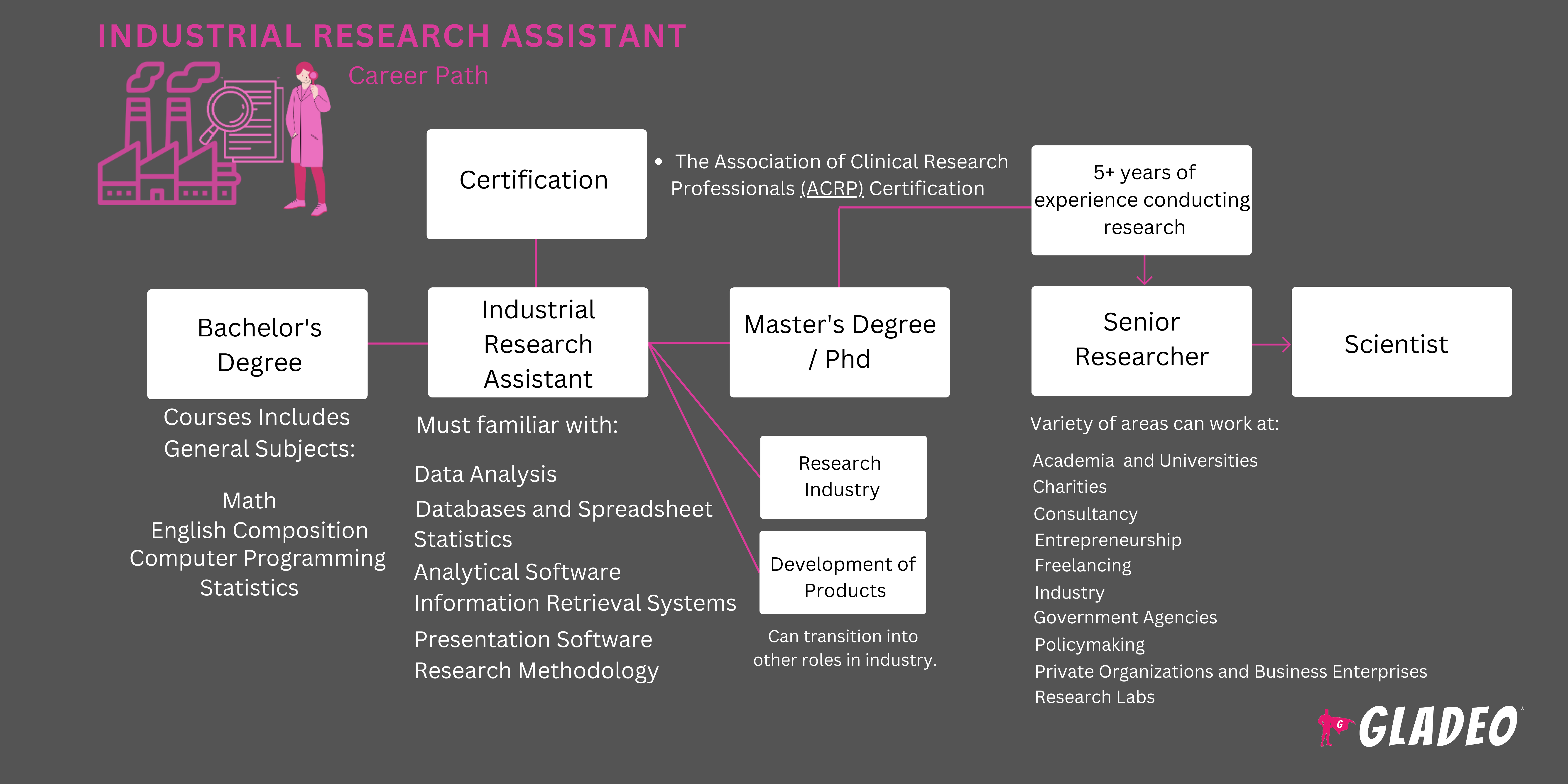 How to Land your 1st job
Complete as necessary educational requirements to qualify for a research position

Check out job portals such as

Indeed

,

Simply Hired

,

Glassdoor

, and local college job boards

If you are a student, talk to your program manager or professors about opportunities

Get some practical shop work experience under your belt before applying, if possible

Be familiar with the research already being done, including any new breakthroughs

Speak with working Industrial Research Assistants about job-seeking tips

Visit your school's career center for help connecting with work opportunities

Ask potential references in advance to see if they'll recommend you or write letters of reference

Check out

Research Assistant resume templates

and review Research Assistant

job interview questions

Wear appropriate

attire for your job interview

Do your research about every company you interview with. Learn their mission, values, and products or services they currently offer or are working on

Companies thrive by improving current products and launching new ones, so come into an interview with creative, feasible ideas
How to Climb the Ladder
Conduct thorough, accurate research and build your reputation as a trusted, innovative assistant

Pay close attention to instructions given by your supervisor or project manager

Try to master all the duties assigned to you, and request increased responsibility if you can handle it

Ask your supervisor how you can improve your knowledge and skills to better serve the project

Be a quality assurance guru, and set the bar high for yourself and others 

Stay positive and motivated. Do solid work, follow procedures, and keep work centers clean and safe

Study manufacturer and software guides. Become the go-to expert and make yourself invaluable

Learn all you can from those with more experience

Reach out to other teams doing related research, and collaborate when possible (but don't break any confidentiality requirements of your project)

Consider

earning a Six Sigma belt

Post updates about your project, as allowed, and promote your own achievements (or better yet, get your boss to promote them!)

Collaborate effectively on teams, stay focused on goals, and demonstrate leadership

Train new assistants and treat them with respect

Stay engaged with professional organizations related to your field 
Recommended Tools/Resources
Plan B
Industrial Research Assistants work in many fields and sometimes leave research behind to focus on other aspects of their careers. For those who enjoy research, there are many other career options that rely heavily on it, including: 
Advertising, Promotions, and Marketing Managers

Clinical Data Managers 

Cost Estimators

Data Scientists 

Economists

Management Analysts

Mathematicians and Statisticians

Operations Research Analysts

Public Relations Specialists

Statisticians 

Survey Researchers
Newsfeed Featured Jobs Online Courses and Tools