Spotlights
Job Description
Nurses take care of sick and injured people and they give emotional support to patients and their families. Depending on the amount of training and certifications, nurses have different responsibilities and titles. 
Certified Nurse Assistant
Also called nursing aide, orderlies or attendant.
Helps provide basic care for patients in hospitals and residents of long-term care facilities, such as nursing homes.  
Some responsibilities include:

Cleans and bathes patients.
Helps patients use the toilet and dress.
Turns, repositions and transfers patients between beds and wheelchairs.
Listens to and records patients' health concerns and reports to nurses.
Measures patients' vital signs, and serves meals and helps patients eat.
Licensed Vocational/Practical Nurse
Cares for ill, injured, or convalescing patients or persons with disabilities in hospitals, nursing homes, clinics, private homes, group homes, and similar institutions.
Some responsibilities include:

 Monitors patients' health—for example, by checking their blood pressure.
 Administers basic nursing care, including changing bandages and inserting catheters.
 Provides for the basic comfort of patients, such as helping them bathe or dress.
Discusses health care with patients and listen to their concerns.
 Reports patients' status to registered nurses and doctors.
Keeps records on patients' health.

Works under the supervision of a registered nurse or doctor.
Registered Nurse
Provides and coordinates patient care, educates patients and the public about various health conditions, and provides advice and emotional support to patients and their family members.
Some responsibilities include:

Records patients' medical histories and symptoms.
 Gives patients medicines and treatments.
 Sets up plans for patients' care or contribute to existing plans.
 Observes patients and record the observations.
Consults with doctors and other healthcare professionals.
Operates and monitor medical equipment.
Helps perform diagnostic tests and analyze results.
Teaches patients and their families how to manage their illnesses or injuries.
 Explains what to do at home after treatment.
Rewarding Aspects of Career
Knowing that you're doing something great in someone's life.
Daily rewards and thanks: It could be as big as literally helping to save someone's life to connecting a patient with services like a free wheelchair to a note from a family thanking you.
Job security: Not enough nurses to meet the demand.  
Good pay
The Inside Scoop
Skills Needed on the Job
Organizational skills
Some management of resources and people
Problem-solving skills: Think like a detective, ask patients a lot of questions
Diplomacy skills to deal with different doctors with varying egos
Confidence

You'll need it to confront a doctor when you feel a certain procedure is not right for a certain patient.

Empathy
Stewardship, being assertive
Advocacy, speaking for the patient to ensure they get the best treatment possible from the varying doctors.
Knowing the scope of medical work and procedures your licensing allows
Experience is huge, talking to peers, supervisors.
Innate desire to take care of people

This is not a skill that can be taught, it has to come from a real sense of wanting to do right by someone. .

Ability to do many tasks and be flexible
Physical strength
Interest in science
Interpersonal skills
Different specialties
Addiction nurses care for patients who need help to overcome addictions to alcohol, drugs, tobacco, and other substances.
Cardiovascular nurses treat patients with heart disease and people who have had heart surgery.
Critical care nurses work in intensive care units in hospitals, providing care to patients with serious, complex, and acute illnesses and injuries that need very close monitoring and treatment.
Genetics nurses provide screening, counseling, and treatment of patients with genetic disorders, such as cystic fibrosis and Huntington's disease.
Neonatology nurses take care of newborn babies.
​​​​Nephrology nurses treat patients who have kidney-related health issues that are attributable to diabetes, high blood pressure, substance abuse, or other causes. 
Rehabilitation nurses care for patients with temporary or permanent disabilities.
Expectations/Sacrifices Necessary
Nurses are needed 24 hours a day, 7 days a week so the hours, especially when you start out could be hard. Double shifts (12-16 hours) are common.
Having to deal with the egos of some doctors.
Hospitals cutting costs sometimes overburden nurses.
Willingness to be on-call.
Current Industry Trends
Nurses are in high demand and there is actually a shortage of nurses in some cities.
Growing emphasis on preventative care.
What kinds of things did people in this career enjoy doing when they were young...
Played doctor when they were young.  
Wanted to help people when they got hurt.
Wanted to make a difference in somebody's life.
Wasn't disgusted by blood.
"I can't speak for all nurse practitioners, but I can say there tends to be a type that goes into the ER. Without making too much of a generalization, I'd say we tend to have a good sense of humor, appreciate sarcasm, not get riled up easily, love a little adrenaline, and know how to have a good holiday party." Natasha Ruiz, Nurse Practitioner
2016 Employment
2,955,200
2026 Projected Employment
3,393,200
Education Needed
Must have a high school diploma or GED to embark on this career.
You can start directly in a registered nurse (RN) program, or you may want to start in a licensed practical nurse (LPN) or certified nurse assistant (CNA) program. Because LPN and CNA programs require less education, you can start working sooner. Many nurses who do this continue their education and earn while they learn.
Master's degree required to advance to higher levels and management.
Certified Nurse Assistant
State-certified training program, 100 hours that cover daily hygiene, bedside care, vital-sign measurement, common health problems and chronic illnesses.

Programs at community colleges, vocational and technical schools, and in hospitals and nursing homes

Pass competency exam.
Licensed Vocational/Practical Nurse
1 year accredited nursing program (technical schools and community colleges)
Get licensed by passing the National Council Licensure Examination or NCLEX-PN.
Registered Nurse
2 ways:

Bachelor's degree of Science in Nursing: Includes general studies and nursing education while focusing on leadership development, 4 years.  
Associate's degree in Nursing: Includes nursing education, 2 years

Get licensed by passing the National Council Licensure Examination or NCLEX-RN.
Advanced Practice Nurse
RN qualifications and experience
Master's degree in nursing
If you want to work as an APN in specific area (clinical nurse specialist, nurse practitioner, certified registered nurse anesthetist), you must get a master's degree.  
If you want to work as an educator in a hospital setting, nurse leader, administrator, executive, it is highly recommended that you receive a master's degree.
Things to look for in a program
Look for practical training including working with patients.
Not all nursing college degrees are created equal, some are not well received by hospitals and other employers. Do research!
Must be accredited by National League for Nursing Accrediting Commission (NLNAC).
What to do in HS and college
Take classes in anatomy, physiology, microbiology, psychology, behavioral sciences, and communications

Volunteer in a hospital so you can see if this is something you enjoy doing.

Shadow a nurse.

Develop soft skills such as leadership, teamwork, and collaboration

Learn about the importance of

bedside manner

and how to improve it

Consider an exercise routine where you can build up the strength and stamina needed to pull long shifts

Read up about the job responsibilities for each role, along with any areas you might want to specialize in. The sooner you can pin down exactly what you want to do, the more efficiently you can plan out your journey to get there

Map your career goals and educational milestones in advance, and have a backup plan

Decide if you want to pursue a CNA or LPN certification, an RN role via associate or bachelor's degree, or an APRN position via a master's

Review job ads well ahead of time to see what additional qualifications may be needed, so you can tailor your studies accordingly

Volunteer with local healthcare-related community organizations

Apply for

healthcare internships

to build up your resume

Participate with professional organizations related to your field (see our

Resources > Websites

section for links)
"Explore medical terminology or healthcare related volunteer/entry level job opportunities. Go to job fairs and talk to the healthcare booths. Talk to healthcare providers in your life. Pick their brains! If you're already in college, look at the classes needed to apply to get into the nursing program and make those your highest grades ever! " Natasha Ruiz, Nurse Practitioner
Education Stats
1% with HS Diploma
37% with Associate's
42% with Bachelor's
10.1% with Master's
3.3% with Doctoral
Typical Roadmap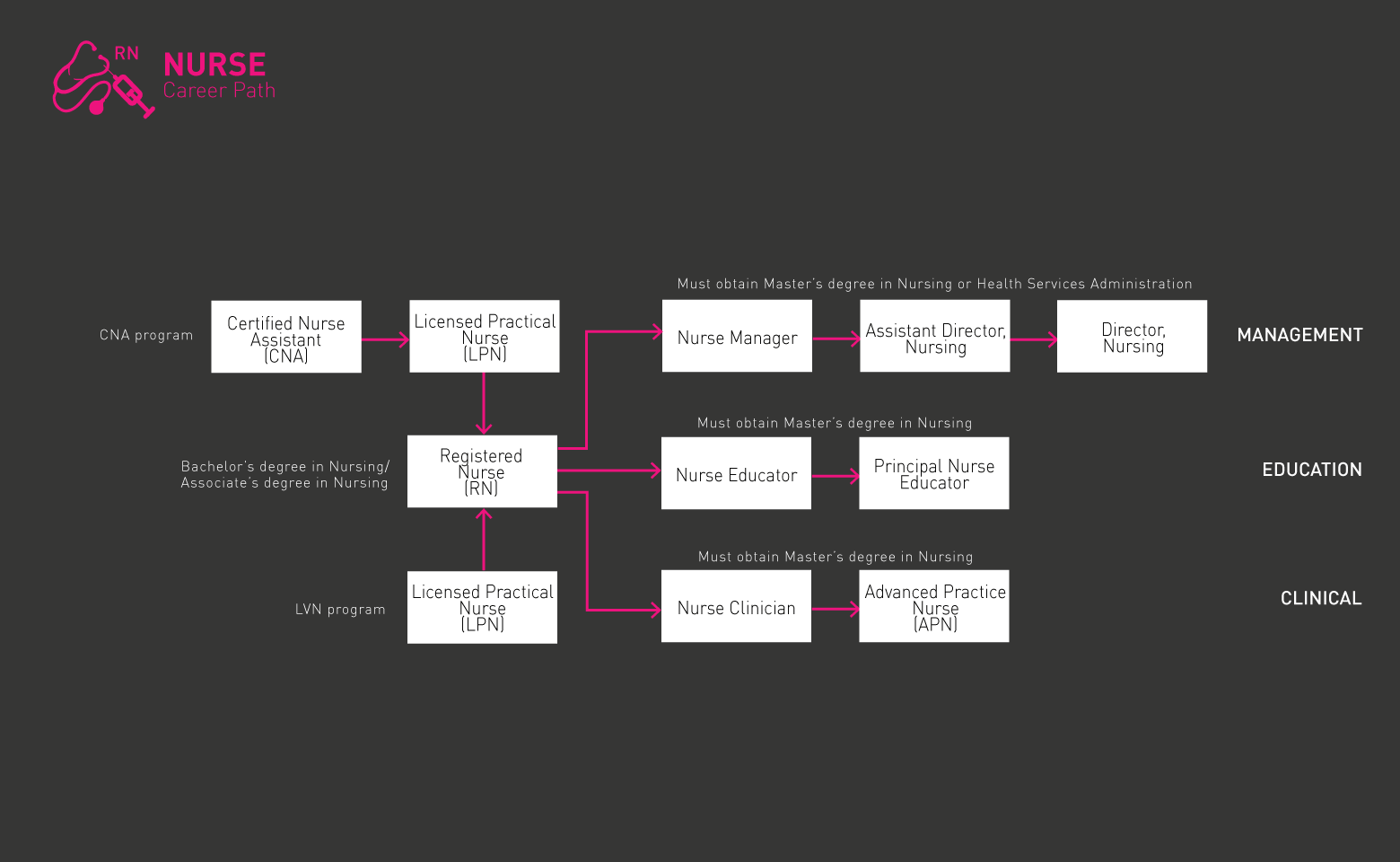 Landing the Job
Study hard and knock out your

NCLEX-RN exam

!

Considering doing optional certifications that demonstrate your commitment to your field

Build strong connections while doing clinical work in your school program. Talk to nurse managers and show your interest in working there full-time one day, if applicable. Ask for her contact information and drop him/her a line expressing your interest in his/her floor and so when it comes time to apply for a job, you will be fresh in his/her mind during hiring.

Cold e-mail the nurse manager of a floor you are interested in working for: Tell them you are specifically interested in their floor and why. Be succinct. Be charming and honest!

Keep an eye open for job opportunities while doing internships or clinical rotations. Many hospitals screen for promising students

Look for jobs and internships on

Indeed

,

Simply Hired

,

Glassdoor

, or other popular job portals. Set up alerts so you can receive notifications of new postings

Other job boards include:

Nurse.com

,

ANA Enterprise

,

Nursing Job Cafe

,

NurseJobBoard

,

Nurse Recruiter

,

Minority Nurse

, and

CareerVitals

Ask your teachers for ideas and mentorship. Many professors have ties with local clinics and hospitals where nurses work 

Talk to your school's career center or your program's academic advisor for help finding opportunities

Check out

Registered Nurse resume templates

for ideas on formatting and phrasing

Review sample

interview questions

and practice

mock interviewing

Keep up with current techniques and terminology. It may impress employers during interviews that you're staying up-to-date

Remember to

dress for interview success

!
Plan B
Alternate Careers:
Academia: Professor of nursing
Hospitals: Nurse practitioner, Healthcare management, Public Health, Executive/Administrator
Pharmaceutical Companies, Insurance Companies: Health planning and development, marketing, consulting, policy development
Newsfeed Featured Jobs Online Courses and Tools