Spotlights
Education and Training Needed
Nursery Technicians don't need a college degree. Most start their careers with some practical related work experience and a high school degree or GED

Taking a few relevant gardening college courses or getting a certificate or an associate's degree in agriculture or horticulture may be beneficial

Wild Abundance offers an

online gardening school

featuring "foundational concepts" and "step-by-step guidance on growing over 25 veggies, herbs, and berries"

Some workers earn a bachelor's in agriculture, horticulture, or nurseries and greenhouses. This may help graduates qualify for advanced roles such as Senior Nursery Technician

Students may also have internship opportunities to gain hands-on practical experience in plant health, pest management, general production principles, and more! 

Nursery Technicians can expect to receive On-the-Job training on local policies, as well as state or federal training for safety 

Certain controlled plants require workers to be at least 21 years of age 

Individual states may have various requirements, including completed certifications, to work with certain plant types

There are also state-specific optional certifications, such as:
Things to look for in an University
A college degree isn't required for this career field, but associate's degree-level courses can help qualify you

Look for programs where you can gain practical experience working with plants and soil

Consider the cost of tuition, discounts, and local scholarship opportunities (in addition to federal aid)

Think about your schedule and flexibility, when deciding whether to enroll in an on-campus, online, or hybrid program. In-person programs may be more beneficial unless you can practice at home 
Things to do in High School and College
Nursery Technicians should have a basic understanding of botany and chemistry

If your school features a gardening or agricultural program, sign up! If not, look for volunteer or part-time work opportunities in your area to get your hands in the dirt

If attending a college program, look for internship opportunities!

Read articles and blogs, watch YouTube videos, and get some hands-on practice with your own plants and gardens at home

If you can't afford a lot of houseplants or don't have space for a garden, look for free or affordable community plots where you can plant seeds and tend to your flowers, vegetables, and fruits

Try to learn about as many plant types as you can, but also decide if there is a particular plant (or tree) you want to specialize in

Learn about the different soil, sod, fertilizer, amendments, and pesticides

Learn which plants thrive in which regions, climates, and conditions, and how seasons affect their growth

Draft up a working resume to keep track of your work and academic accomplishments
Typical Roadmap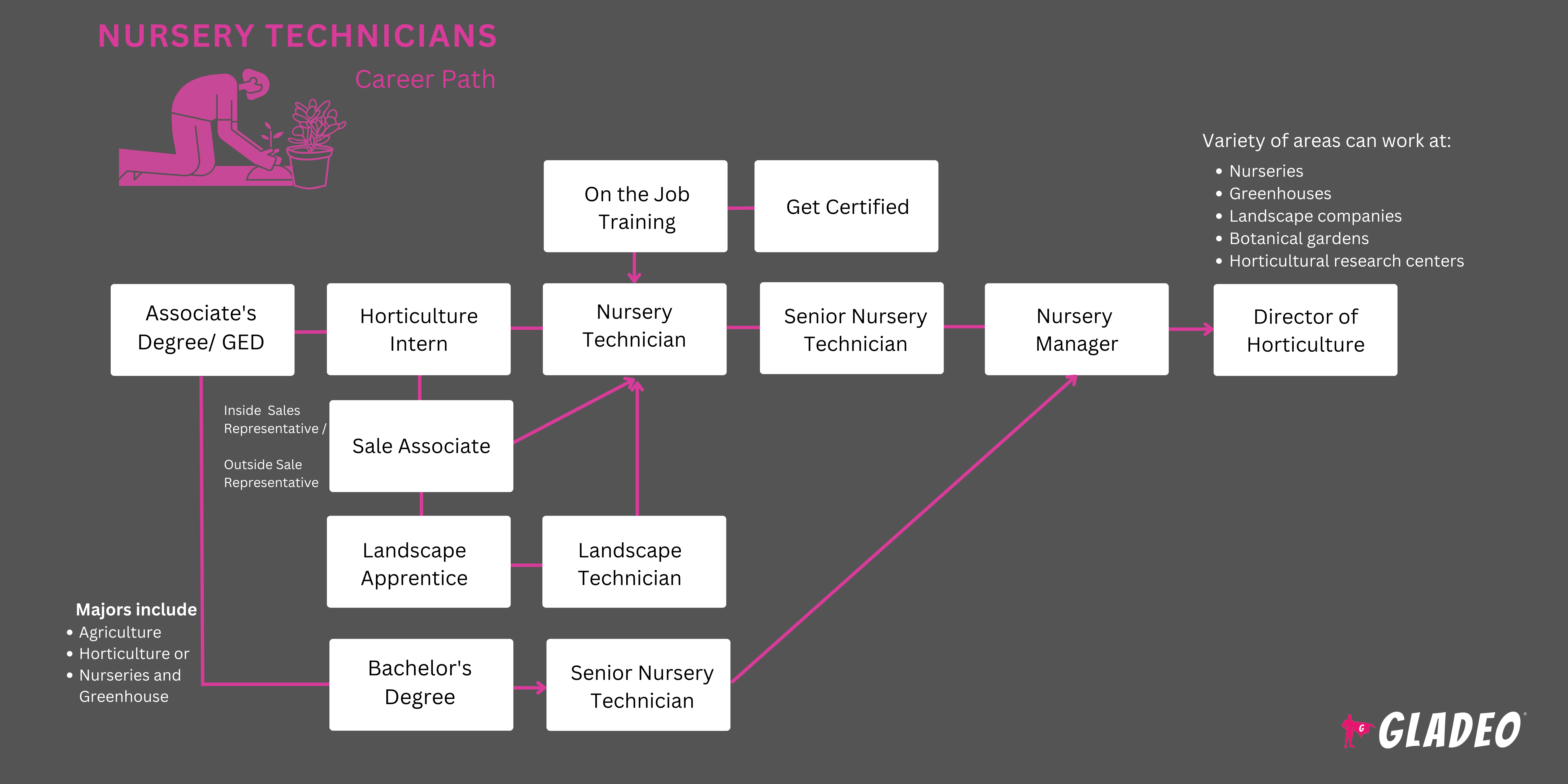 How to Land your 1st job
Look for postings on popular job portals such as

Indeed.com

Check out local jobs on

Craigslist

. Many smaller employers use Craigslist instead of paying to post on bigger sites

Attend job fairs where suitable employers might have booths set up. Take copies of your resume with you and dress sharply! Many recruiters attend these events ready to do interviews on the spot

If you take college classes, talk to your career center or program manager for help locating jobs

Many schools also help students with resume and interview preparation 

Visit local nurseries and get to know the staff. Ask questions about how they got started

Let your personal network know you're looking. Most jobs these days are actually found through connections! 

Think about who you want to list as your personal references, and ask them for permission to share their contact info
How to Climb the Ladder
If you don't have a college degree, consider taking classes and earning a certificate, associate's, or bachelor's

Ask your employer if there are any particular specialized certifications that could benefit the company. If so, let them know you are willing to do the training and ask if they can offer tuition assistance 

Show up to work on time and take good care of the plants under your care

Pay close attention to what duties you're asked to perform, keep track of any data you must collect, and closely monitor plants for signs of disease, pests, or malnourishment 

Work well with others and train new employees to a high standard

Always practice good safety procedures and wear proper protective gear

Think like a manager and learn the "behind-the-scenes" processes. Let your supervisor know you are happy to fill in for them when they are away

Stay up to date on trends, regulations, and new technologies 
Recommended Tools/Resources
Plan B
Nursery Technicians work in just one of many interesting fields related to horticulture and agriculture. For those who might want to explore other options, check out the below list of related careers! 
Agricultural and Food Science Technician

Agronomist

Ecologist

Environmental Scientist

Farmer or Rancher

Grounds Maintenance Worker

Horticulturist

Landscaper

Naturalist

Pesticide Handler

Plant Biologist

Soil Scientist

Vineyard Manager
Newsfeed Featured Jobs Online Courses and Tools