Spotlights
Careers included in this profile
Plumber, Pipefitter, and Steamfitter
Job Description
Plumbers, pipefitters and steamfitters install and repair pipes that carry water, steam, air, or other liquids or gases to and in businesses, homes, and factories.
Rewarding Aspects of Career
A sense of accomplishment when you finish a project
Autonomy: You can work as much and as little as you want.

Typically you start at 6:30am-3:30pm: Able to do other projects in the afternoon.

Work with your hands!: "When you are mechanically inclined, the trades are excellent for you."
The Inside Scoop
Job Responsibilities
Installs pipes and fixtures.
Studies blueprints and follows state and local building codes.
Determines the amount of material and type of equipment needed.
Inspects and tests installed pipe systems and pipelines.
Troubleshoots and repairs systems that are not working.
Replaces worn parts.
Difference between plumbers, pipefitters, and steamfitters
Plumber
Installs and repairs water, drainage, and gas pipes in homes, businesses, and factories.  
Installs and repairs large water lines, such as those that supply water to buildings, and smaller ones, including ones that supply water to refrigerators.
Installs plumbing fixtures—bathtubs, showers, sinks, and toilets—and appliances such as dishwashers, garbage disposals, and water heaters.
Pipefitter
Installs and maintains pipes that carry chemicals, acids, and gases. These pipes are mostly in manufacturing, commercial, and industrial settings.
Installs and repairs pipe systems in power plants, as well as heating and cooling systems in large office buildings.
Some pipefitters specialize:

Gasfitters install pipes that provide clean oxygen to patients in hospitals.
Sprinklerfitters install and repair fire sprinkler systems in businesses, factories, and residential buildings.
Steamfitters install pipe systems that move steam under high pressure. Most steamfitters work at campus and natural gas power plants where heat and electricity is generated, but others work in factories that use high-temperature steam pipes.
Skills Needed on the Job
Manual dexterity: good with your hands.
Hand eye coordination
Critical thinking and problem-solving: will encounter unexpected problems and you will have to figure them out in a timely fashion.
Basic math: arithmetic, algebra, geometry, calculus and statistics.
Computer: project planning, estimating software.
Attention to detail
Physical strength and stamina
Work Environment
Must lift heavy materials, climb ladders, and work in tight spaces.
Might travel to a variety of work sites every day.
Where do they work?
Plumbing, heating, and air-conditioning contractors: Range from mom and pop shop (4-8) to large shops (200+)
Self-employed
Expectations/Sacrifices Necessary
Dangerous: Have higher-than-average risk of injury and illness. Cuts from sharp tools, burns from hot pipes and soldering equipment, and falls from ladders are common injuries.
Irregular hours: Might have to work on nights and weekends.
Why become a union plumber?
Union negotiates competitive rates: For example) In SF Bay Area, over $35 per hour as journeyman which is the position after you are an apprentice.
Full medical benefits (medical, dental, vision)
Pension
Annuity
Access to better jobs and amazing opportunities
What kinds of things did people in this career enjoy doing when they were young...
Building and fixing things! : working with your hands
Being outside in nature
Sports
Anything mechanical like working on cars
"Some of us we have more Neanderthal DNA than others. You've got to be able to express that in the best way possible. We all have a sense of creativity that can be shown and it's finding that way to show that creativity. Some people they can do that behind a computer, other people it's great to be able to build a building. It all comes into that sense of being of whatever makes you feel alive." Robert Williams III, Business Rep, International Union of Painters and Allied Trades District Council 16, Northern California
2016 Employment
480,600
2026 Projected Employment
555,800
Education and Training Needed
Plumbers may need a high school diploma or GED, but don't need a college degree; they learn their trade via sponsored apprenticeships which can last 4 or 5 years

Apprenticeships cover ~2,000 hours of OJT and technical education such as plumbing codes, proper tool and equipment usage, safety, and applicable math and physics

Some workers participate in pre-apprenticeship programs from organizations such as:

Home Builders Institute
Plumbing Heating Cooling Contractors Association
North American Building Trades Union

In some cases, Plumbers work their way into apprenticeship programs from other entry-level positions
Many community colleges and vocational/trade schools feature short, affordable plumbing courses
Plumbers must pass a state-specific journeyman plumbing test in order to get licensed. Those who work on gas piping need an additional license
There are dozens of optional certification programs, including:

American Society of Plumbing Engineers - Certified in Plumbing Design; Certified Plumbing Design Technician
Association for Materials Protection and Performance - Internal Corrosion Technologist    
International Association of Plumbing and Mechanical Officials - Backflow Prevention Assembly Tester Certification; Service Plumbing Certification; UPC Residential; Commercial Plumbing Inspector; Plumbing Plans Examiner
International Code Council - Plumbing Plans Examiner; Commercial Plumbing Inspector    
National Inspection, Testing and Certification Corporation - IAPMO Plumbing Inspector; Journey Level Pipefitter-Steamfitter; STAR Fire SprinklerFitter Mastery

The plumbing career field is related to Pipefitters and Steamfitters, with similar training requirements
Basic requirements for apprenticeship program
Unions and contractors sponsor apprenticeship programs. The basic qualifications to enter an apprenticeship program are as follows:
Minimum age of 18
Driver's license
High school diploma or equivalent (GED or take an aptitude test)
Physically able to do the work
How to find a local apprenticeship program
Click here for a list of programs.
Things to do in high school
Take courses in high school such as shop and math
Start an exercise routine to build strength, stamina, and flexibility
Plumbing work entails overlooked hazards such as hot pipes, risk of falling when working from heights, cuts, exposure to chemicals, waste, and mold, and other dangers. It is important to learn safety and proper wear of personal protective equipment
Obtain your driver's license so you can make it to job sites
Learn more about plumbing by studying books, articles, and video tutorials
Get certified in a specialized area to bolster your credentials
Ask an Plumber if you can shadow them to learn about day-to-day activities and tools used
Education Stats
47.3% with HS Diploma
6% with Associate's
3.6% with Bachelor's
0.6% with Master's
0.3% with Professional
Typical Roadmap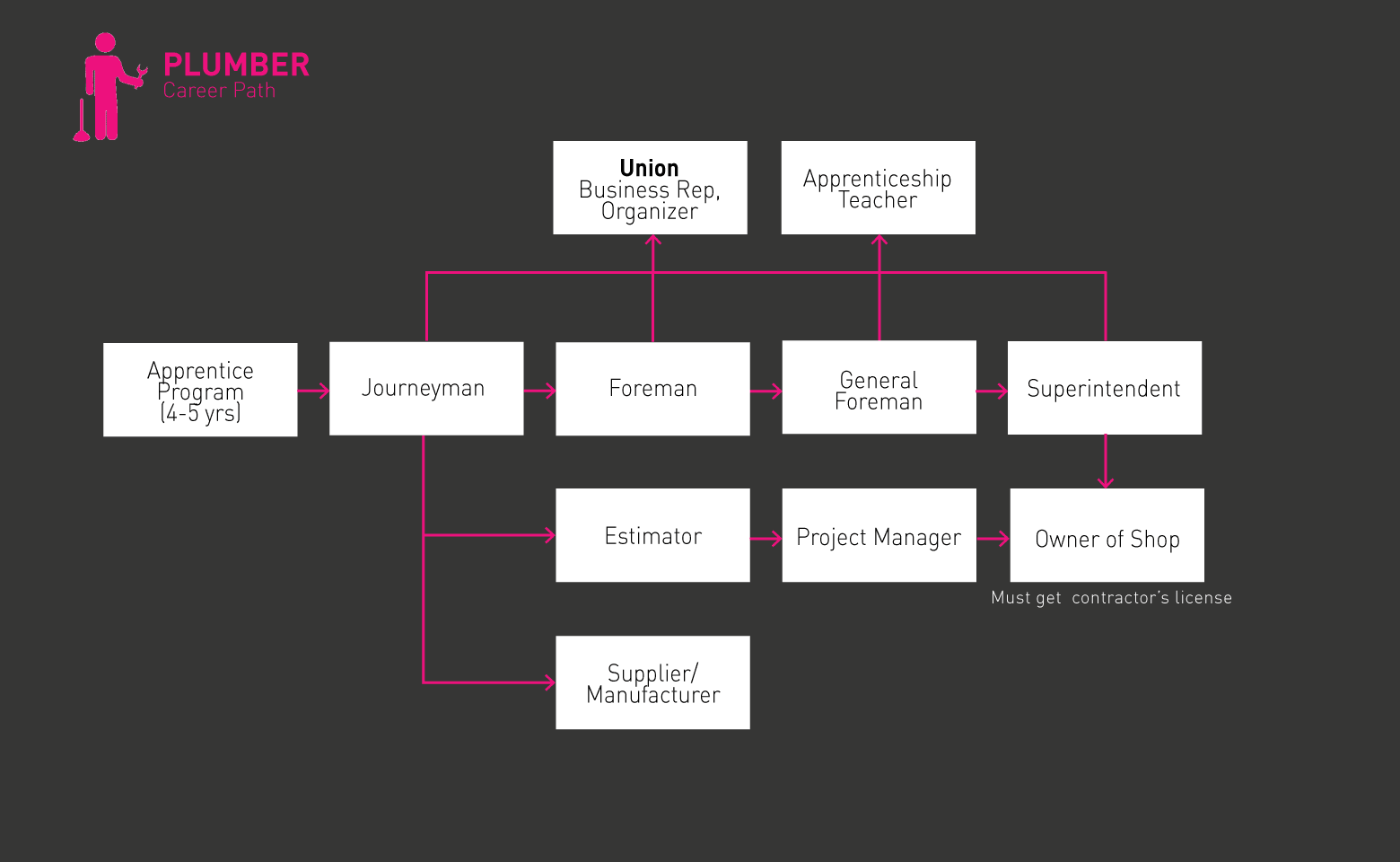 How to Land your 1st job
Finish the apprenticeship program (note: you are working with pay while you are an apprentice)
Union will give you the signatory list: local union will give you some leads, you start making calls to contractors on the list.
Contact Job Corps.
Ask the local union for help and get on "out of work" list.
Plumbers work everywhere but there may be more opportunities in cities or certain states. The highest employment rates are in California, Texas, New York, Florida, and Illinois
64% of Plumbers work for plumbing, heating, and air conditioning contractors. 10% are self-employed
If taking classes at a trade or vocational school, ask their career center for assistance
Let potential employers know you plan to stick through the long apprenticeship process and earn your license when the time comes
Description of the different positions
Estimator: Budgets the job then bids on the job.
Project Manager: In charge of the behind the scenes and paperwork. Makes sure requests for information is filled out, money is getting paid. Works in conjunction with Superintendent.
Superintendent: Takes care of the manpower needs on a jobsite which are materials and workers.
Foreman: Runs the job.
Lead person: Right hand man of the foreman.
How to stay competitive and climb the ladder
Dedication
Person who is best with tools and the union elevates these people.
Leader/Teacher: someone who knows the craft so well and helps others.
Recommended Tools/Resources
Websites
A.O. Smith University
American Fire Sprinkler Association
American Society of Plumbing Engineers
Apprenticeship.gov
Associated General Contractors of America
CareerOneStop
Department of Labor Employment and Training Administration
DIYPlumbingAdvice.com
Helmets to Hardhats
Home Builders Institute
International Association of Plumbing and Mechanical Officials
Mechanical Contractors Association of America
National Association of Home Builders
National Building Trades Union
National Fire Sprinkler Association
NCCER
Online Plumbing Helper
Plgb
Plumbing-Heating-Cooling Contractors Association
PlumbingMart
PlumbingNet
PlumbingProducts
PlumbingSupply
Plumbing Training Center
PlumbingWarehouse
PlumbingWeb
thePlumber.com
Toilet Tank Lid
Union of Plumbers, Fitters, Welders, and Service Techs
Water Heater Hub
Water Heater Leaking Info
Books
Plan B
Alternate careers: Boilermaker, Construction and Building Inspector, Electrician, HVAC Technician
Newsfeed Featured Jobs Online Courses and Tools Annual Salary Expectations