Spotlights
Similar Titles
Installer, Photovoltaic Installer (PV Installer), PV Design Technician (Photovoltaic Design Technician), Solar Designer, Solar Installer, Solar Installer Technician, Solar Photovoltaic Installer (Solar PV Installer), Solar Technician
Job Description
Technically, solar energy has existed since before the Earth's formation! But humans didn't learn to effectively harness it until nearly a century after the photovoltaic (PV) effect was discovered in 1839. Bell Labs created silicon-based solar cells in 1954, kicking off a solar energy phenomenon that has yet to be fully exploited. However, the modern era's focus on renewable energy and green initiatives has definitely given Solar Photovoltaic Installers a hefty employment boost. 
 
Also called PV Installers, these workers put together and install rooftop panels and systems made to harness the power of the Sun and convert it into usable energy. Solar Photovoltaic Installers work with clients to determine the most suitable configurations for their unique needs. This involves several steps. Workers measure areas, determine proper angles, decide if a support structure is needed (and if so, how to install it), assess environmental conditions, then craft customized solar solutions that meet applicable state and federal codes. Once the panels are cut and assembled into a supporting structure (if needed), they're connected to the building's electrical system, activated, and tested for effectiveness. These last steps may be performed with the help of electricians. 
Rewarding Aspects of Career
Working in a sector devoted to helping the environment
Potentially saving clients money by mitigating energy costs
Gaining experience in a sector primed to grow substantially in the coming years
2018 Employment
9,700
2028 Projected Employment
15,800
The Inside Scoop
Job Responsibilities
Working Schedule
 
Expect full-time work with occasional ebbs and flows. Most workers in this field are employed by contract businesses or are self-employed. Self-employed PV Installers will spend unpaid time advertising and marketing their services, as well as potentially needing to bid on jobs that they may not get hired to do. In emergencies, they may be called to respond during irregular hours. 
Typical Duties
Assess buildings for PV system suitability
Use hand and power tools to perform manual work 
Take measurements of roofs and other areas
Cut and install solar panels
Review options for angled mounting structures when needed for flat roofs 
Install mounts as required
Run voltage tests; perform maintenance on installed systems
Identifying electrical elements within the building to ensure compatibility 
Wiring modules and arrays into building electrical systems, as allowed by job specifics and state requirements 
Additional Responsibilities
Weatherproof systems as applicable 
Perform other electrical checks
Measure performance to ensure systems are functioning within expected parameters
Maintain records of tests and maintenance
Skills Needed on the Job
Soft Skills
 
Ability to objectively monitor and assess performance of people, systems, and equipment
Ability to teach and train others
Commitment to quality assurance
Cost-conscious  
Critical thinking
Customer service skills
Detailed-oriented
English proficiency
Inquisitive and creative
Safety-minded
Sound judgment and reasoning 
Strong verbal communication and listening skills
Teamwork
Visualization
Technical Skills
Comfortable working at elevated heights
Normal (or correctable) vision
Physical fitness and dexterity
Steady hands; good hand-eye coordination
Familiarity with tools such as hex keys, multimeters, pipe/tube cutters, drills, files, screwdrivers, and wire strippers 
Ability to understand blueprints, technical plans, and drawings
Able to work with raw materials 
General familiarity with basic engineering principles as they apply to the job
Aptitude for math, including algebra, geometry, calculus, and stats
Computer-aided design 
Software for CRM, email/office, and project management 
Different Types of Organizations
Contract businesses in solar
Self-employed
Utility companies
Expectations and Sacrifices
Clearly this isn't an "office job!" Solar Photovoltaic Installers work both indoors and outdoors. Building assessments, measurements, and installations are all done outside, naturally, while design and prep may be in an office or bay area. They may also need to access attics or small interior spaces to perform electrical wiring work, when permitted to do so by state law. 
 
Some solar panels are installed at ground level, but typically they're placed on rooftops. Installers are susceptible to falling risks, as well as electric shocks, dehydration, exposure to too much sun, and other hazards. Thus workers are expected to know and practice several safety precautions, including wearing personal protective equipment, as needed. 
Current Trends
This is still a small profession, yet job growth is expected to explode in the coming decade. The national average job growth for all jobs is only 5%, compared to 63% for Solar Photovoltaic Installers. As homeowners and private businesses strive towards energy efficiency, state and federal legislation continue to push for greener energy solutions. 
 
The cost of panels is going down, leasing options are becoming more popular, and some cities are offering financial incentives to people willing to invest in the technology. Solar is one of the easiest alternative energy solutions to incorporate into nearly any structure, so the demand for highly-qualified installers may outstrip the supply. Now is the perfect time for workers who've been displaced from previous careers to retrain into this growing field. Roofers, carpenters, and other types of construction workers will have a particular advantage when it comes to shifting careers. 
One more trend to consider is floating solar panels, a new twist on the idea of installing systems on bodies of water versus buildings. 
What kinds of things did people in this career enjoy doing when they were young...
As a labor-intensive career field, PV Installers likely enjoyed physical activities and being outside a lot. They may have assisted with construction projects, liked working in farming environments, or simply loved the Great Outdoors. Of course, there's also a strong element of math and science involved, which is why they were probably good in such academic areas during high school. Since solar is a green alternative energy solution, many workers may have been environmentally-conscious or at least mindful of the effects of pollution on nature. Others may simply have been interested in exciting "niche" business opportunities where there was a lot of potential but not much competition yet. 
Education and Training Needed
A high school diploma or equivalent is enough to get started; a college degree isn't required, but having some online, community college, or vocational training is helpful 

Classes may include math, electrical topics, safety, carpentry, and of course PV 

OJT and informal apprenticeships are a big part of learning this field
Product and system-specific training is also critical and usually provided through the employer or via modules
Prior experience in construction, roofing, carpentry, and electrical work can shorten the learning curve substantially
Active duty and military veterans transitioning into civilian careers are encouraged to take advantage of the Department of Energy's Solar Ready Vets program 

Check out the DoE's other solar funding initiatives here

Certain states require PV licensure. Certifications include:

Core certifications:

ETA International - Photovoltaic Installer - Level 1    
National Fire Protection Association    - Certified Electrical Safety Technician
Electrical Training Alliance - Solar PV Certification    

Advanced certifications:

North American Board of Certified Energy Practitioners - PV Installer Professional 
Underwriters Labs (UL) - Photovoltaic System Installation Certification
ETA International - Photovoltaic Installer/Designer    
Things to look for in an university
A university degree is not required for this field, however, completing certain courses can help you become more competitive when job-seeking. A community college or vocational/technical school is the best way to knock out essential classes.
List of Solar Photovoltaic Programs
Some community colleges and vocational/technical schools feature special training programs for Solar Photovoltaic careers. Examples include The Training Center (Texas), Indian River State College (Florida), Solar Training Academy (multi-state campuses), Delaware Technical Community College, and Crowder College (Missouri). 
 
For students who don't live near institutions offering relevant courses, online programs can teach some basics but don't offer any hands-on practical experience. Online examples include Solar Energy International, SolPowerPeople, and Century College.
Things to do in High School and College
A career in Solar Photovoltaic Installation relies on both physical and mental preparedness
Classes involving labor, tool usage, or physical fitness will help develop necessary physical aspects, while algebra, geometry, calculus, stats, computer-aided design, and electrical courses will build tech skills
Often high school students can take community college classes simultaneously, helping expedite your path to getting a job right after graduation
Develop your technical reading and IT skills through classes or by practicing at home
Get practical work experience through part-time carpentry, construction, or roofing jobs
Consider volunteering on local Habitat for Humanity projects, especially those involving PV installation (such as efforts funded through partners like PG&E)
Review Skills Needed on the Job above for a list of programs to get familiar with
Sign up for SolPowerPeople's free massive open online courses and micro-classes 
Watch related videos on YouTube, Udemy, or other sites to learn more about the field 
Find professional organizations that offer educational opportunities (see Recommended Resources in Landing the Job tab) 
Typical Roadmap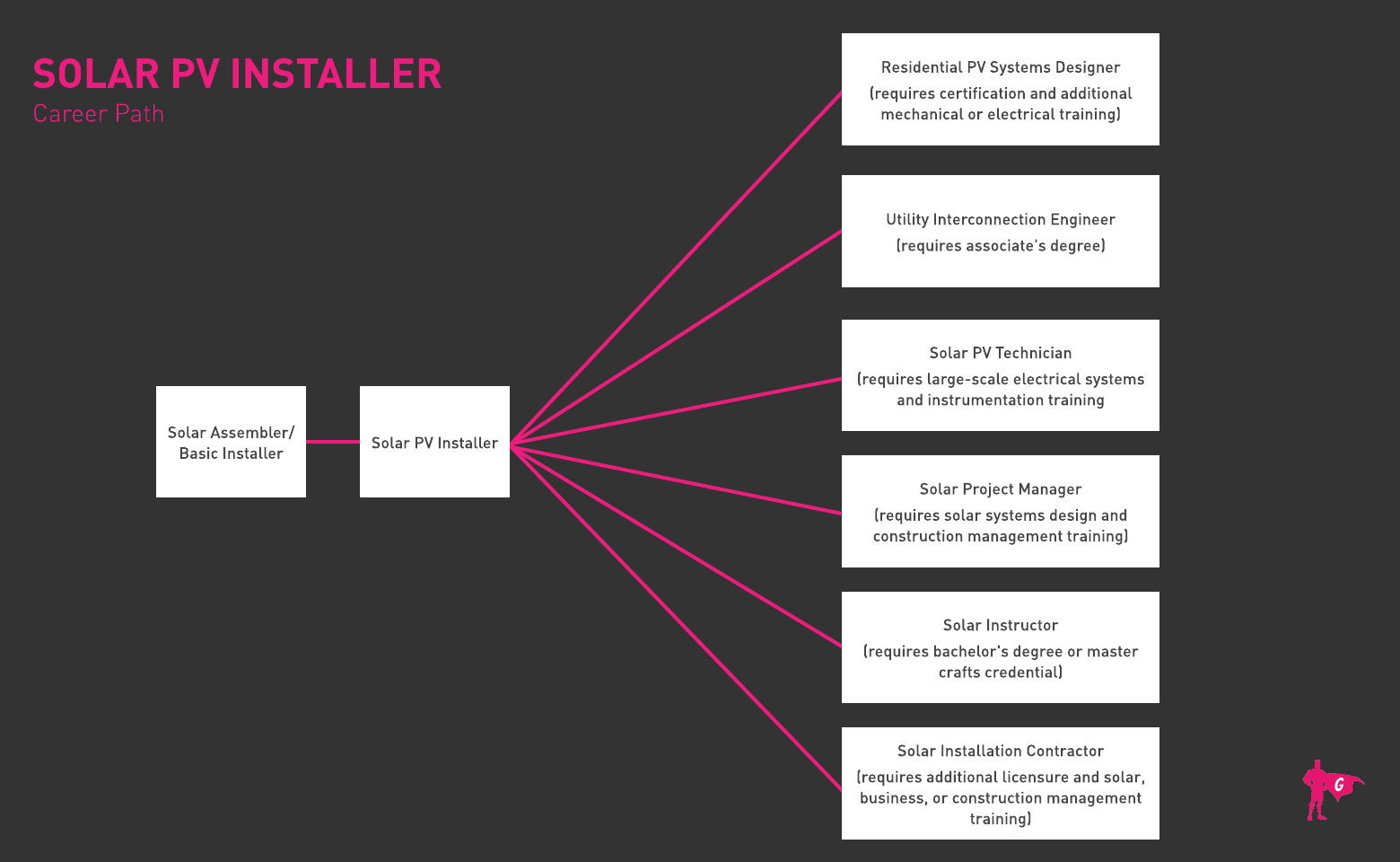 How to land your 1st job
Because of the rapidly-growing demand for PV Installers, the outlook is great for those with the necessary basic qualifications
Employment portals like Glassdoor, Indeed, or SimplyHired are good starting places
Don't forget your local Craigslist, or do a Google search for local PV company websites 
If you take community college or vocational training classes, ask their career services staff for recommendations. They may have their own job boards or other resources
Carefully read job ads for specific requirements and experiences that the employer is looking for. Only apply to jobs you're qualified for
Check out existing resume templates for "Solar Energy Installers"
Focus on relevant work and academic experiences, skills, and personal characteristics 
After applying, always answer calls from unknown numbers professionally!
Expect employers to do homework on you by reviewing your online public profiles
Polish up your interview skills by conducting mock interviews. Read through Glassdoor's posts on real-world interview questions that workers report being asked
How to Climb the Ladder
Solar Photovoltaic Installers usually start in entry-level positions and work their way up through hard work and learning everything they can
Knock out any additional coursework or training your employer suggests
Become proficient with the equipment and systems you work with, and study manufacturer-provided materials 
Become NABCEP-certified, and/or complete optional core and advanced certifications when you have the minimum experience needed 
Obtain state licensure, as applicable 
Talk with your supervisor about promotions to project supervisor or manager
If you're interested in sales, let your employer know or reach out to manufacturers

Installer experience will make you a much better salesperson than someone who's never gotten their hands dirty

For those with an entrepreneurial mindset, consider launching a private PV installation business. Chron's How to Start a Solar Power Company gives great tips to get started!

More resources:

Fast Company - 4 Market Niches in the Solar Boom
Franchise Direct - Solar Universe Franchise Costs
Solar Energy International - State Licensing
Recommended Resources
Websites
Electrical Training Alliance 
Energy.gov
EnergySage
ETA International 
Franchise Direct - Solar Universe Franchise Costs
Interstate Renewable Energy Council
Interstate Renewable Energy Council Solar Licensing Database
IRENA
National Fire Protection Association    
North American Board of Certified Energy Practitioners 
Small Business Administration
Solar Energy Industries Association
Solar Energy International
SolPowerPeople
U.S. Energy Information Administration
Underwriters Labs
Books
Plan B
The world seems destined to shift towards renewable energy sources, however solar isn't the only horse in the race. Meanwhile, for those who've explored the option and decided to pass, the Bureau of Labor Statistics lists plenty of similar labor-related occupations. Each has its own education and training requirements, but typically none require a four-year degree to get started:
Carpenters
Construction Laborers 
Electricians    
Glaziers    
Heating, Air Conditioning, and Refrigeration Mechanics 
Ironworkers
Masonry Workers
Plumbers, Pipefitters, Steamfitters
Roofers
Sheet Metal Workers
Newsfeed Featured Jobs Online Courses and Tools Annual Salary Expectations