Spotlights
Similar Titles
Medical Equipment Preparers, Central Service Instrument Technicians, Sterile Supply Technicians, Sterile Processing and Distribution Technicians, Central Processing Technicians, Central Sterile Supply Technicians, Central Service Technician
Job Description
If you've ever been in a doctor's office or hospital room, chances are you noticed how clean they try to keep things. Patients come to these places when they have medical problems and need the care to get better. As a result, people are bringing in all sorts of germs that can spread through the air or contaminate surfaces through touching. 
Germs get easily passed around, which is why Sterile Processing Technicians must work continually to disinfect medical instruments, equipment, and supplies. In addition to using chemical sanitizers and disinfectants, they also operate and maintain specialized machines called autoclaves that apply pressured steam to disinfect and sterilize items. 
Also known as Central Service Technicians, Sterile Processing Techs are critical medical team members who not only keep things sterilized, but also help prepare equipment for exams, surgeries, and other procedures. Unlike surgical techs, Sterile Processing Techs don't need to worry about being in operating rooms during surgical procedures. But the work does involve following strict hygiene protocols to ensure areas and objects are kept free from harmful pathogens that could jeopardize patient health and safety.
Rewarding Aspects of Career
Keeping medical instruments and equipment safe for use

Preventing patient exposure to disease-causing microorganisms

Working as part of a medical team helping patients and saving lives
The Inside Scoop
Job Responsibilities
Working Schedule
Sterile Processing Technicians work full-time and are often assigned to night, weekend, or holiday shifts since hospitals have 24/7 emergency rooms and patients who stay overnight. 
Typical Duties
Gather contaminated items for cleaning and sterilization

Organize items and keep records to track what needs to be done or has already been done

Physically clean medical instruments, devices and equipment, supplies, and other items as needed, using sanitizers, disinfectants, or autoclaves (as applicable)

Remove biological matter and ensure proper decontamination (if needed), labeling, transport, storage, or disposal

Follow all hygiene protocols and monitor others to ensure clean items are not accidentally contaminated

Prepare areas, instrument trays, equipment, and surfaces prior to surgical procedures

Deliver clean supplies to examination and operating rooms or other areas

Maintain and operate autoclave machines; collaborate with repair technicians as needed

Order supply inventory (such as gloves, masks, etc.), keep needed items in stock and check expiration dates
Additional Responsibilities
Train colleagues or new hires, as needed 

Stay up-to-date on relevant industry news, such as new virus outbreaks
Skills Needed on the Job
Soft Skills
Analytical

Compliance-oriented

Detail-oriented

Diligent

Integrity 

Methodical 

Observant

Organized

Patient

Safety conscious 

Sound judgment 

Stamina
Technical Skills
Expertise operating

autoclaves

Familiarity with chemicals and equipment used to clean instruments, equipment, and other items

Knowledge of applicable supply ordering procedures and programs

Knowledge of proper personal protective equipment usage 

Methods for

biological waste

decontamination, labeling, transport, storage, and disposal

Understanding of medical standards for sanitation and disinfection
Different Types of Organizations
Hospitals and surgical centers (including emergency rooms, intensive care units, and labor & delivery units)

Laboratories

Nursing homes and assisted living centers

Outpatient care centers

Private practices (including dental, eye care, and plastic surgery)
Expectations and Sacrifices
Due to their very nature, hospitals and other medical service-related offices are exposed to a constant influx of ill patients who could be carriers of contagious viruses, bacteria, fungi, or protozoa. These germs can be easily passed through normal breathing, sneezing, coughing, touching surfaces, or direct person-to-person contact. Sterile Processing Technicians are relied upon to ensure harmful germs do not contaminate anything which might directly or indirectly come into contact with patients. 
Because they are so small, germs can't be seen by the naked eye. Thus, Technicians must methodically and thoroughly clean everything that could potentially be contaminated. Otherwise, patients are at risk of exposure, which can be deadly in some cases. However, the ongoing sterilization processes in healthcare establishments have led to the emergence of highly resistant, highly transmissible bacteria such as Methicillin-resistant Staphylococcus aureus (MRSA) and Clostridioides difficile (C. diff) which have evolved to survive even rigorous disinfection protocols — and can live for months on a surface! 
Sterile Processing Technicians are at risk themselves, frequently exposed to chemicals, all manner of germs, and potentially hazardous biological materials such as blood or bodily fluids. In addition, they may work nights, weekends, or holidays, which can be challenging for those with families.
Current Trends
Infectious diseases are nothing new, but the Covid-19 pandemic shocked many industries out of complacency. While hospitals have been flooded with patients, they have had to re-examine and strengthen infection control and environmental cleaning practices. Many patients have been increasingly exposed to "healthcare-acquired infections" in situations where they went to a hospital to get treated and wound up catching something else. Meanwhile, as workers strive to sanitize or disinfect everything around them, bacteria like Clostridioides difficile keep adapting and becoming more resistant, creating a Catch-22. 
The Centers for Disease Control and Prevention has stressed that healthcare institutions closely follow precautions such as "performing hand hygiene, using personal protective equipment (PPE), following respiratory and cough etiquette principals, ensuring appropriate patient placement (i.e isolation precautions) and the proper handling, cleaning and disinfecting of patient care equipment, instruments/devices and environments appropriately." The latter, of course, falls directly onto the laps of Sterile Processing Techs, who have had their hands full in recent years. 
What kinds of things did people in this career enjoy doing when they were younger…
Sterile Processing Technicians were probably always clean and tidy people who liked things organized. They were probably always patient and calm, able to focus for long periods on straightforward tasks while paying attention to details. While they could have been "people persons" who enjoyed the company of others, they may have also been comfortable spending time by themselves, content to do things quietly on their own.   
Education and Training Needed
Education Needed
Sterile Processing Technicians need to complete training at either a vocational school or community college. Programs may last from several weeks for a certificate to two years for an associate's degree (if going full-time)

Many classes can be conducted online, but hands-on experience may be preferred for some topics

Common classes include:  

Anatomy

Cleaning and disinfection

Decontamination and sterilization

Infection control and prevention

Inventory management

Medical and surgical terminology

Microbiology

Physiology

Surgical instruments usage and storage

Training programs often feature an element of hands-on work experience or internships. If not, such experience can often be gained through part-time jobs or even volunteerism

Keep track of all time spent working or volunteering. Have a supervisor sign off on your worked hours

Sterile Processing Techs need to eventually obtain state certification. It's recommended to review your state's requirements ahead of time, in case there are any prerequisites to testing

In general, graduates must pass a

Certified Registered Central Service Technician

(CRCST) exam, offered by the

Healthcare Sterile Processing Association

(formerly the International Association of Healthcare Central Service Material Management)

In addition to taking/passing the exam, techs must apply for either full or provisional certification

Full certification requires "400 hours of hands-on experience during the previous five years, preceding the application"

Provisional certification requires "400 hours of hands-on experience within six months of passing the certification exam"

The Certification Board for Sterile Processing and Distribution also offers

certification for Sterile Processing staff
Things to look for in an University
Sterile Processing Technicians don't need a four-year degree from a university to get started. Students can complete a certificate or associate's at a local community college or vocational training school

General considerations include tuition costs (in-state/out-of-state rates), discounts, scholarships, and course delivery options (on-campus, online, or hybrid program)

Ideally, you'll want a program that offers hands-on work experience you can count towards certification
Things to do in High School and College
High school students can prepare by taking classes in health, biology, chemistry, and computer science

Decide if you want to apply to a certificate program or an associate's degree program at a community college, vocational school, or university

Talk to program staff about work opportunities where you can pick up real-world job skills as you learn

Apply for part-time jobs working with healthcare settings to gain experience and cite some work history on your resume

Start an exercise program where you can build up stamina needed for standing and working on your feet for long periods or moving equipment 

Keep a list of contacts (including phone numbers or emails) who might serve as future job references 

Check out articles and video tutorials about sterilization procedures

Get started on a draft resume early
Typical Roadmap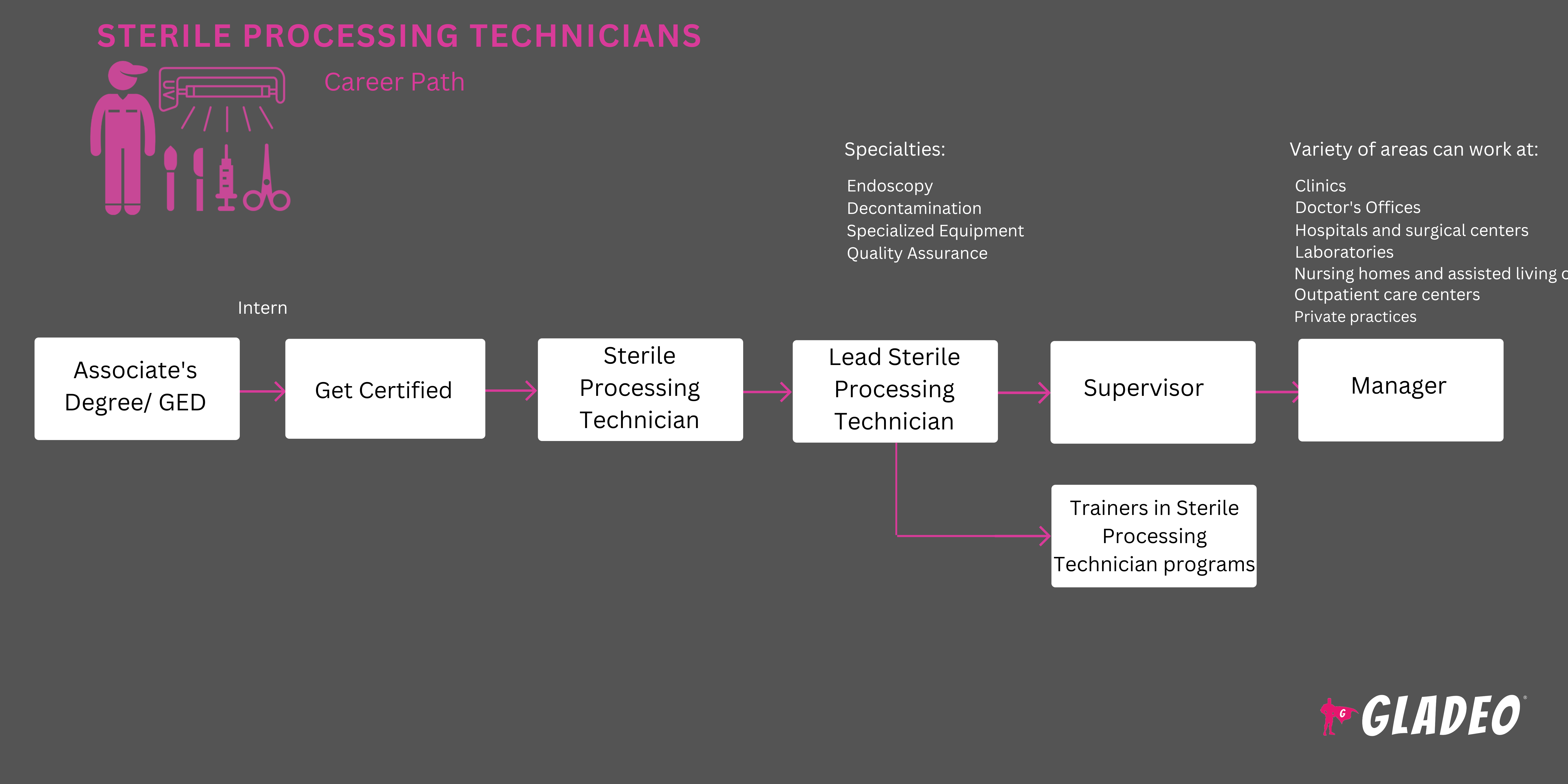 How to Land your 1st job
Ask your school's faculty or career center for tips about connecting with employers

Let your professional network know that you're job-seeking

Look at the career pages of local hospitals, doctor's offices, and other healthcare-related sites

Search for apprenticeship opportunities 

Keep your social media clean and professional, in case job recruiters take a peek

Read

Sterile Processing Technician interview questions

, learn your career-related terminology, and practice your answers

Remember to get permission from potential references before giving out their contact info

Practice doing a few

mock interviews

with friends or relatives 
How to Climb the Ladder
Talk with your supervisor and let them know you're willing to complete extra training to move up when you're qualified

Make sure to get certified when you have enough practical work experience under your belt 

Advancement opportunities for Sterile Processing Technicians include working as a sterile processing supervisor or becoming a surgical assistant or technologist

Those who want to work directly with patients can apply to a Licensed Practical Nursing or Registered Nursing program  

Master your duties, be on time, and follow all hygiene protocols to the letter

Stay up-to-date on relevant policies and procedures and become the "go-to" expert 

Learn how to maintain autoclave machines and other applicable technologies. Study manufacturer and software guides 

Keep learning from seasoned pros with more experience than you, and pass on knowledge to new technicians

Stay engaged with professional organizations related to your field. Build your reputation as a pro who knows their business
Recommended Tools/Resources
Plan B
Working as a Sterile Processing Technician can be interesting for some, but others may find it a bit tedious. If you're ready to explore additional healthcare careers, below are a few popular examples to consider: 
Cardiovascular Technologists and Technicians

Clinical Laboratory Technologists and Technicians

Dental Assistants

Diagnostic Medical Sonographers 

Endoscopy Technicians

Licensed Practical and Licensed Vocational Nurses

Medical Assistants

Medical Equipment Preparers

Physicians and Surgeons

Registered Nurses

Surgical Assistants

Surgical Technologists
Newsfeed Featured Jobs Online Courses and Tools